Chamonix is home to all the biggest sport retail players in France and the world. But, just like David and Goliath, sometimes it's the little guy that nails the bulls eye shot. Just because some of these Chamonix sports shops are independent doesn't mean they are the underdogs though, and some of the following family businesses have been in action since the 1800s!
So layer down, zip up, and jump into our top 10 guide for the best privately owned and operated, non-franchised, sports boutiques in the centre of Chamonix town. We've ranked them by size, with the largest at 1 to the smallest at 10.
Chamonix Sports Shops
1. Technique Extreme
200 avenue de l'Aiguille du Midi, 74400 Chamonix
With 1050m² across two floors, Technique Extreme is the largest of the independent Chamonix sports shops. Since 1991 they have been offering an economical alterative to some of the big brand powers in the valley.
Although they also stock Salomon, Rossignol, Dynastar, Black Diamond, Grivel and more, Technique Extreme is also packed with "no name, no fuss" brands which are easy on the eyes and the bank balance too!
2. Snell Sports
104 rue du Docteur Paccard, 74400 Chamonix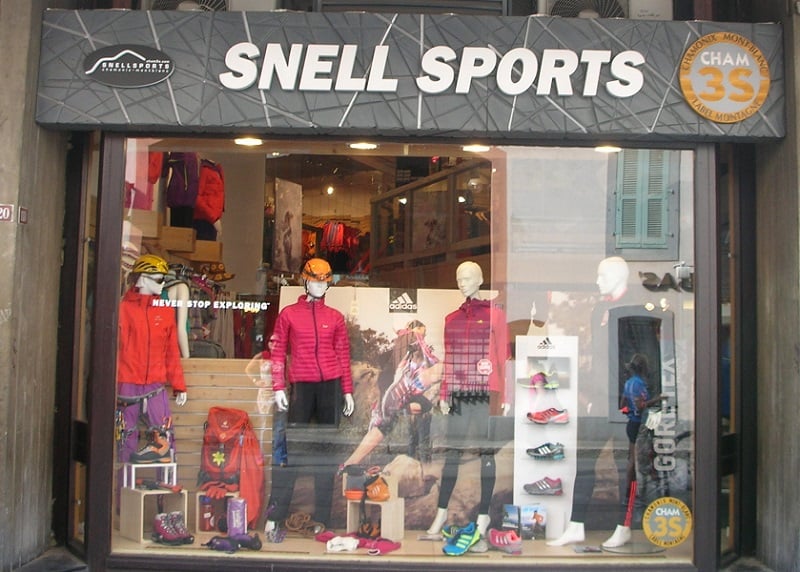 Snell Sports offers 1000m² across 3 floors of sportswear, skiing gear, hiking kit, and rock climbing essentials. They consider themselves a pro shop with quality merchandise experience since 1934.
They are the official stockists of almost all the big brands, and the little ones too. Therefore a great destination to compare prices across brands under one roof, and ask for expert advice too.
3. Zero G
90 avenue Ravanel le Rouge, 74400 Chamonix
This mountain sports boutique has been standing since 1987, and has been loving known as Zero G for the last 11 years.
At 400m² it is the 3rd largest independent sports store in the centre of town. It is also home to a number of independent brands such as environmentally conscious Picture, which hails from nearby Annecy.
Their mission is to get you out on the mountain with minimum hassle and the best possible kit for you and your wallet….in style.
4. Sanglard Sports
199 place du Mont Blanc, 74400 Chamonix
Since 1924 Sanglard Sports have been kitting out the clients of our local high mountain guides. Along with Concept Pro (below), they are one of the top destinations in Chamonix for alpinism equipment rental.
They are also the proud home of local French brands Fusalp, Degré7, Dynastar, Rossignol and Arpin across roughly 300m² of floor space.
5. Ravanel & Co
53 Galerie Alpina, place du Mont Blanc, 74400 Chamonix
Similar in size to Sanglard sports, the Chamonix branch of Ravenel & Co has been open in the Galerie Alpina since 2002.
The history of this family business goes back all the way to 1897, and their site at Les Praz de Chamonix has been renting skis since the 1956 installation of the nearby cable car at Flégère.
As well as ample offerings in winter from touring rentals to nordic adventures, in summer the store transforms into a trail runners paradise with Salomon, Hoka One One, Montura and Sportiva.
6. Legend CHX
218 avenue de l'Aiguille du Midi, 74400 Chamonix
During the winter season , Legend'chx is on call for you ski touring and splitboarding expeditions. It's also one of two Chamonix sports shops (the other being Slash below) where you can rent fat bikes all year round. With their oversized tyres these are the monster mountain bikes which allow you to ride on any conditions, even snowy trails.
In the winter it's the Blackcrows, Burton, K2 and 686 brands who rule the roost while in summer Giant bikes, Santa Cruz and Cube take over.
7. Concept Pro
610 route Blanche, 74400 Chamonix
Since 2013 Concept Pro have been providing friendly competition to Sanglard Sports. How friendly? They have an in-house bar. With MBC beer on tap. Now that's friendly…
Packed into 150m² of prime real-estate behind the Aiguille du Midi cable car, Concept Pro has your high end ski rentals, alpine equipment and board / ski repairs covered.
They stock Marmotte clothing, a full collection of Planks' colourful beanies and in the ski department offer Volkl, Blizzard and Blackcrows.
8. Pro Ski Montagne
220 avenue Michel Croz, 74400 Chamonix
Pro Ski Montagne has two handy locations roughly 2 minutes' walk from la Gare de Chamonix – our central train station.
Since the eighties the same owners have been kitting out sport-oriented locals and tourists across all seasons. At their '220' location discover the Pro Ski Montagne Made in France speciality selection of brands and kit.
Again, 150m² of boutique, this time with a huge men's fashion selection in particular.
9. Otavalo
163 rue Joseph Vallot, 74400 Chamonix
Otavalo (now associated with parent store Snell Sports – see above) is our favourite hole in the wall boutique.
In winter they are exclusively focused on telemarking / freerando while in summer it's trail running or bust!
10. Slash
404 rue Joseph Vallot, 74400 Chamonix
Bikes and boards; simple as that. Everything you need for cycling in summer and snowboarding in winter in a luminous location less than 80m².
Slash bike rentals and workshop are available all year round and their winter selection of boards and split boards for rental include Burton, K2 and the brand new Rhyme BC by French legend Régis Rolland of Apocalypse Snow fame.
Beyond Chamonix Sports Shops
While Chamonix might be the alpine sports capital of the world, there are other shopping options for you to explore, including Designer and Fashion stores and places to buy local products.
Keep an eye on our blog for more regular articles with local tips.