In this two-part series about two of our favourite locations beyond the Tunnel du Mont Blanc (see part one on Turin here), Chamonix All Year has teamed up with Italian bloggers. This week Martina from The Ski Guru helps us explain what makes Courmayeur so special (clue – the way to our hearts is through our stomachs!). Read on for an intro to cuisine and cafés in Courmayeur, plus more.
Discovering Courmayeur
Directly on the opposite side of the Tunnel du Mont Blanc, a mere 24km away from Chamonix, Courmayeur Mont Blanc is an oasis of class and chic Italian charm.
Courmayeur is frequented by the Italian "jet set" and is a village of high standards, with highly rated cuisine and cafés. Luxury living and shopping outlets dominate the high-street and in the winter the exceptional ski area draws in a new crowd of tourists as varied as the terrain on offer.
The Ski Guru, Martina, says:
Courmayeur is boxed between mountains and the scenery is astonishing wherever you look – There are more than forty 4000 meters + peaks. Plus it has the warmth of Italian welcome; it has an effortlessly understated elegance, sparking Italian lifestyle at its best.
Skiing in Courmayeur
Frequented by skiers from all over the world (including many Italians from Milan and Turin!), the ski resort of Courmayeur is one of the biggest ski resorts of the Aosta Valley. It has a range of slopes for every level, as outlined here on our website, and boasts quality food and even childcare (from 0 to 10yrs) on the mountain.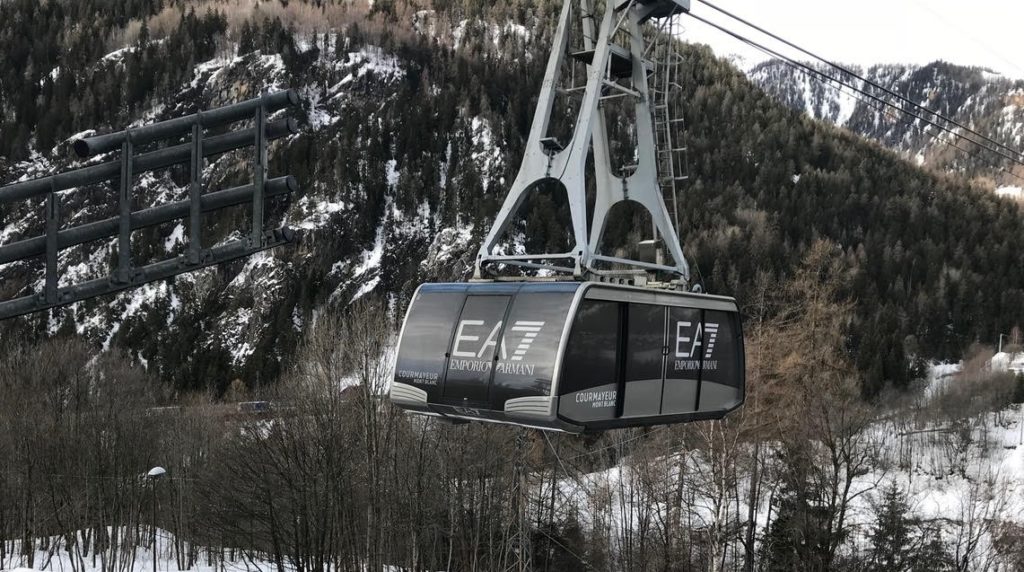 As Martina explains, there are two sides of the mountain for skiing.
The Chécrouit side
Facing the north-east of the mountain, it is the above the treeline plateau. You can reach the Chécrouit via the cable car leaving from the centre of Courmayeur (the Armani funicular) or via the new gondola leaving from Dolonne. The most loved run is the Chécrouit red piste, where the first Ski World Cup in the Aosta Valley was held.
The Val Vény side
Val Vény's slopes can be reached by the cable car from Entrèves (the village at the exit of the Mont Blanc tunnel, and at the entrance to Courmayeur) and face the north-west. Here you will find long pistes winding through the woods with exciting off-piste alternatives. In the winter, good snow is almost guaranteed. Pistes are always perfectly prepared with the exception of the piste dell'Orso which is purposely left un-groomed, for those looking to ski bumps and a more difficult descent. Another piste that stands out is the Internazionale, a vast panoramic slope down the side of Val Vény.
Top tips for skiing in Courmayeur
Both sides of the ski area are linked by slopes, so you can ski between them.
The Maison Vieille on the slopes of the Courmayeur ski resort is our top lunch spot recommendation and known for serving a great Bombardino; an alcoholic drink combining brandy, whipped cream and eggs, famous in the Italian winter scene.
With a Mont Blanc Unlimited ski pass, you can ski for free at this resort. However, you must make sure you have activated this card in Chamonix by simply using it at any number of the ski areas before heading through the tunnel to Italy. Don't forget to take the receipt proof of your lift pass too, in order to validate your ski pass at the Courmayeur cash desks before heading on the lift.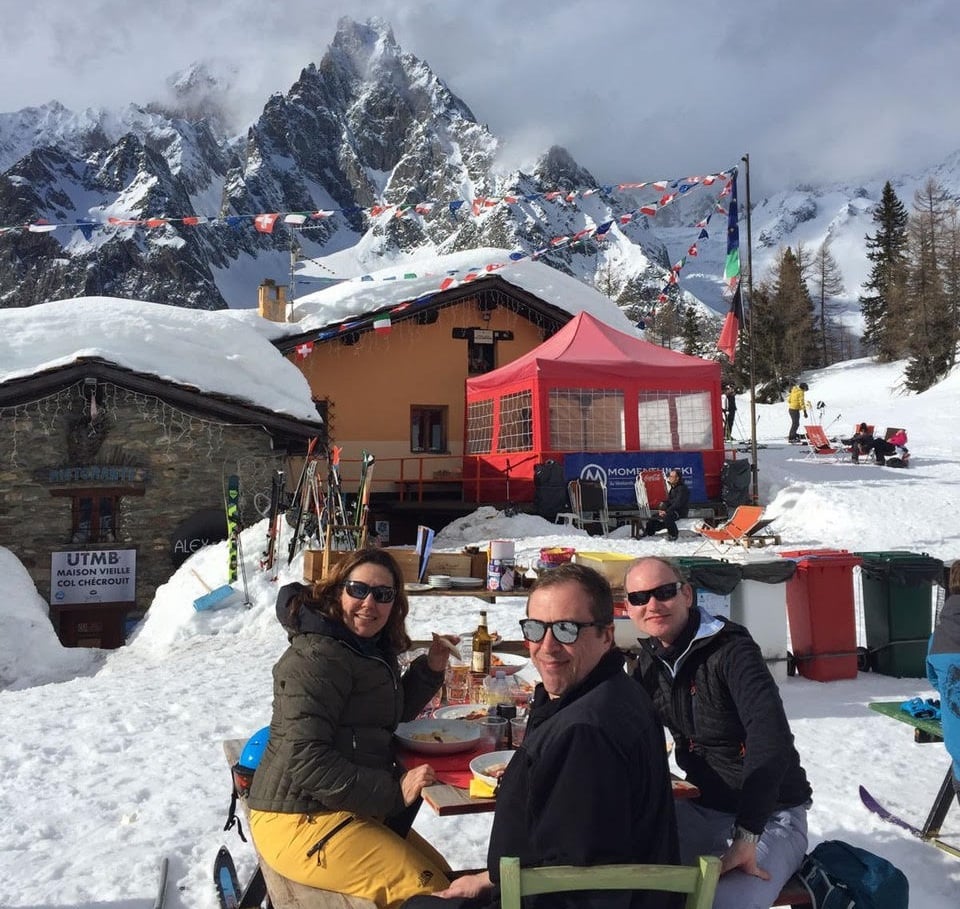 Skyway Monte Bianco
Meanwhile the Skyway Monte Bianco, located in Entrèves, is the local equivalent of Chamonix's Aiguille du Midi. It is a cable car that rises to a mid-station at 2173m with restaurants, a conference centre and one of the highest botanical gardens in the world. A second cable car can then take you to Punta Helbronner, also known as the Eagle's Nest, at 3466m. In the summer, it is also possible to take the Panoramic Mont Blanc cable car across the glaciers to the top of the Aiguille du Midi, for a truly memorable and breath-taking trip.
This installation, which opened in 2015 at a cost of 110 million euros, opens up a range of options for both non-skiing tourists and experienced alpinists.
Shopping Culture
According to Martina, Courmayeur is the very chic "place to be" for Italians, with waves of wealthy tourists from Milan flooding the weekend scene…even Dolce & Gabbana own a house there!
Martina says: "The place is amazing, small enough to go walking around, with lovely restaurants, bars, a couple of discos and great selection of shops. – Gucci, Prada, Armani to Dolce & Gabbana, and the famous jeweller's Aurum."
The shopping fever is so strong in Courmayeur that twice annually (once in January and once in March) American Express have even come to the table with the "Courmayeur Black Saturday". Martina describes this iconic event as a weekend where all the shops will be open with sales and the latest collections; "The Amex card holders will receive special points and exclusive benefits."
Even the ski resort is sponsored by the ski wear collection of luxury Italian fashion house Emporio Armani.
Getting to Courmayeur
If you have your own vehicle Chamonix to Courmayeur is a simple drive through the Tunnel du Mont Blanc. The tunnel does have a toll to pay, but you will receive a discount on this if you present a Mont Blanc Unlimited ski pass.
You could also book a Courmayeur day trip on our Chamonix Resort Shop. Particularly in the winter months, the benefit of this service is that they can work to the hours that suit you, picking you up directly from your property and taking you directly to the ski resort access point of your choice. The return price, based on a minimum group booking of 5, is approximately 56€ per person.
There are also two carrier options for bus transfers to Courmayeur, however not all services will include a stop at the closest ski resort access point to Chamonix, 'Chécrouit' at 'Entrèves', located near the entrance to the area of Courmayeur as soon as you exit the Tunnel du Mont Blanc. You may also have to make your way to the centre of Courmayeur for your return transfer, which can be cumbersome in winter when you have ski equipment to worry about. However, this town centre to town centre option may be the ideal choice for summer shopping trips or a trip focused on Italian dining! There are up to 6 buses a day between Chamonix Sud and the Tourism Office of Courmayeur, located at the foot of the town centre which winds its way up to a stunning church look-out.
Our Chamonix All Year snow reporter Kirsteen used our day trip service to get to Courmayeur this past winter:
Cuisine and cafés in Courmayeur
Italy is famous the world over for its sumptuous cuisine. Sorry France, but arguably all of the best dinner and dessert dishes in the world are from Italy: pizza, pasta, tiramisu, pannacotta to name a few! Luckily if you are staying in Chamonix you can compare them both, dining in Chamonix one day and enjoying the flavours of Courmayeur the next.
Martina says: "Italians do really live the 'dolce vita' (the good life) and you see them taking their time for their coffees, their aperitivos and long and inviting meals."
Just like Chamonix was the first place in France (or the world) to institutionalize a collective of mountain guides, Courmayeur was the first Italian location to follow suit. Our Chamonix All Year staff recommend a visit to "Café des Guides" on the main road, to take in this history while enjoying live sports events with the locals. For a younger crowd, with less ancient roots, "American Bar" is the perfect spot for a good burger.
Delicious and well-priced "The Ski Guru" Martina has taken the time to outline her favourite restaurants in Courmayeur below!
Fine Dining:
Dandelion
L'Aubergine (from L'Auberge de la Maison hotel in Entrèves)
Cadran Soleir
Mid-Range:
Pierre Alexis
Le Vieux Pommier (by the main roundabout), with an apple tree inside the restaurant.
La Terraza
Brasserie:
Pizzeria La Padella
Pizzeria Le Sciatore
Padella
Pizzeria Mont Frety
Pizzeria Il Tunnel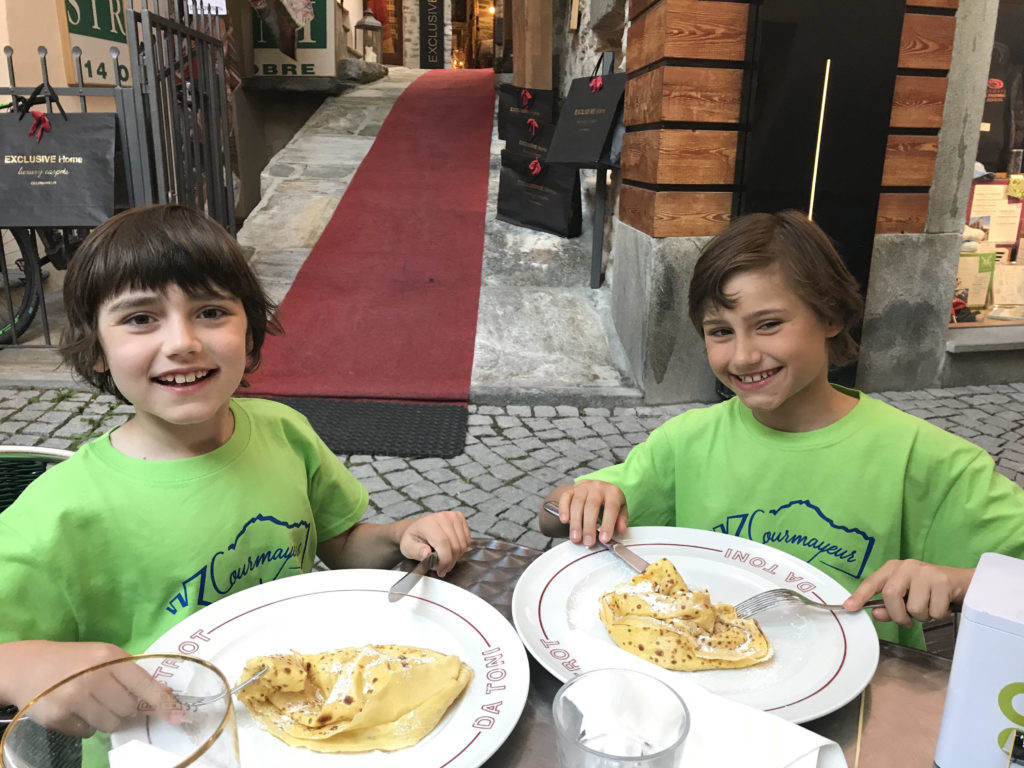 Party bars:
Privè
La Bouche
Wine tasting at Enoteca Armadillo
Caffeine and confidence run in the veins of all true Italians, and at all of these destinations you will find delicious coffee on the menu. However our Chamonix All Year staff recommend Bar Roma above all others, a true institution of Courmayeur culture itself. They are most famous for their après-ski buffet or 'aperitivo', a tradition where anyone who comes to enjoy an evening drink is encouraged to accompany their glass with delicious hot and cold finger foods to make the night last longer.
Speaking of buffets….
Pré Saint Didier spa
Enjoying Italian cuisine isn't limited to the ski slops or village outings, our favourite Italian spa across the border has a healthy and tasty buffet to accompany your pampering. Pré Saint Didier spa is operated by QC Terme who are now opening a brand new spa in Chamonix Mont Blanc, summer 2018. According to Wikipedia, buildings as ancient at 1834 were revived by this company in a full-scale restoration and restructuring in the year 2000. This returned the Thermal baths of Pré-Saint-Didier to their ancient splendour, so now you yourself can be renewed in this mix of old and new just minutes from Courmayeur.
There are 3 outdoor pools, a Turkish bath, relaxation rooms with chromotherapy and aromatherapy, a veranda with a panoramic view of Mont Blanc and saunas both indoors and outdoors.
You can read on about our best spa days in and near Chamonix here, we can't wait to try the new QC Terme spa in Chamonix Mont Blanc, however when combined with lunch or dinner (or even skiing) in Courmayeur this location can't be beaten!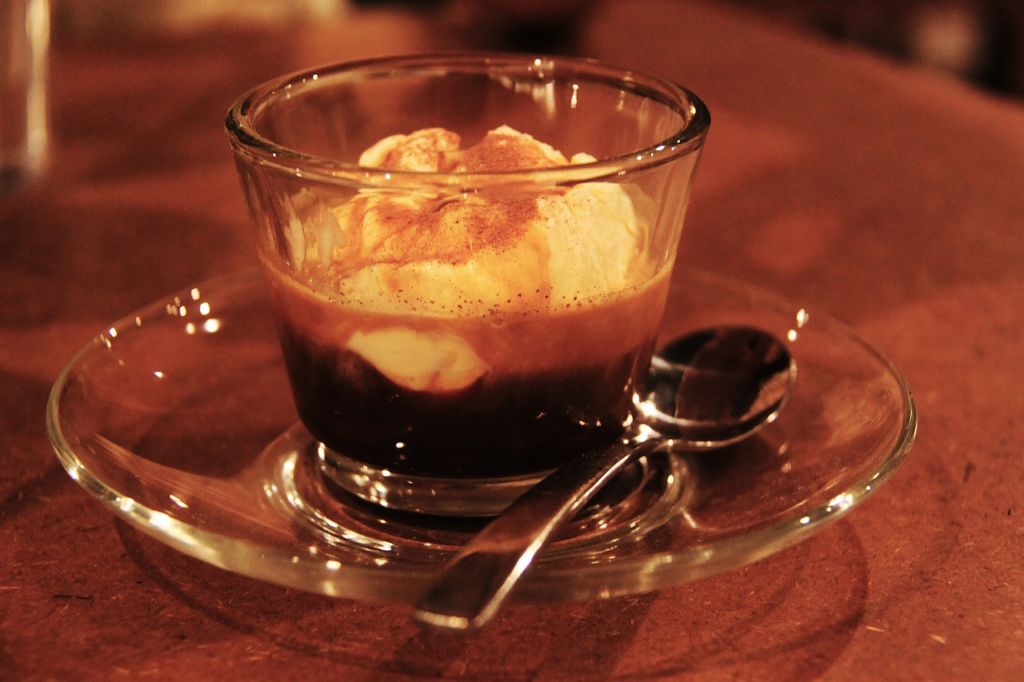 FINAL TIP: Dessert like an Italian and end your trip with an affogato! Like most great Italian dishes, the affogato is a lesson in simplicity; it is usually prepared by pouring an espresso on to a simple scoop of vanilla ice cream. Amaretto or other liqueurs are sometimes added. It's the perfect hit of caffeine and sugar from one of the cafés in Courmayeur to send you on your way back through the Tunnel du Mont Blanc to Chamonix!