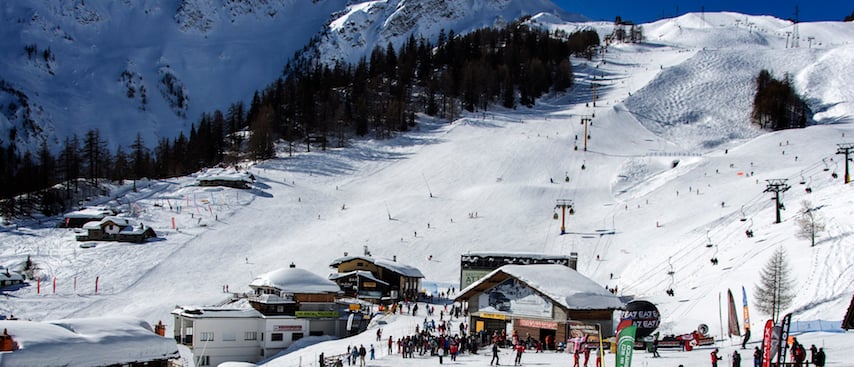 Vital Statistics
Resort Height: 1224m | Highest Lift: Cresta Arp 2755m
Slopes: 29
Blacks: 4 | Reds: 17 | Blues: 8
One of the benefits of having the Mont Blanc Unlimited lift pass is the fact that you can ski in Italy at no extra charge, in the ski resort of Courmayeur. Nestled at the end of the Aosta Valley and just on the other side of the Mont Blanc Tunnel, Courmayeur is more than just a little bit special. With an atmosphere of easy-going friendliness, fantastic restaurants (you are in Italy after all!), wide sweeping pistes and awesome vistas of the massif, Courmayeur is a day out full of fun, good food and great skiing. See our recommendations for mountain restaurants.
See below to book a Chamonix All Year day trip to Courmayeur. Or catch the bus from outside the Chamonix train station at 8:30am or 9:30am (return buses at 3:30pm, 4:30pm and 5:30pm), it's free with your Mont Blanc Unlimited pass, or approximately 14€ without.
View Courmayeur ski maps.
Local tip
Being separated by Mont Blanc, the weather conditions in Courmayeur can be very different to Chamonix and it can therefore be a great alternative to skiing in Chamonix if the weather conditions aren't great. Check out the weather forecast to plan ahead and pick a day to go through the tunnel to Courmayeur.
Lift passes
To ski in Courmayeur, you'll need to have the Mont Blanc Unlimited lift pass, or buy a one-day local pass when you get there. Read more about the Mont Blanc Unlimted pass in our winter guide or go straight to our Chamonix Resort Shop to book now online. You'll need to validate your pass at the ticket desk in Courmayeur before you can use it on the lifts – go to the Téléphérique de Val Veny, Téléphérique de Courmayeur or Télécabine de Dolonne.
Chamonix All Year day trips
Book onto the Chamonix All Year minibus for a day out skiing in Courmayeur, or book our special Ski & Spa combo for a relaxing end to the day at the magical spa of Pré Saint Didier. Book online now: