Get on your bikes 'n' ride – Freddie Mercury, Queen
Whether you're in Chamonix for the mountains, the memories or even the music, there comes a time in every summer vacation when you're tired of walking… or of sitting around.
Find the perfect bike for casual transport, speedy hill climbs or adrenaline-loaded descents at our top choices for the best bike hire in Chamonix.
(PSST – Keep reading to the end for more info on how Chamonix All Year guests can save 10% on bike hire!)
InterSport Nord – Bike Hire Chamonix
Enduro MTB. Cross-country MTB. Electric MTB. Road Bikes. City Bikes.
240 Route du Bouchet, 74400 Chamonix | +33 (0) 4 50 47 73 50
Located opposite the ice skating rink on the edge of the Bois du Bouchet loop, you'll find Philippe and his team of international staff. Stocking Scott and Nakamora, there is a bike for every purpose: from cross-country mountain bikes ("MTB", or "VTT" in France) of every level to various road and city bikes.
They have city road bikes with disc brakes and lighter wheel brake versions for beginner-intermediate road cycling adventures like the Col Des Montets or the punishing climb to gorgeous Plaine Joux from nearby Passy.
InterSport Bellevue, Les Houches
Enduro MTB. Cross-country MTB. Downhill MTB. Electric Road Bikes.
22 Place de la Fruitiere, 74310 Les Houches | +33 (0) 4 50 55 52 75
Les Houches is well known for its downhill MTB known simply as "DH". Here you can take the lift to access an impeccably maintained blue run and an obstacle filled black run that's lots of fun for expert adrenaline junkies. Close to the Bellevue lift, InterSport is your Les Houches local for the best bike rentals and your "go-to" for DH bikes locally.
The team stocks Lapierre DH bikes specialising in SLT technology, single-pivot kinematics specifically developed for downhill riding. Much like their central bike hire Chamonix brother (InterSport Nord) they also offer Scott bikes for the cross-country fiends, and there are two sought-after electronic road bikes!
Slash
Enduro MTB. Cross-country MTB. Performance MTB. Electric MTB. Performance Road Bikes. California City Bikes.
404 Rue Joseph Vallot, 74400 Chamonix | +33 (0) 9 73 24 81 84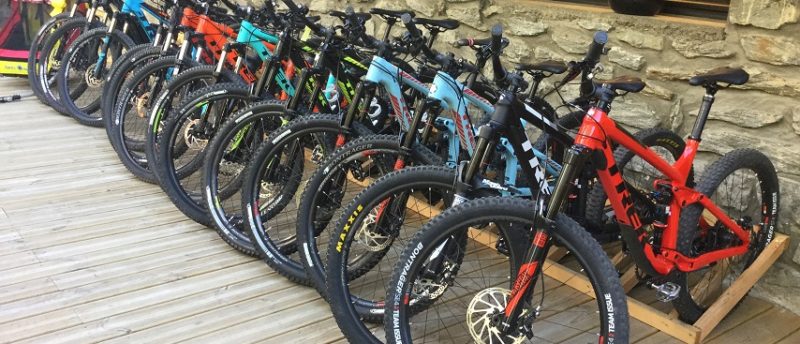 Strictly snowboards in the winter, and boutique bikes in the summer: Slash opened in July 2016 and has quickly become a local favourite. Guillaume likes to call his store an "épicerie" of bikes, imparting a very visual image of bikes offered up as tasty meats and cheeses. Like any good local épicerie in town, Slash hand pick their favourite produce and offer only the best.
They are proud to offer the finest rentable riding options for genuine riders: the best of the best. They even have the Trek Domane Carbon road bike available for those headed to Chamonix to take on some of the famous Tour De France stages that have passed by here, like the 2016 Col de Forclaz or stunning Barrage d'Emosson (Emosson Dam). Take note: their ethos is quality over quantity, so make your rental in advance of your stay for some of the more specialised material.
Or if you're lunching at nearby Hibou cafe, why not pop by for a dreamy California city bike by Electra and bike trailer for the kids?
Legend CHX
Enduro MTB. Cross-country MTB. Performance MTB. Electric MTB. Performance Road Bikes. Road Bikes. Fat Bikes.
218 Avenue de l'Aiguille du Midi, 74400 Chamonix | +33 (0) 4 50 90 22 25
Close to the Aiguille du Midi Legend CHX are hiding out with an arsenal of expert rentals by Giant, Intense, Norco and Stevens. Parked right behind one of our favourite bakeries Le Fournil Chamoniard in Chamonix Sud you can grab everything you need for a two wheelin' picnic adventure in one location. They even sell a specialist beer just for cyclists, and it's delicious!
Discounted Bike Hire Chamonix

Here at Chamonix All Year, we're always looking for ways to help you make the most of your stay, and in summer we're happy to offer 10% discount on bike hire to help your holiday spending money go further. Either book online before you arrive to save 10%, or if you prefer to wait till you get to resort, our team will bring you a discount voucher when you arrive. Pop along to see our partners at InterSport Nord or InterSport Bellevue with your voucher to claim your discount.
Make the most of your bike hire Chamonix
If you're just getting started with mountan biking, you might want to join a group or head out with a private instructor to give you some tips. Book some mountain bike Chamonix cross-country or downhill lessons with our guide.
If you're booking a group lesson, all equipment is included. With a private guide, you'll need to organise your bike hire Chamonix as extra before you meet up.
Don't miss our guide to mountain biking routes for all levels too, for some great starter tips.