At Chamonix All Year we are en eclectic bunch. We come from all walks of life, we are young and (!) not so young, we represent many cultures and upbringings, we are guys and gals. But the one thing we have in common is landing here in Chamonix, all of us drawn to the mountains, all of us deciding to make it our home and for some of us the Women's Mountain Club has made that just a bit easier.
Almost all of us ski, snowboard, climb, bike or run; a few (nutters) do it all! We think it's why you book through us all year round – we know how to get the most out of your stay here and are proud to be able to link you up to the best Chamonix has to offer. Obviously we love it, but we've noticed that the mountains can sometimes seem like a macho, hardcore kind of a place to live, or visit. The mountains can be seriously gnarly, and for some of us, the skiing can be intimidating.

My story
I myself am a cruisy skier. My partner is a professional mountaineer, so skiing together can be a recipe for disaster (read: tantrums) when he takes me somewhere I find scary and fails to understand why my technique deteriorates. Last year I decided to go in search of mountain company that felt a little more, erm, supportive. I joined the Women's Mountain Club on a ski tour in Switzerland. It was so brilliant I went back 6 months later on their 'find your ski legs' November trip, getting some piste technique in Italy. They are based here in Chamonix and run all kinds of events, workshops and clinics for women who love to be in the mountains. So if you're a lass looking for a boost, or a guy who knows a girl who'd love to join some like minded females, read on! From honing technique, expanding know-how or to simply pepping up your enthusiasm for mountain sports, the Women's Mountain Club or the WMC could be right up your street.
Got some questions? Here are some answers from the founders of the WMC:
Who are the Women's Mountain Club?!
The Women's Mountain Club is a community of females, mostly but not exclusively based in the Chamonix valley. We all share a passion for the mountains, being outdoors and improving our skills in a supportive group environment.
The community is managed by Rachel Kerr, Fay Mackman & Naoimh O Hagan. Rachel founded the club back in 2016, Fay joined in 2017 & Naoimh a year later. Rach & Fay are the ski instructors of the club while Naoimh takes up the social media marketing (geeking) end of the endeavour.

What inspired you to start the Club?
Rachel saw the need for a women's specific program; somewhere that offered a learning environment ideal for females. For women by women. Many mountain sports are dominated by men, so creating a club for women out here made sense to us. It makes a difference and there is definitely a demand for it.
This year we are SUPER lucky to have backing from MDV (Marker, Dalbello & Voelkl family) as well as The North Face 'Never Stop Chamonix' so it feels like there's a wider support for the idea, represented by the brands sponsoring us.
What kind of stuff does WMC do?
In the winter the program is all about skiing and is split into two areas:
We have technical sessions, lead by ski instructors, that focus on getting geeky about ski technique. This is really breaking down the discipline of skiing and fine-tuning individual weak spots. This year for the first time we offer a midweek technical session as well as the weekend sessions. It's been really popular and offers ladies who can't make a Saturday are taking up the opportunity to get involved.
Second are our mountain sessions, led by mountain guides. The focus here are the all-mountain skills. We cover avalanche safety, crevasse travel, touring, map reading and off-piste techniques. Skiing tech is still tweaked but it's a bigger picture day. Environmental, geographical and technical aspects are also taken into consideration.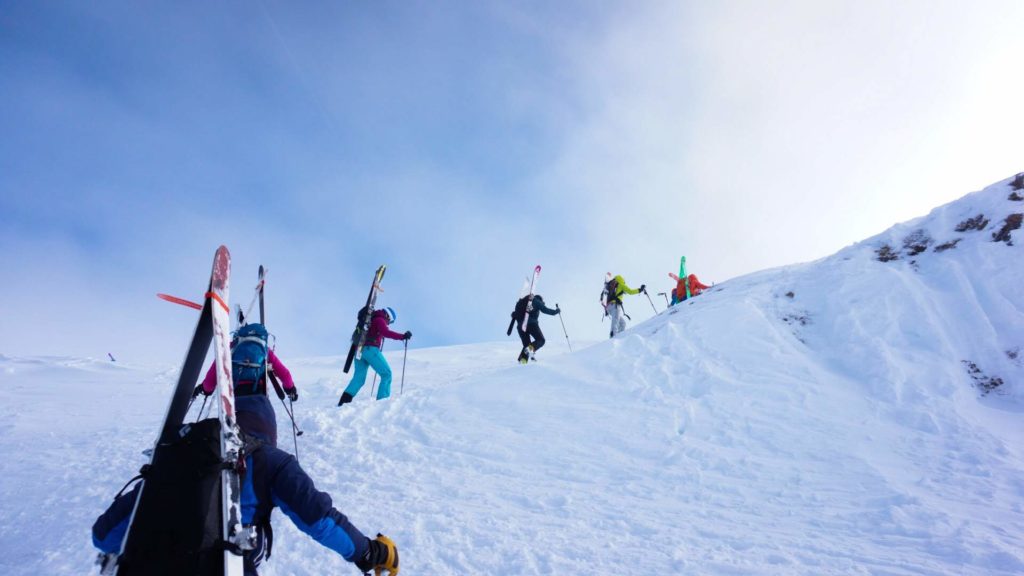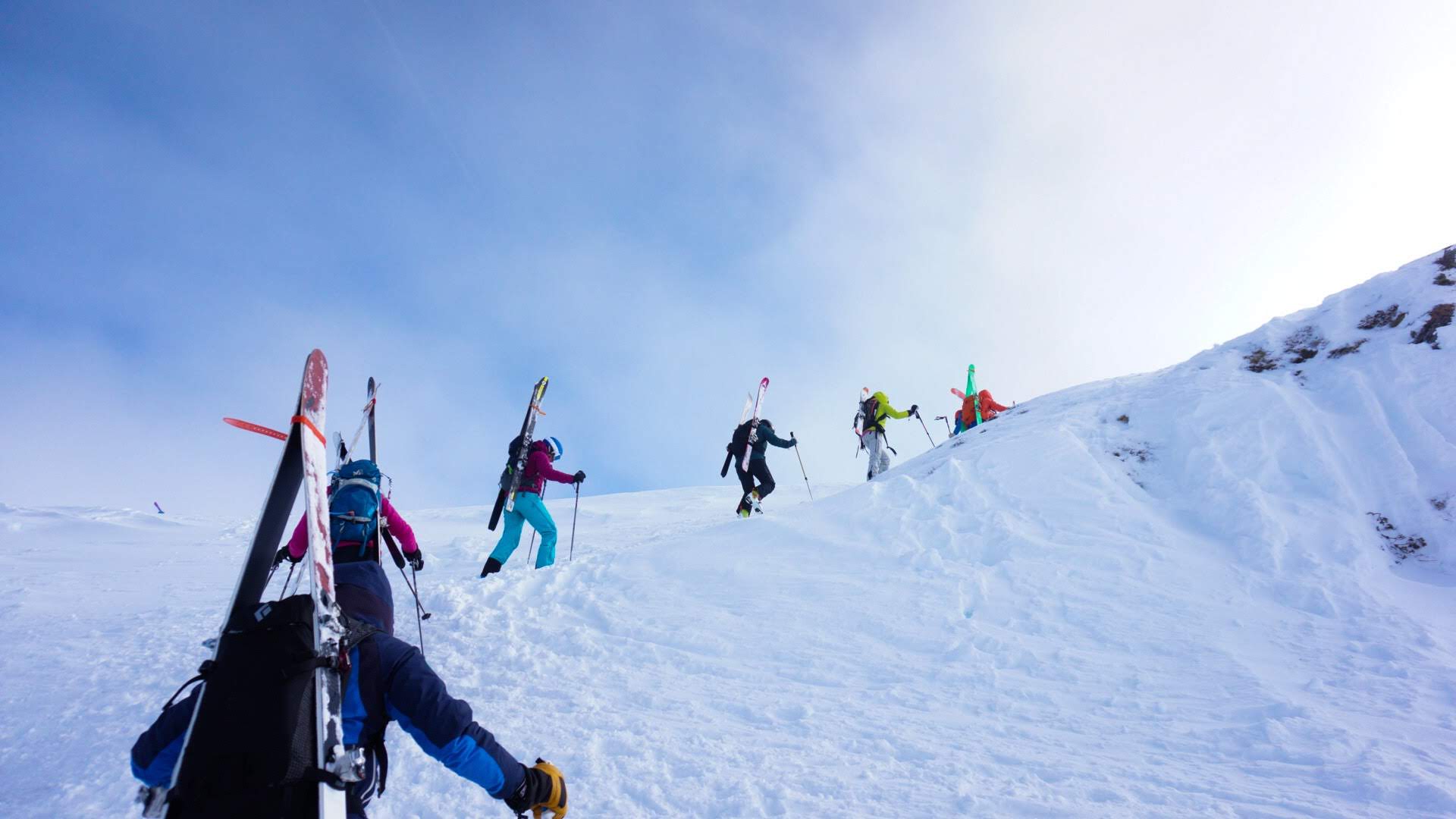 Our summer program involves mountaineering, hiking days, climbing and road biking trips, using the same awesome guides from winter. We co-ordinate our road bike meetups with Ali Gibb's 44 South Morzine and our bike apparel partner Kandesent. The summer program is an ever-growing one. Obviously, after a busy winter, it's nice to take a few weeks off but we are also super keen to keep the community vibe going.
We also run a pre-season ski camp "find your ski legs" each November. A week-long ski course, it offers an opportunity to get on your skis before most of the resorts open and hone in on your skills early. We run it in the wonderful high altitude resort of Cervinia we use 4-star accommodation and aside from skiing during the day we have (optional) stretch classes in the morning and evening sessions, oh and apres-ski meet ups (always the most popular daily event).
Why is Chamonix home for WMC?
Simply put it's where Rach, Fay & Naoimh live. We have ladies come from neighbouring resorts and we take an end of season trip out of the valley but Chamonix is base camp. There's loads of adventures to be had here, all year round, so it just makes good sense.
How can people get involved – can any girls join?
We welcome anyone who can handle a red run. It would be our dream in the future to offer never ever skied sessions but at the moment the level is a red run skier. If you can ski that then all you need to do is drop us a line and book on to one of our sessions. We have three a month. One Saturday mountain session. One Saturday technical session and one-midweek technical session. We have Facebook, Instagram or you can look at our website.

Do you have any dates coming up this season?
Yes. Next session is on the 17th of March (it's a technical session). We have our sessions as events on FB and ladies can book on via the website. We have sessions right up until the middle of April culminating in our annual end of session hut tour weekend. We all head off and spend time exploring a new area with guides and having a laugh.
Inspired?
If you've been inspired by the Women's Mountain Club and would like to get involved, speak to our resort team. We can organise transfers and equipment hire to make sure your adventure runs smoothly and will introduce you to Fay, Noaimh and Rachel if you haven't yet been in touch. You can also read about the fierce and fearless women mountaineers who paved the way for this club in our previous blog on lady legends.