The mornings are colder, the maple leaves outside the Folie Douce are starting to turn yellow and the sun is taking longer to reach over the high peaks that surround this mountain paradise that a privileged few call home.  The only thing that can be done is to start thinking towards the winter season ahead. The winter in Chamonix is when most people like to visit making the most of the steep slopes, rich history and the endless food and drink. For those who come back year after year, it feels like home from home with favourite ski runs or off piste play areas and your favourite watering hole or eatery.
However, each year things change, businesses come and go, CMB (the lift company) start to make some changes which are always long sought after and the new band of seasonnaires come to serve holidaymakers and keep the town buzzing throughout the snowy months. We hope to give a little insight into what is new in Chamonix this winter so you can come back feeling right at home and impress your friends with your 'local knowledge'.
What's new in Chamonix this winter?
Flégère
The Compagnie du Mont Blanc, who have long been known for their limited spend on the Chamonix lift system, have a €447m, 40-year investment plan which they have been rolling out over the past few years, and which has included to date the new Plan Joran lift at Les Grand Montets.
This year's big news is a new cable car at Flégère. Locals and tourists alike will remember the frustration on busy weeks when queues could be over an hour long to just get up to the skiable area.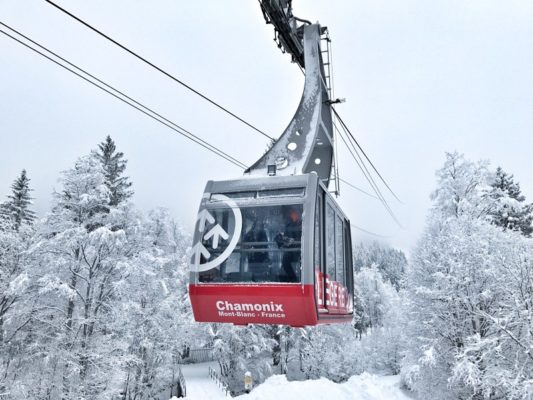 The old Flégère cable car has now gone, the pylons have been taken down and work is well underway for the new gondola. Reports are that work is on time and it will be open for the beginning of the winter season. The new bubble lift will have 10 seater cabins with a carrying capacity of 2000 passengers per hour compared to the old car which was 2 large gondolas carrying roughly 300 passengers per hour. Costing CMB €20.5 million there is also a new departure station complete with bells and whistles.
The home run at Flégère was enlarged in 2017 with much wider corners and a constant gradient. These epic transformations at Flégère should help this amazing ski area be a pleasure from first lifts to sunset ski-downs.
The only disadvantage will now be that locals cannot use the trick of sneaking over early from Brevent while people are standing in Les Praz waiting to ascend the mountain!

Bochard lift station – Grands Montets
Compagnie du Mont Blanc have invested over 1 million euros into the lift station for the bochard bubble lift in the grands montets ski area. How noticeable this change will be to the consumer we are not sure but what we do know is that these works will help keep this lift open all winter.
Kandahar
The last Kandahar race took place 4 years ago. This stop on the Men's Alpine skiing world cup is back, bigger and better on the 8th & 9th February 2020. There will be slalom and parallel giant on this mythical black run, the Kandahar, the "Verte des Houches" is not so green!
Built in 1947 and 3,343m in length this run is considered one of the best downhill tracks in Europe and one of only 2 stops in France on the men's downhill circuit. With the new finish line, this year will be something special and a spectator's delight.

Kandahar juniors
The adults are not the only ones having fun this year, from 10-12th January the Ski Club Les Houches has organised the 6th ever Kandahar Juniors. Competing on the same slope as the adult event these under 14s from ski clubs compete for their club to be the best. At the end, the Kandahar Junior is presented to the winning team. There are clubs from Italy, Sweden, Belgium, Scotland, England and France competing.
Kandahar works
Anyone driving to the Prarion this summer will have noticed the road works just past the Bellevue cable car. It's all part of a large plan to update the end of the Kandahar run enlarging the arrival racket and widening the lower part of the track to make it a better finish for competitors and spectators alike. These changes rumoured to have cost over €10million also mean that Les Houches can now host Slalom World cup events long into the future.
Musilac Mont-Blanc Festival
Although not completely new, Musilac has confirmed dates for next year's festival. The 3-day pop-rock festival will take place on 16th-18th April 2020. There are rumours that a different management company was taking over the festival but these have not been confirmed and it is expected to run with the same format as the previous years, with over 20 acts playing, an international line up, meaning it has all the expectation to be a great weekend.

Le Café du Genepy
Just off the high street behind the Super U is a new café, le Café du Genepy, run by the Hotel Faucigny. The café is going to serve organic, healthy food and offer a great breakfast menu as well as a takeaway service.
The Shack
The Shack has been open during the summer for outdoor eating but we are all excited about the indoor area opening this winter. It has been a hit so far with its tapas-style Asian food and their side of tomatoes which is to die for!

Chamonix Cinema
The cinema in Chamonix is far from a new feature, celebrating its 60th anniversary it is part of Chamonix's history however it was struggling and the plans were to close it down despite local protest. However, in February Cinecimes (who run the cinema in Sallanches and Morzine) bought Cinema Vox and plans to continue to serve the valley with movies on the big screen.
Watch this space
Le Vert take-over
Le Vert hotel and restaurant are currently being sold but do not fear a little bird told us there is a local company that is taking over it and we think it will be better than ever!
Arts and crafts Studio
There is rumours that there will be a new arts and crafts studio in chamonix sud that will run classes and/or workshop space for locals and tourists alike.
We always like to thank local websites Chamonet.com, Chamonix.net and Planet Chamonix for providing us with local news.