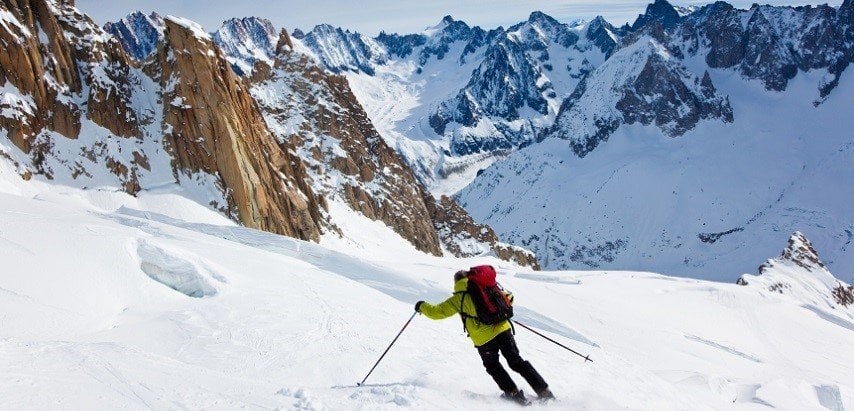 There's lots to see and do in Chamonix on your winter holiday – as our bursting winter guide proves! We're sure that some of you will already have your eye on ski lessons or guides, but here are our top 3 must-dos in Chamonix to help you make the most of your trip here. Our Reservations Team have chosen their favourites with something for everyone in your group.
1. Vallée Blanche
If you're a serious skier, then your trip to Chamonix would not be complete without a day on la Vallée Blanche. It is one of the most famous ski runs in the world, and for very good reason: it is the longest in the world whether you're measuring by vertical descent or length with 2,780m of the descent and at 22km long and offers unrivalled views of the Mont Blanc massif. You'll start from the top of the famous Aiguille du Midi cable car and ski down France's largest glacier, the Mer de Glace.
2. Husky rides
Husky rides are eternally popular with groups of all ages, but especially for families with children. Everyone will leave with great memories of a magical experience of being pulled through the snowfields of La Vormaine (Le Tour) or Les Praz on a traditional sledge.
3. Raclette
No winter trip to the Alps would be complete without eating lots and lots of cheese! Traditional Alpine cuisine owes everything to the many local cheeses, and top of the menu is raclette. A large cheese is heated, traditionally in front of a fire but these days more likely in front of an electric heater, and then scraped (racler) onto your plates to be eaten with a selection of potatoes, pickles and dried meats. If raclette just isn't enough cheese for you, then don't miss out on tartiflette and fondue as well! Our blog has a post dedicated to local specialities and you can find all our restaurant recommendations on there too.
And more!
Don't miss our winter events calendar either to see what's on during your stay – see if our local ice hockey team is playing or enjoy a torchlit descent spectacle put on by the ESF (French ski school). Book your holiday essentials now on our Chamonix Resort Shop.