With so many restaurants to choose from in Chamonix, from Japanese to Canadian, Swedish and of course the local Savoyard cuisine, it is not an easy feat to open a new competitor, however that is exactly what the owners of The Dainty pizza in Chamonix did. Having previously been a coffee shop and then a ready meal takeaway place this location on the outside ring of Chamonix Sud was waiting for something that would really 'wow' the visitors and residents of Chamonix.
We interviewed the owners of Dainty's to find out what really makes their place special and shine above the rest, however let it be said that you can tell nothing until you've tasted the pizza which we can testify is great!

The pictures on this blog are not stock images, they are pictures of the actual food you will get at The Dainty Pizza in Chamonix.
Who are the owners of The Dainty?
A couple of pizza idealists that craved what the mountains have to offer… and so brought what they could in turn.
What was your concept for the business?
Sourdough pizzas with a short enough menu to allow us to use wonderfully fresh products, and with enough choice to answer to as many diet/lifestyles as possible. Everything we choose to use, for our oven to our pizza boxes, is chosen to give the very best product, with the lowest impact on the environment.
Why is it called The Dainty?
Our pizza shop is (hopefully) very small, cute and cosy.

Do you use local ingredients/suppliers?
All our cheeses, tomatoes, olive oils and flours come from our neighbours in Italy several times a week. Our organic beef is French. For our pepperoni, we worked with a small company in Spain to find the right recipe for us, they specialise in hand-made, dry-aged, beef products. We're really pleased with what they make for us.
What's special about your pizzas?
We make our dough with a mix of flours, mother yeast and biga (an Italian preferment), we leave it to develop slowly for a minimum of 3 days. The dough becomes packed full of air pockets and is super light on the tummy. Leaving room for us to top our pizzas with really rich, high-quality toppings.
What makes The Dainty unique?
We try to have a menu with something for everyone, without having the menu you've seen before.
Is there anything else you want to share about your Pizza in Chamonix?
We love to see our littlest clients enjoying themselves. We have highchairs and a special 1€ kid's pizza. Please bring the whole family, you are all more than welcome.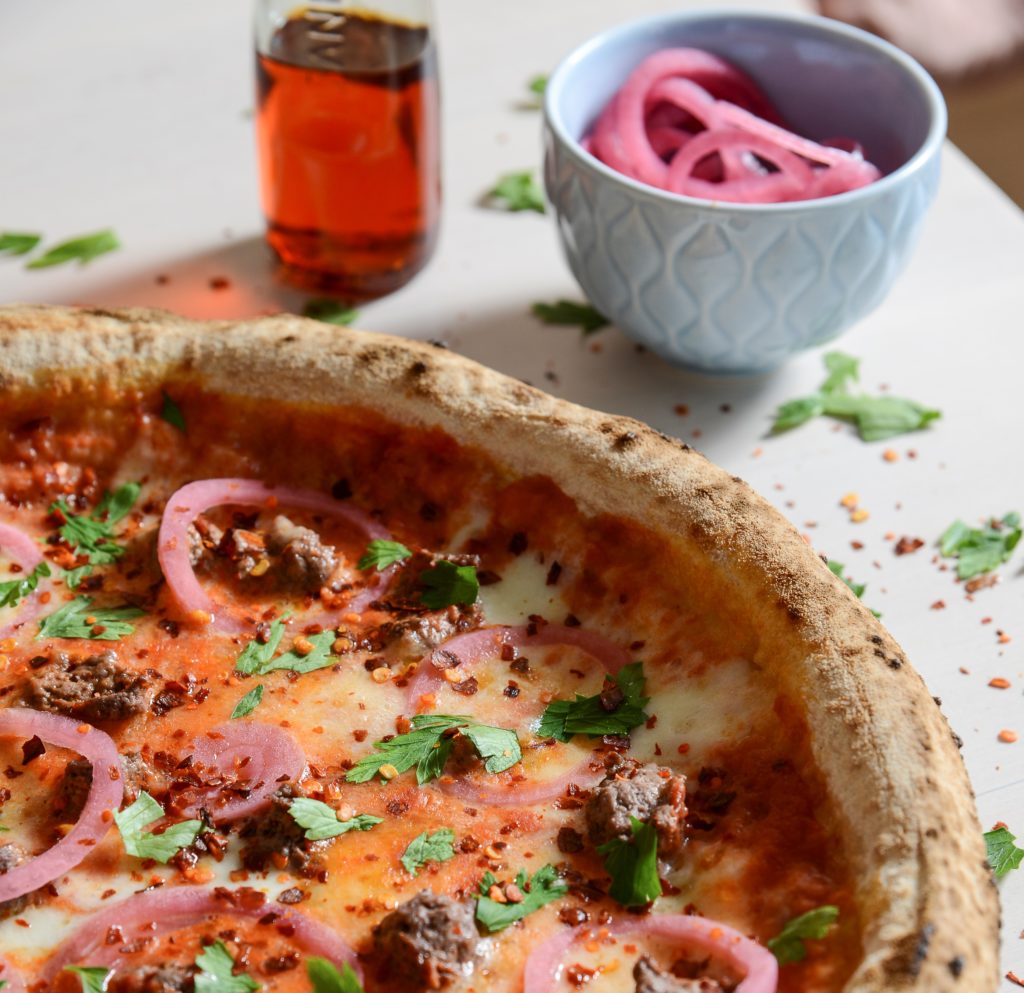 You can follow their Instagram account to see mouth-watering pictures of pizza and cakes and their latest news.
So, head to The Dainty pizza in Chamonix sud and either sit in or takeaway and fill your stomach with some of the best pizza in Chamonix and most certainly the greenest!