Winter holidays are synonymous with snow on the ground and snuggling up around a log fire in Chamonix. Many of our chalets and apartments have fireplaces so you can book the accommodation of your dreams and enjoy watching those roaring flames.
To help you make the most of your log fire in Chamonix, we have spoken to our property management team and asked them to give their top tips for making a great log fire in Chamonix during your stay.
Making your log fire in Chamonix
Our Chamonix properties have some beautiful fireplaces, from suspended wood burners to open log fires. Some of them have glass surrounds for extra safety; these clever screens are designed to radiate the heat from the fireplace while stopping sparks flying out.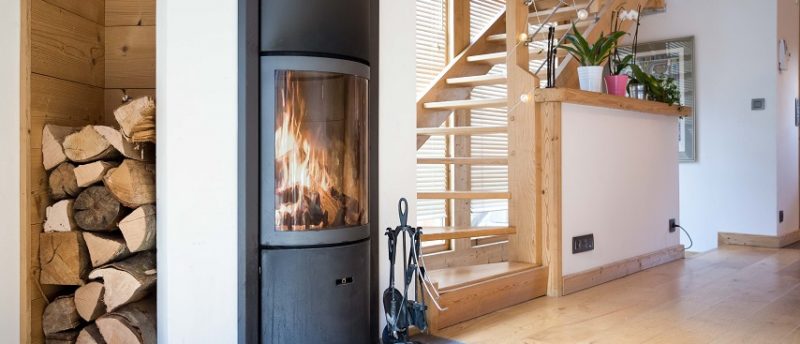 Make sure the chimney is clean and free from blockages: guests in Chamonix All Year properties don't need to worry about this as all of our chimneys are maintained and swept ahead of the winter season to get them ready for use.
Open the air vent: often these will already be open before your arrival, but always check before laying / lighting your fire, as if the vent is closed, the smoke will not be able to pass up the chimney and will come back out in to the room.
Prime the flue: if the fireplace hasn't been used for a while then the flue will be cold. The cold air will sink down the chimney, and lighting a fire will only cause the smoke to come out into the room instead of going up the flue. To prevent this from happening, you'll need to warm up the air in the flue. Simply burn some newspaper or small twigs in the fireplace for a few minutes, until you see the smoke going straight up the chimney.
Lay your fire: once your flue is primed, you're ready to lay your fire. It is important to allow air underneath your fire, so if your fireplace does not have a grate, then use two small pieces of wood to raise the fire off the bottom of the hearth, and put kindling and logs on top of these. Additionally, you may want to use some tinder to light first e.g. newspaper or brown bags which should be placed underneath. Avoid glossy paper or paper printed with coloured inks as it can leave residue in the chimney which can be flammable, and won't burn as well.
Light your fire: You may need to leave the glass screen open an inch or so, if your log fire in Chamonix has one, or open a window to encourage a draught. Once the fire has really taken, you can close the glass screen or window.
Enjoy the cosy ambience! Pull up a chair, grab a good book and a glass of vin, and snuggle down for a cosy evening in your Chamonix accommodation, gazing out at the snowy landscape. Always exercise due care around a burning fire – don't leave it unattended and ensure you use the fire guard or glass screen provided to stop sparks flying out or hot logs rolling away.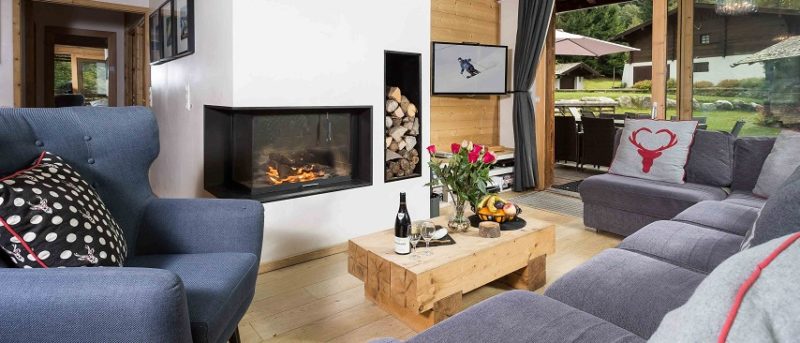 Once your fire has burned down (probably the next day), you'll want to think about removing your ashes. Ensure that the ashes have cooled completely, then use the metal tools provided to sweep the ash out. Never leave ashes that are still warm on the balcony or terrace of your accommodation, as this is a fire risk.
Log fire in Chamonix chalets
In addition to the above tips, Chamonix All Year guests will be met on arrival in their Chamonix accommodation, where our team will provide any specific instructions relating to the fireplace in your apartment or chalet.
Many of our larger properties also have a stock of logs for you to use during your stay, and kindling can be bought at any of the local shops or supermarkets. To find out if firewood is provided in the accommodation that you've booked, check the information on our website or ask the team.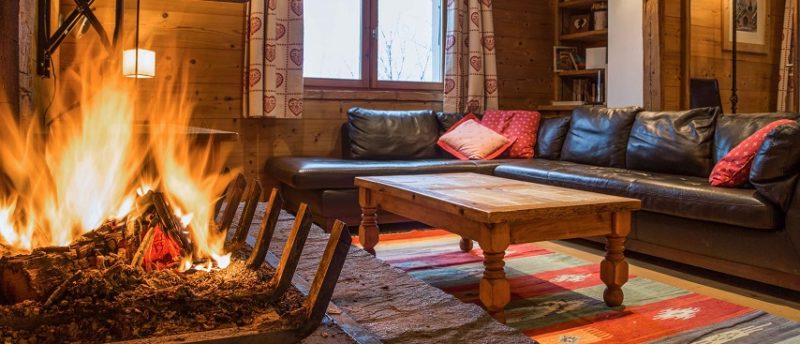 Reducing fossil fuel emissions
To help you make the most of the beautiful mountains during your stay and preserve them for the future, we are trying to limit the amount of fossil fuels that we burn.
Due to the geography of the valley, during periods of high pressure the smoke created by fires can't escape and is trapped in the bottom of the valley. The small particles in the smoke have an effect on the health of visitors like yourselves and the people who live here.

We therefore ask you to bear this in mind and not use the fireplace unless necessary for warmth, particularly during periods of high pressure. Read more about eco-friendly steps you can take during your stay and find out what we at Chamonix All Year are doing to protect the environment.
Fireplaces in Chamonix accommodation
Over 40 of our properties have fireplaces to offer you lots of choice when you're looking for that perfect Chamonix winter holiday – but it's not just in a chalet that you can enjoy a log fire in Chamonix, many of our apartments also have fireplaces.
If you want the ambience of a log fire in a smaller property, then we even have some apartments with ethanol-burning fireplaces, so you can watch those mesmerising flames no matter what your budget. Ask our team to recommend the best one for you.
View all of our Chamonix accommodation, and use the filters on the left of the page to select properties with fireplaces to see the full range of log fires in Chamonix chalets and apartments. Or email our dedicated booking team who will be able to recommend the best properties for your needs.