A majestic, powerful sign of the prestigious past of Chamonix, and a major part of its heritage…
Chamonix All Year invites you to stay at the Majestic.
At the beginning of the 19th century, Chamonix was visited by between two and three thousand tourists annually. Following the Enlightenment, a voyage to Chamonix to marvel at the mighty mountains and glaciers became the ultimate upper- and middle-class pilgrimage. As you can discover here, this grew the need for an established Compagnie du Guides but also for high-end accommodation.
The construction of the Majestic Chamonix hotel, in 1913, was a major step towards the touristic development of Chamonix and remains a tribute to our rich local history. Today when we think of luxury tourism for the wealthy, we often imagine a yacht off the coast of a private island in the Caribbean… But at the turn of the 19th and 20th centuries, Chamonix was on everybody's lips. Back then, the practice of mountain sports was reserved for a wealthy international elite (and of course skilled locals) only.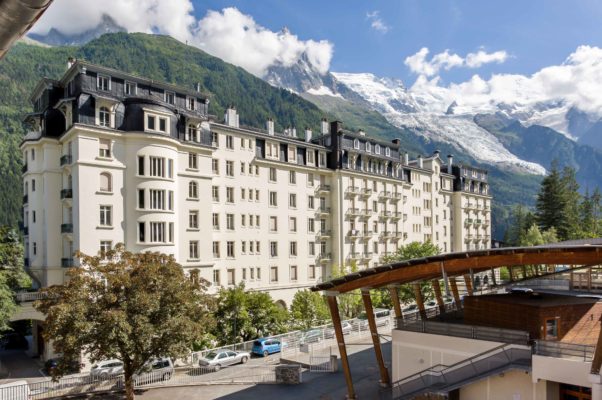 The Majestic Chamonix in full swing
For the demanding international clientele a theatre and casino were built, shops, tea rooms and of course magnificent hotels. Of those hotels, the Majestic was quick to align itself with the Société des Hôtels Cachat, a Franco-Swiss company founded in 1913 in Evian. At the time, Swiss establishments were judged more comfortable and were thereby more popular, so the owners invested heavily in marketing their new palace as…
Le Cachat's Majestic :
As shown above, these famous advertising posters (now on show in the Museum of Grenoble) each illustrate a season, showcasing the Majestic and the activities it offers. In winter, a snowy landscape shows a family enjoying the thrills of skiing, sledding and sleigh rides. In summer, they play tennis, take joy rides in classic cars, and walk their dogs. Compare this to today's top activities here for winter and summer.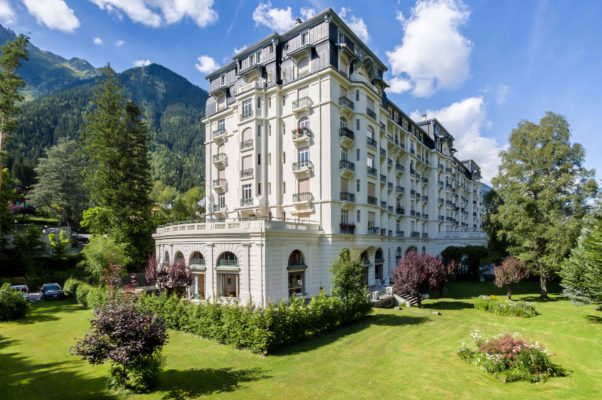 Another important moment in in the history of this building, and the World, is World War II. In a strategic border position Chamonix cam into Nazi control as resistance fighters were forced high into the mountains from 1939. Among other privileges, as you can read on here, the only people allowed to enjoy the Chamonix Golf Course were Nazi army officers, stationed at the Majestic Hotel in central Chamonix.
You can imagine from the open vantage point the spectacular battles that occurred at altitude around the Chamonix Golf Club. For example, the battle of the Col du Midi (3532m altitude) in February 1945; artillery fire and bombs dropped by the air force were used in a great show of Nazi force to take the position. Famous Resistance fighter François Baz died in battle. By 17th August of that same year, Chamonix was liberated and the occupying Nazis retreated to the Majestic for surrender.
Following the Nazi surrender the Majestic acted as a Hospital for injured war veterans, including Nazis in hiding or held prisoner. Some floors were even held for people suffering from mental illness. Then from the 1950s each floor of this architectural gem (listed and protected officially) was transformed into apartments (and some offices).
There are six official floors all with amazing views, "charme à la ancienne", high ceilings and big windows. Today, the restored building is home to the Congress Centre of Chamonix, and a number of the now private apartments are aligned with Chamonix All Year for rental as below. It is often also used for summits, weddings and public events (often yoga) such as the Chamonix Yoga Festival or #lululemonsummit of 2018 seen here.
Our properties at the Majestic
Enjoy a proud history and proximity to the pistes at Brévent and Le Savoy, a nearby bus stop, and the town centre at your feet!
Le Majestic 106 appt
Le Majestic 106 appt is a fantastic Chamonix apartment in a very central location. This Chamonix apartment can sleep up to 5 people and is only 350m from the Brevent ski area, which you can see from the apartment. Le Majestic 106 appt has 1 master bedroom, 1 attic bedroom, open plan living area with sofa bed, 2 bathrooms and modern kitchen. There is also access provided to the private car park for the residence.
Apartment Overview
87 sqm
Sleeps 2-5 people
1 master double bedroom with ensuite bathroom
2nd double 'attic' bedroom (can be spilt into 2 single beds) with ensuite bathroom
Large open plan living space
Fireplace
Le Majestic 76 appt
Located in the architecturally listed Majestic Chamonix centre building, and a short stroll up to the Brevent lift, Le Majestic 76 Appt is great value for money and ideal for friends or families wanting to be right in the heart of Chamonix. This two bedroom apartment in Chamonix has been recently renovated to include a modern, well-equipped kitchen adjoining the open plan living space and there are a dining table and chairs for 6. The family bathroom is also recently installed, and there are two bedrooms – one with a double bed and the 2nd with adult size bunk beds – plus double sofa bed in the living room. Le Majestic 76 Appt benefits from large windows in the lounge which open out to take in the mountain views facing Brevent.
Apartment Overview
52 sqm
Sleeps 4-6 people
1 master double bedroom
Second cabin bunk bedroom with adult-size bunk beds
Beyond Le Majestic Chamonix
Find out more about the history of Chamonix and stay tuned to our blog for all the latest news and interesting info about Chamonix.