If you're looking for regional produce during your holiday, the Chamonix markets are a great place to head for.
Chamonix markets guide
The largest and best know Chamonix markets are:
On Mondays during school holidays in the main square in Les Houches
On Tuesdays in high season, Chamonix Sud
On Wednesday afternoons, Le Pain Chibon bakery hosts another market in Les Houches
On Saturdays from 7am to 1pm in Chamonix town centre, Place du Mont Blanc
 Saturday's Chamonix markets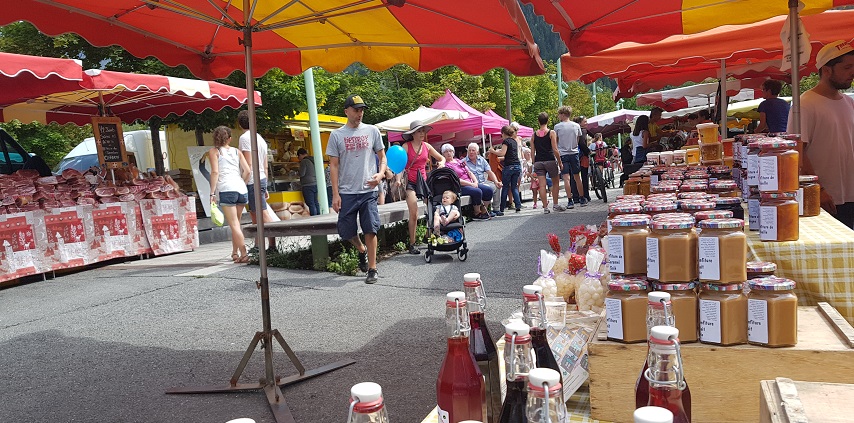 This is the largest of the Chamonix markets which take place in the valley, which takes place weekly on Chamonix's central Place du Mont Blanc and welcomes more than 50 stands offering local products from the Savoie regions and neighbouring Aosta valley. Our favourites which we highly recommend:
La Fruitière de Chambéry, Master Cheese Producer
This "cheese caravan" offers the best products from their maturing cave, giving you the chance to discover the flavours of the Haute Savoie. Don't miss the Tomme and the Reblochon, or the Beaufort and the Morbier which all come from farms in the local region.
Rôtisserie chez Platon
This is the stand that will catch your eye on a Saturday morning, as people line up around the square to get to the Rôtisserie de chez Platon. You'll find the most popular chickens in the valley here, as well as guinea fowl and duck! What could be better for your Sunday lunch? Avoid the queue by booking in advance over the phone +33 (0)6 07 52 94 78.
La Maison Lainé
Discover all the Savoyard specialities with Caroline and Sébastien. They'll introduce you to a world of local meats, from extra lean saucisson to cured magret de canard.
Le Comptoir du Miel
The 50 varieties of honey on offer here come mostly from France, so make a great souvenir. Particularly since you can find honey gathered in mountain forests and from pine trees, as well as more exotic products. You'll also find products made with propolis, as well as body treatments made with honey, pollen and royal jelly.
Poissonnerie Goy
Chamonix on the sea! The owner of this stand offers a wide range of fish, seafood and shellfish from sustainable sources. His produce is prepared with love and care, as well as a range of homemade and fresh ready meals.
That's not all though. You'll also find the Fromagerie de la Fruitière (cheese), La Chapellerie (hats), La Crémerie Béatrix (dairy produce) and of course several stands selling fresh fruit and veg. Watch out for the stand selling mulled wine too, perfect to warm you up on a Saturday morning in winter.
Chamonix "Jumble Sale"
If you're looking for clothes, ski gear or sport kit at the best prices, then head to Chamonix during the braderie. Imagine an official jumble sale for all the shops in Chamonix, offering great deals on a whole range of products.
On Saturday 7th and Sunday 8th April, the Chamonix braderie takes place. As well as shopping bargains, there's also musical entertainment and this year the Chamonix Unlimited festival also coincides too. You'll find plenty to distract you as you wander around Chamonix town centre.
Our top tip: get there early before the best deals are gone!
Find out more about where to buy local food in Chamonix and about shopping in Chamonix in our blog.