Please note we don't offer this day trip any more, but we still highly recommend our partners at Les Crêtes and Erba Voglio who you can find online.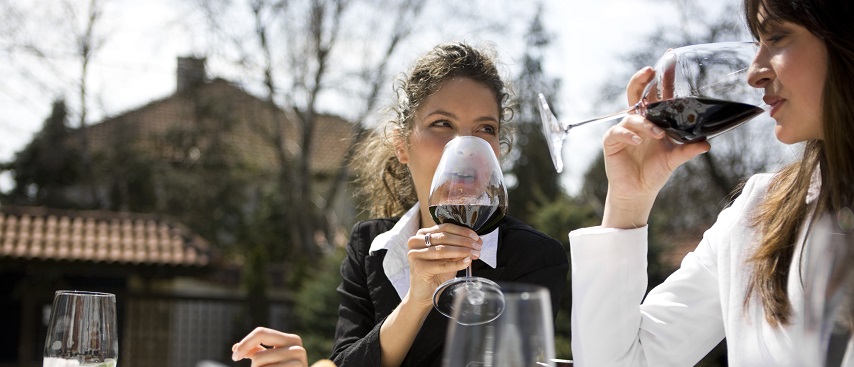 The group was off at about 9am, when the transfer team picked them up from their accommodation and headed up to the Mont Blanc tunnel to cross over into Italy. From Courmayeur, they went to Les Crêtes winery, one of the most important vineyards in the Aosta valley, and after a tour and description of the wine production process with the team at Les Crêtes, it was on to the all-important wine tasting, featuring wines produced with the grapes grown on-site.
After lunch, the tour visited Aosta town and the cheese cellar of Erba Voglio. They met an English-speaking expert who showed them around the cheese cellar and explained about the production before giving them the opportunity to taste eight of the local cheeses, along with four carefully selected complementary wines.
The Chamonix All Year transfer team certainly enjoyed themselves and they were thrilled to be able to buy smelly cheeses and bring them back to Chamonix! Read a review from one of the group:
In terms of feedback, the way in which you guys looked after us with the excellent communication from yourself, transport which picked us up from our accommodation and helpful staff was excellent. Simple stuff like that makes everything a much more enjoyable experience for us because there was no worrying or extra work required.

The cheese and wine day was really good. I felt that the tour of the vineyard could have been improved with a tour of the manufacturing facilities etc – having said that, the lady who took us on the tour explained about their new facilities being constructed which I am sure will more than fix that. It was also commented on by pretty much everyone in the group how lovely the lady was who took us on the tour (sorry, I can't remember her name). Very friendly and talkative, which helped a lot.

The cheese tasting was excellent, and in our opinion the guy you are using was very good. The initial shop had a real atmosphere about it, which was actually helped by the wine shop owner's inability to speak English. They were both very enthusiastic and friendly, which made it very enjoyable.

The cheese shop owner was the star of the show, and his willingness to take us to his own shop and explain all about his job in the cheese cellar was very nice. He is obviously enthusiastic about his job and I found that the most interesting part of the day.

Stuart, Glasgow