Any destination of great natural beauty guards a special energy. Practicing meditation, mindfulness and yoga are all ways to release bad energy, physical and mental stresses, and tap into the unique energy that surrounds Mont Blanc. From Flore our yoga mad Operations Director to mindful mummy Kirsteen in the sales team, our Chamonix All Year staff have their finger on the pulse of all things zen. Here is a collection of our personal recommendations of yoga and meditation classes Chamonix has to offer.
Meditation classes Chamonix
Meditation mɛdɪˈteɪʃ(ə)n/ (noun)
the action or practice of meditating.

"a life of meditation"

synonyms: contemplation, thought, thinking, musing, pondering, consideration, reflection, prayer, deliberation, study, rumination, cogitation, brooding, mulling over, reverie, brown study, concentration, speculation; "cultivating the presence of God in meditation and prayer"
Meditation is an important part of most yoga classes, but it is even more core to the practicing of mindfulness (detailed below). If however you are looking for a meditation specific experience workshops like this one crop up every now and then. You can contact Mindfulness Chamonix on Facebook ahead of your trip for advice.
Mindfulness ˈmʌɪn(d)f(ʊ)lnəs/ noun
the quality or state of being conscious or aware of something.

"their mindfulness of the wider cinematic tradition"

a mental state achieved by focusing one's awareness on the present moment, while calmly acknowledging and accepting one's feelings, thoughts, and bodily sensations, used as a therapeutic technique.
Mindfulness is the practice of bringing balance and harmony to the mind through thoughtful movements, discussions and concepts, as well as meditation. It is said to have the power to transform mental habit patterns leading to deeper happiness and peace. For Kirsteen, our mindful mummy, it was about a subtler mental awareness of herself and others to reduce stress.
Kirsteen recommends local Mindfulness Chamonix instructor Reini Weigel who hosts various workshops throughout the year. Reini also offers one-on-one sessions and private in-house visits if you want to bring some mindfulness directly into your home, or holiday home. Caroline of Reflexoligic is another great choice for large groups, who even specialises in mindfulness for children!
Yoga classes in Chamonix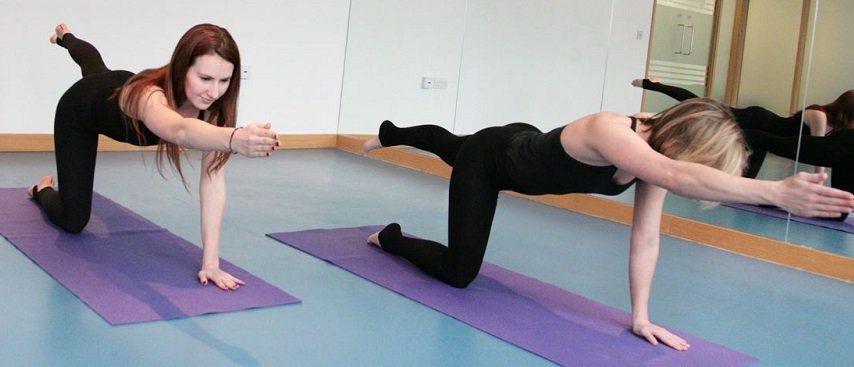 Yoga ˈjəʊɡə/ noun
a Hindu spiritual and ascetic discipline, a part of which, including breath control, simple meditation, and the adoption of specific bodily postures, is widely practised for health and relaxation.

"yoga classes"
Surrounded by towering mountain peaks the valley of Chamonix collects an eclectic string of visitors from all over the world. Many of them hold their fitness and wellbeing in high regard and are coming here to practice their sport of choice. From skiers to climbers and trail runners, yoga is healthy part of many of their training or recovery routines.
Our Operations Director Flore is an avid yoga practitioner and enthusiastic ski bunny. Below, we walk you through some of the classes she's hopped into throughout Chamonix:
Sattva Yoga by Hubert
Website: http://sattvayogachamonix.com/
For traditional teaching with discipline in Chamonix Sud, look to Sattva Yoga. If you want to learn yoga as it was taught, and is still taught traditionally in India, Hubert is the tutor for you. He was taught by Sheshadri and Mark Darby and is at hand for classes including Flore's favourite Ashtanga classes in the morning (Mysore style) to awaken your body and soul.
Hubert himself will always adapt to the student even if he will push you to your maximum capacity! He also teaches Hatha and Vynyasa with the influence of Sri Dharma Mittra, accessible to all levels.
You can also try some yin yoga classes which are great in the evening to completely relax your muscles. Ideal after a day's skiing on the mountain or after a long day in the office to just let go!
Tadasana yoga by Flo
Website: http://tadasana-yoga.com
Flo has been trained by Simon Park, Gérard Arnaud and Biff Mithoefer, to name but a few. Her classes are a smooth approach of the yoga discipline.
Discover Vynyasa Flow accompanied by some meditation or pranayama (breathing exercises) with Flo in Les Praz or Les Houches. She is also qualified in Ayurveda and offers massages as well as dietary advice.
Andanda Yoga Studio by Blanche
Website: https://www.chamonixyogastudio.com
Blanche has created the Chamonix Yoga Festival (info below) that takes place every year in Chamonix and has also opened her studio in Les Pelerins in 2017.
Blanche teaches Pure Yin classes, which very relaxing and restorative after skiing or being out in the mountain all day, as well as her own 'signature' class: Yin & Yang yoga. She awakens your energy and warms up your muscles before diving deep into the Yin part where it's more a mediation into the posture. She use different instruments, playing and singing to bring you even deeper into your soul.
In addition to yoga and meditation classes in Chamonix, Blanche also offers paddle yoga classes and outdoor classes during summer time.
Blanche's Ananda yoga studio is a base for eight different teachers and offers yoga for all ages from kids upwards. Classes are in French and English, and there is also a treatment room where massages can be booked. Don't miss the workshops which run at weekends: yoga brucnh, ayurvedic, feng-shui, massages, universal energy, reiki and more…!
Chamonix Yoga Festival
This three day festival promotes the benefits of yoga, massage and healthy eating with classes and workshops run by internationally renowned yogis and artists.

In past years, various passes have been on offer, with prices ranging from 10€, to 230€ for the unlimited 3 days pass. The festival always takes place on the cusp of June to July so you can safely book your accommodation ahead of ticket sales with Chamonix All Year.
At the Chamonix Yoga Festival various different yoga styles, dance classes, Ayurvedic medicine workshops, meditation classes Chamonix and vegan cookery classes take place throughout Chamonix across a busy summer weekend. In fact, many of the events are so popular they usually sell-out, so if you're interested, be sure to book your places in advance as your ticket grants you free entry but not a guaranteed place if you don't register.
For those who just want to "give it a go" ahead of a delicious vegan meal there's always free outdoor sessions daily to test out.
This past year, Milly from the Resort Team took part in the workshop on how to make homemade raw chocolate. The chocolate was delicious and the course a real treat. Everyone can at least get a taste too, as the products do go on sale. There is organic-raw coffee and organic and vegan lunches on offer for a healthy break between activities.
Another festival highlight this past year was the body art: watching internationally award-winning "Mamzellepastel" in action was awe dropping. She did face & bodypainting, tattoo glitter, UV paint (black light) and skin jewellery.
Featured image © Reini Weigel – Mindfulness Chamonix