Enjoyed a trip to Chamonix and now looking for somewhere new to visit? We hope you'll consider coming back to Chamonix as there's so much to try, but here are some of our "similar to Chamonix travel recommendations" to give you food for thought.
A bustling town blending old and new, busy with climbers and runners in summer and bustling with skiers and boarders in winter, Chamonix could not be more different from the typical purpose-built French resort. BUT there are other resorts around the globe which draw parallels to the unique ambience of our legendary town.
Chamonix travel recommendations
1. Verbier, Switzerland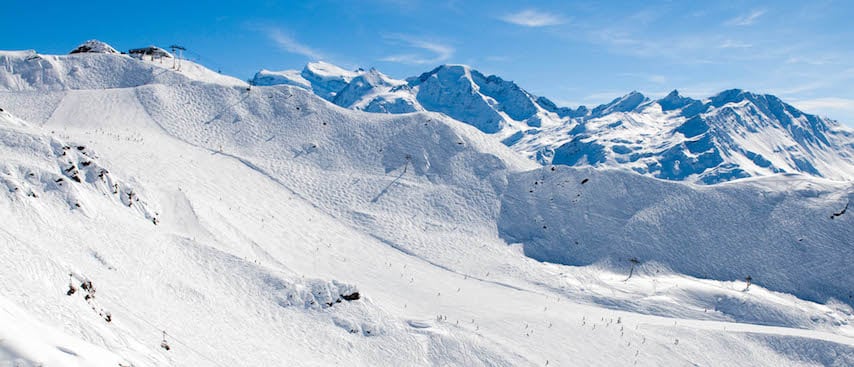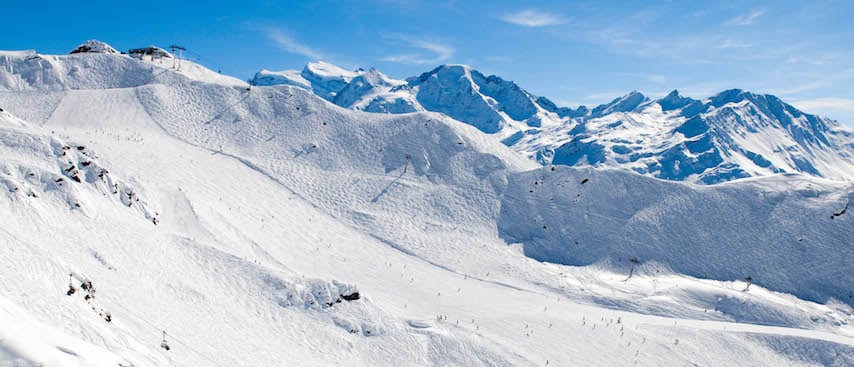 Located in the western part of Switzerland just an hour by car from Chamonix, Verbier gives Chamonix a run for its money. With world-class style and amenities, this French-speaking ski town is popular with the British upper class (Branson) and "cutting-loose" royals (Prince William was caught by 'Paps' partying with a mystery woman in 2017). Your Chamonix Mont Blanc Unlimited ski pass also gives 50% discount on a day's skiing in Verbier, so you can try out this Chamonix travel recommendation before committing to a full holiday!
What Verbier lacks in terms of hardcore ski alpinism, it makes up for in (money CAN buy) easy access to the pistes and convenience to sophisticated hotels, restaurants, and nightlife. At the famous Farm Club disco you'll share shot-skis with ski bums and European aristocrats alike.
At Verbier in the summer (much like Chamonix) you can enjoy everything from biking to international music events! Seasoned hikers like up to take on the classic routes 'Tour du Val de Bagnes' and 'Tour des Combins'. While mountain-bikers have an entire to park to play with, no less than 826 km of terrain. The region also offers 2 golf courses, climbing routes, an adventure park, paragliding and the heralded climb to the summit of Mont Fort, with sweeping views from the Matterhorn to Mont Blanc (that's us!).
2. Queenstown, New Zealand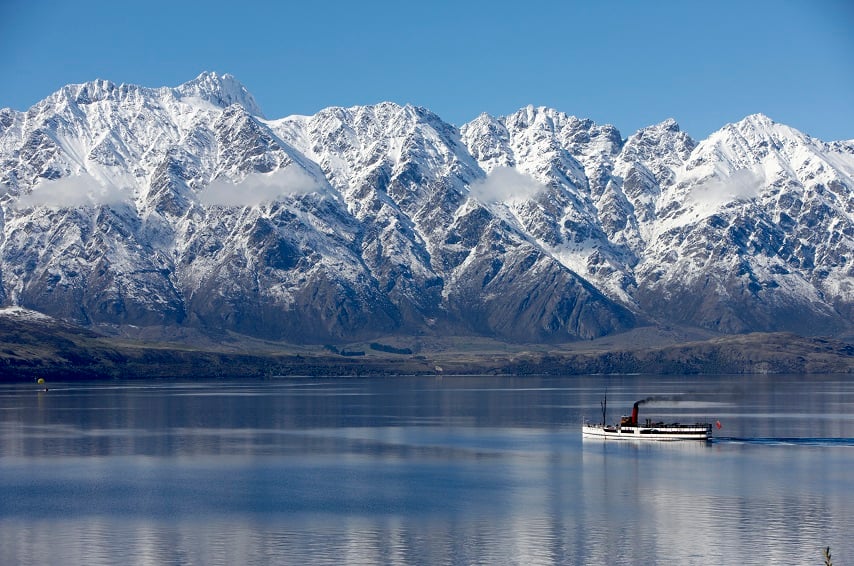 Located on the other side of the planet not only does Queenstown, New Zealand offer four very strong seasons of activities, it offers them in reverse to those of the Northern Hemisphere!
Queenstown is ideally situated between four of New Zealand's largest ski fields and is a mecca for extreme sports that include bungy jumping and jet boating among the usual suspects: mountainbiking, climbing and skiing/snowboarding in the winter.
Much like Chamonix there is a historical element to the town… but she lies on the water in the form of steamboat TSS Earnslaw. The grand old TSS Earnslaw, or 'Lady of the Lake', has been sending goods to inaccessible settlements and carrying passengers on the lovely Lake Wakatipu since 1912.
And just like Chamonix, the town itself has grown from, but is not built for, the tourism it receives. In this way a car is certainly the best way to get around as, in New Zealand, the ski areas are all accessed by vehicle only. It's compact and is situated just 15 minutes from Queenstown International airport with the majority of activity operators, including the ski fields, offering transport from your accommodation or central Queenstown.
3. St Anton, Austria
St Anton certainly by name is as big as Chamonix, but in reality has a much smaller local population with fewer essential amenities (especially in summer). However its access to surrounding peaks is by all means comparable. For powder and parties, Chamonix and St Anton are a love match.
Much like our historic main street, the resort of St Anton is traditional in style and an attractive place to spend time off the slopes. However unlike Chamonix, St Anton is a veritable ski-in, ski-out paradise.
Accessed from the town centre by a gondola there is great backcountry in the Stuben sector and the runs in the huge bowl beneath the summit of the Valluga are justifiably world-famous, an off-piste delight for experts.
In contrast to Chamonix, the variety for families and children can be limited by the terrain. It is well-known that the slopes don't suit beginners or timid intermediates.
4. Mont Tremblant, Quebec, Canada
Located in Eastern Canada, Mont Tremblant is considered a "little Europe" with some of the best skiing in Eastern Canada and a lovingly planned Euro-feel village that resembles the old quarter of Quebec City. AND they even speak French!
As Chamonix is considered a pioneer for commercial skiing in Europe, Mont Temblant is considerd a local pioneer: opening their first lifts in 1939. As one of the first ski areas in North America, the resort of Tremblant was smart to capitalise on its history, crafting an 18th-century French Alps-styled village at the base of its lifts in the 1990s. You'll feel like you're in the heart of Chamonix surrounded by hotels, patisseries, and bistros packed into colorful multistory buildings that overlook narrow cobbled streets and squares. Cleverly, underground parking means the entire village is car-free, making for an inviting, old-world environment.
The original hamlet of Mont Tremblant to the Tremblant resort, could be considered the 'Les Bossons' to Chamonix. Just 4 km away this was the original centre of local tourism (yes in years gone by tourists often wouldn't make it past the Glacier Des Bossons to Chamonix!).
5. Zermatt, Switzerland
Switzerland as one of our closest neighbours naturally has many comparable resorts. For old-world culture, photography and great skiing Zermatt is certainly its crown jewel… for a price!
To many, it is the world's ultimate ski resort and as such prices here have risen with the fame. Much like Chamonix, Zermatt is surrounded by several glacier-clad peaks, and while the Aiguille du Midi and Mont Blanc dominate our local skyline, Zermatt has one of the most distinctive mountains on Earth: the mighty Matterhorn.
While this year Chamonix unveiled its first electric buses, the village of Zermatt is one step ahead and allows only electric cars throughout the resort where 5* hotels sit side by side with ancient barns. Much like our own Rue des Moulins the streets are narrow and cobbled, dotted with fine restaurants and lively bars.
As in Chamonix, Zermatt is also a border town offering the possibility to ski over into Italy where a midday meal costs half the price you'd pay in Switzerland!
6. Truckee, California, USA
Never heard of Truckee? It's an old logging and railway town located in the Sierra Nevada north of Lake Tahoe, between Reno and South Lake Tahoe. With a different genre of background, the area has the same touch of authenticity across a blooming ski-mecca with no less than eight different ski areas spanning 24 km, much like Chamonix.
Truckee boasts the first recorded ski lift in America, a steam-powered tobaggan lift in 1910: a touch of the Old West which characterises the town in the same way that the pioneers of alpinism do Chamonix. There are wooden walkways in the historic Truckee downtown and a clapboard train station (Amtrak service twice daily).
Famed for its thrilling terrain and presence in countless ski movies, Squaw Valley is where Truckee's terrain can compare to Chamonix. With six distinctive peaks, a superpipe, and plenty of glitzy ski gear it's garnered the nickname "Squallywood" for a reason. A recent merger with family friendly Alpine Meadow has fashioned one of the country's largest ski areas.
7. Bend, Oregon, USA
Bend, a fast-growing adventure paradise, has a comparable interseason appeal to Chamonix. However, you will have to compete with a larger local population of 90,000 and be prepared for drives of roughly 30 minutes to reach the region's premier ski and trail area: Mount Bachelor.
Located in the Pacific Northwest, Bachelor is the kind of mountain that seasoned Chamonix tourists dream about. This stratovolcano, lined with high-speed chair lifts, is skiable down EVERY side. With DOUBLE the alpine terrain rated black than Chamonix, experts will get the most from the mountain. From the summit, thrill-seeking skiers and boarders can discover the summit crater or head for the backside of wide-open, backcountry terrain. In the summer the hiking, trail running and mountain biking is fantastic and the large local town of Bend has everything your need for a stay of comfort to every budget.
While Bend itself may lack the history and authentic culture of Chamonix, it makes up for it with hip restaurants, modern amenities / activities, and nine microbreweries within walking distance of each other in the city's downtown (there's a reason it's called "Beervana"). In our eyes Bend compares to Chamonix with its large and passionate local constituency always ready to entertain (and relax) tourists with growing opportunities.
8. Whitefish, Montana, USA
Much like Truckee, Whitefish is a former logging and railroad town, offering the same Old West genre of history to the town of more than 6,000. More like Chamonix however, Whitefish features at least one glacier.
In spite of a reported influx of wealth, the town has managed to maintain its appealingly rough-hewn, cowboy character. The newly renovated 'Whitefish Mountain Resort', formerly 'Big Mountain', is perched like an aagle above the bars and restaurants of the Western-style downtown, which (much like Truckee) still hosts its historic train station. Public transport in Whitefish parallels Chamonix in that 15 percent of winter skiers arrive via daily train services, which, combined with the free skier shuttle that connects town to slopes, makes car-free trips just as easy.
The ski area terrain lives up to its family-friendly hype offering bespoke first-timer terrain like our own Savoy or Planards pistes. Experts will find ample stashes of challenging terrain, including a plethora of backcountry tree skiing on the mountain's less visited north side. On clear days, views from the Summit House cafeteria into Glacier are stunning. Advanced skiers should head for the East Rim and the Picture Chutes.
9. Aspen, Colorado, USA
Best for: Well-heeled scenesters and celebrity-stalkers with a love for top-quality skiing. One of Chamonix's twin towns.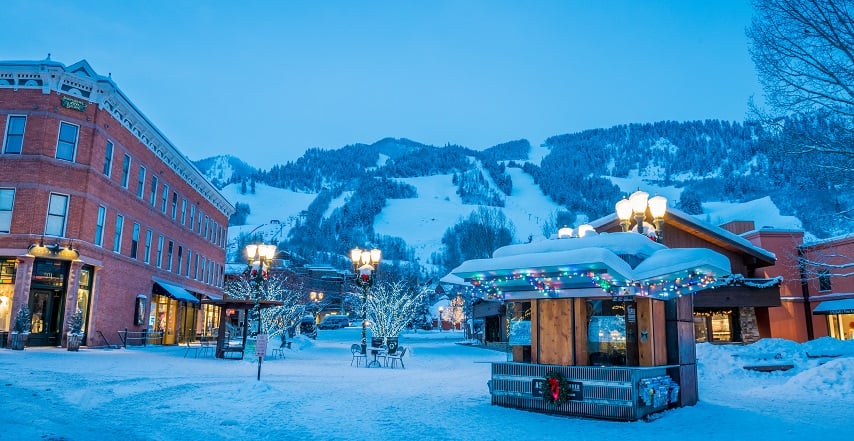 Propaganda aside, Aspen is still the ski town that all ski towns compare themselves to – even Chamonix. And much like Chamonix it is one of the few places that manages to be both hip and classic at the same time. Perfection, not to mention the terrain…
This is where cinema starlets mingle with famous alpine heroes and where ostentatious fur coats never go out of style; considered the world's most sophisticated mountain town outside of Europe.
As for that terrain… with four separate ski areas within a 16 km radius, catering to all abilities and tastes it's very much JUST like the Chamonix valley. Aspen Mountain itself is an expert's playground whose runs spill right into downtown. Aspen Highlands is the local favourite with the steepest terrain. Snowmass is the mecca-mountain with the second most vertical in America and terrain for everyone. While Buttermilk, with its ample greens and innovative ski school, is perfect for beginners. Much like Chamonix's famous Mont Blanc Unlimited passes, Aspen lift tickets are good for all four mountains, which are easily reached by free shuttle buses.
For a taste of Chamonix, restaurant Cache Cache ("Hide and Seek") has been the place to go for the most sophisticated, French-inspired cuisine in Aspen, with an incredible, high-energy atmosphere.
10. Banff, Canada
If you love Chamonix for the big views and international atmosphere, Banff is for you! Located inside a national park, Banff is teeming with visitors from many continents and hosts an array of international eateries, boutiques and museums, all surrounded by unspoiled mountain peaks reaching thousands of metres into the sky.
There are three ski stations within a 50 minute drive, all skiable on a single ticket, and historic hotels and mountain hot springs to boot!
Beating Mont Tremblant by about 10 years in 1926 local legends Gus Johnson, Cyril Paris and Cliff White cut the first ski run on what would become the Canadian Rockies' first ski resort on Mount Norquay; home of the one of the oldest chairlifts in North America, visible from town. Nearby Sunshine Village features the most reliable snow in the area and is home to Delirium Dive, dizzyingly steep and rugged and of course incredibly scenic skiing… much like Chamonix. Shuttle buses are also available from town to all three areas.
Bon voyage!