Once you've learnt to ski, it's great to know that you can head off on your holiday and pick up where you left off each year. However, there are many muscles that you'll use for skiing that you might not use the rest of the year, even if you lead quite an active lifestyle.
Many of us recognise the twinges, aches and pains that make you glad your accommodation has a bath at the end of the first day back in ski boots! To combat these, you could consider doing some training before your holiday. If you can't get organised for that, don't worry though as we've also included some daily warm-up training in Chamonix that you can try.
Why train for your Chamonix ski holiday?
There are some great reasons why you should think about training before you come to Chamonix:
Skiing will be easier as you'll have worked on improving posture and building up the muscles you need.
You'll have better technique as your muscles will be conditioned to perform the movements you need them to.
You'll be able to ski for longer, as your muscles will be stronger and will tire less easily.
You're less likely to get injured as you'll have practised ski-specific movement patterns, minimising fatigue and the poor technique that comes along with tiredness.
You should look for a programme which replicates the length of time that you're likely to be skiing, usually the time taken to ski from the top of the chair lift back to the bottom. This means more than a couple of lunges and squats when you remember while you're watching your evening telly! Ideally you should be looking for a programme that will have you working for at least half an hour, a couple of times a week.
Lisa's top tips
Lisa is our Sales Manager, but when she's not helping you all to book your Chamonix holidays she's also a Personal Trainer:
To ensure that your body is ready for your ski holiday and that you're not left behind on the slopes here are a few handy exercises that you can do in a very short space of time.
 
"Toothbrush" one legged squats: yes that's right, when you're at the mirror in the mornings brushing your pegs, stand on one leg and squat with the other leg raised! Aim to do 10 on each leg and then change sides. Try and push yourself each week to increase the amount of one legged squats you can do. The benefit of this exercise is making your ankles more stable and also helping build a strong quad in your leg (as otherwise these burn after a full day on the mountains).
Stair lunges: we all have stairs in our life and if you are opting to take the lift to the second floor stop that right now and get some stair lunges on the go! These are done by stepping on the second stair and pulsing for a few seconds. If no one is around, try five seconds per step or longer, as this will help to increase your balance on the slopes and build strong hamstrings.
Desk dips: the tricep is a small but powerful muscle and you might end up using this a lot when you're stuck on the flat on your skis, so get your arms working with some dips. Stand with your back to the desk or bench, place your hand down with your fingers facing out, put your legs straight out in front and dip down, be sure to use your arms and not cheat and use your legs.
Ski holiday training in Chamonix
Even if you find – and follow – a ski prep programme before you arrive, you'll still need to warm up properly before a day on the slopes, so make sure you squeeze in a little bit of warm-up training in Chamonix each morning.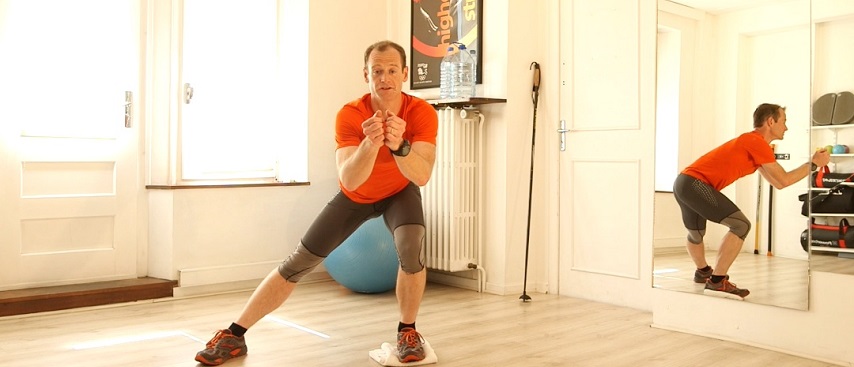 You'll need to activate those all-important ski-specific muscles to try and reduce injury and pain at the end of each day on the slopes.
SkiFit recommend 5 steps for getting ready for your day's skiing:
Warm up: start raising your heart rate and warming up your muscles with 15-20 simple squats.
Mobilise: "open up" your body with some 10-12 leg swings on each leg to take your hip, knee and ankles through the range of movement they will need.
Activate for skiing: switch on the muscles you'll need for skiing with 10-30 skier's lunges.
Really activate: reinforce the activation and help your muscles stay switched on for longer with some jumps.
Head space: all of the above will also help you to get into the right mental space for skiing too, minimising injuries which can be caused when you're not "in the zone" yet at the start of the day, or tired at the end of the afternoon.
Don't forget to hydrate and do a few stretches when you get back at the end of the day, to make sure you are raring to go again the next morning. It's also a nice time to make use of the bath, hot tub or sauna in your accommodation, or to book a massage!
Training in Chamonix & before your holiday
The SkiFit App has been around for a few years now and is still one of the best out there for getting you ski-ready for the winter. It's developed by physiotherapists who have wide-ranging experience of working and training in Chamonix, from their background at the Clinique du Sport.
They have worked with Olympic champions and fair-weather skiers alike, and have taken their years of experience to develop a fun and easy-to-use app to help you get in shape so you can make the most of your ski holiday.
SkiFit offers a video-based 8-week programme, in 4 phases, to help you build up from one phase to the next, leaving you fit and ready to ski when you arrive in Chamonix.
It's suitable for all levels of skiers, whether you're recreational and only skiing once a week, or a pro. You can do the exercises at home or at the gym with minimal equipment required, and it's easy to fit into your busy schedule or even just a break from your desk.
There is also SkiFit8, an 8-minute version of the full SkiFit programme. It takes the best exercises from the full programme and puts them into a short session that you can do on days when you are busy, in work breaks or even to kick start the day before breakfast.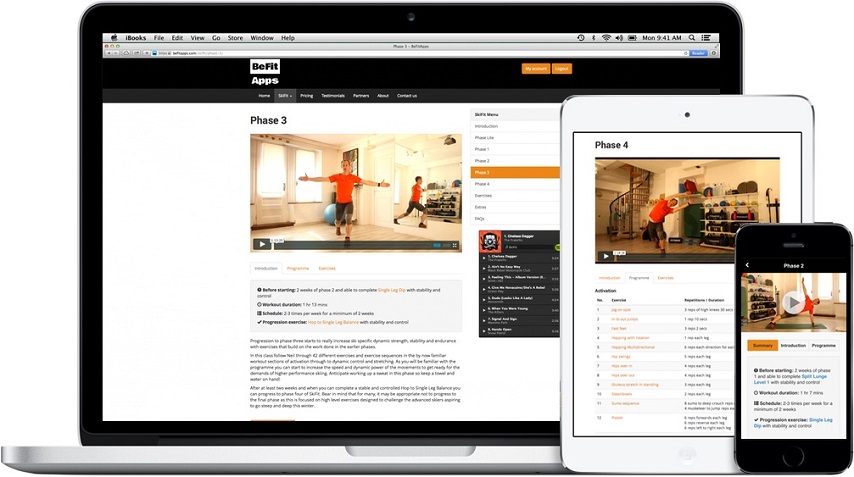 SkiFit is available as an online, annual membership package – with an optional extra app available if you want to be able to download your videos for use when you don't have an internet connection. However the online membership is fully optimised to work on mobile devices with internet access, so the app is not essential.
Readers of our blog also benefit from a great 20% discount for their first year using the online package with the discount code SKIFIT2017. Find out more and sign up on SkiFit's website.