Kerry, our Resort Manager, had visitors this week who took the opportunity to try out some of the non-ski activities on offer during winter in Chamonix. Read all about what Faye & Peter tried and what they thought.
Our Resort Manager, Kerry, was recently visited by Faye (her sister) and Peter (Faye's friend). They had been to Chamonix before in winter and summer, and had this time decided to come for a few days to try out the non-ski activities in Chamonix. Faye & Peter very kindly agreed to review everything for us, read on for their first-hand account of the activities they tried…
Faye & Peter's review – "A non-ski winter break in Chamonix"
Given that we were visiting Chamonix in the winter, you would be forgiven for thinking we were coming on a skiing holiday. However, we have previously been to Chamonix for winter ski and summer holidays and wanted to experience the variety of non-ski activities the resort had to offer. By pre-booking all our activities through Chamonix All Year, we could arrive at the resort with a structured but relaxed itinerary for our trip.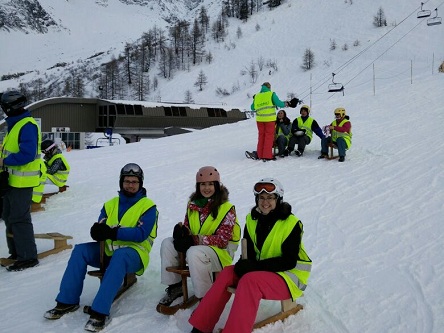 Upon arrival, we headed straight to our first activity – Paret Sledging. In Grands Montets we arrived a little early but we were soon greeted by the instructors and met up with the rest of the group. We were given our sledge, high-vis jacket and helmet and headed up the mountain. Once at the top we had a quick brief about safety and how to drive the sledge by an instructor, who was humorous and clear in his instruction despite not having the most wonderful English! We had a little practice on a small slope until everyone felt comfortable and then regrouped for a final brief before heading down the mountain on an empty red ski slope. We were a little nervous, with it looking so steep, but it was SO much fun. The sledges are very easy and intuitive to use. We were left to continue down at our own pace but with one instructor leading and a couple of others overlooking from the back for safety. All in all, it was such a great little activity and fairly cheap for the amount of fun you can have – just make sure you wrap up warm and wear long (waterproof) snow boots so you don't get snow in your shoes!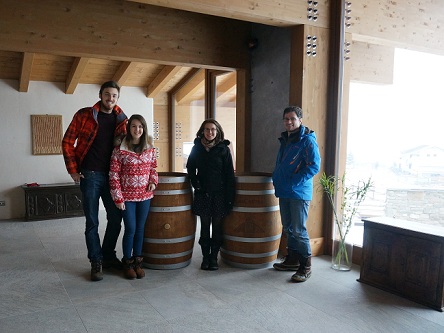 The next day, we had a wine and cheese tour planned in the Aosta region of Italy – just on the other side of the Mont Blanc tunnel. We started the day early but still arrived ahead of schedule at Les Cretes.  Even so, our host Monique was very welcoming and as we were the only ones booked for that day, we got cracking. We were to try 3 wines made at the vineyard: a Petite Arvine (white); a Fumin (red); and a Les Abeilles (sweet). Monique was very knowledgeable about the wines and also provided some interesting information about what we were tasting; and they were all delicious! We ended up buying a bottle of both Fumin and Les Abeilles since they were so good. After the tastings, we were given a tour of the cellars where the wines are fermented and bottled. This was very interesting to us since we had never seen the process.
Later in the day we headed into Aosta town to our second location: Erba Voglio. This was primarily for cheese tasting, but with 4 accompanying wines (2 white and 2 red). We started the afternoon with a quick look in the cave where Stefano matures the cheeses. With only one in our group of 4 being very keen on cheese, we were sceptical as to how it would go but our host, Stefano, was very understanding and did his best to make us feel comfortable and chose a variety of cheeses. He selected each wine to complement each of the cheese boards which was fantastic. We ended up doing the tastings for a good two hours and he even got the three of us who didn't like cheese to actually enjoy it!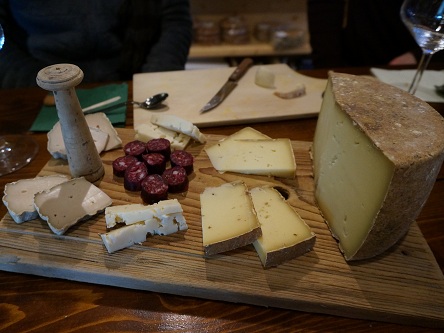 On Friday, we headed down to Annecy for the day. It is about 45 minutes away by car, and is a beautiful little city with so much history. There are some interesting museums which give you the history of the city (we visited the iconic Palais de l'Ile) and plenty of lovely tea rooms that serve delicious hot chocolates to warm up, but the absolute highlight was wandering the beautiful canals of the old town.
On our last day, we had two activities booked: a snowboarding taster session for the morning and husky sled riding in the afternoon. Since we are both skiers, neither of us had ever done snowboarding before but were keen to give it a go and so we booked a private lesson. Our instructor, Luigi with Ecorider, was marvellous and let us progress at our own pace. His clear and concise instruction made us feel comfortable as we learned the basic techniques. As our skill improved, we tried a few more manoeuvres and Luigi was always on hand to offer guidance and support. The lesson was a great introduction for beginners as you can learn the basics but still fall over a lot!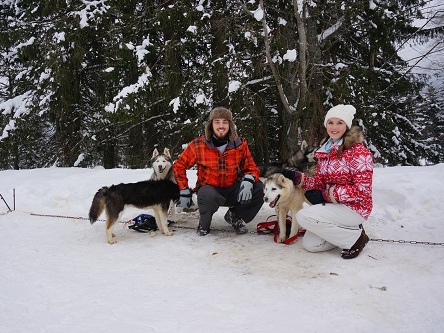 The final activity of our holiday was husky sled riding. We met Elizabeth and Christophe along with their 38 huskies in the golf course Lez Praz. Here, we had a brief introduction of how to drive the sleds and became acquainted with our dogs before we set off for a ride – mush! We were out on the snow for about 40 minutes which gave us plenty of time to develop the skill of driving. Only two of our small group fell over but luckily the snow provides a soft landing and we all finished with smiles on our faces.
All in all, our holiday was super fun. If you want a winter break but don't fancy a full skiing or snowboarding holiday, Chamonix has a lot of excellent non-ski activities to keep you thoroughly entertained!
Getting organised
Don't miss our full guide to non-ski activities, or speak to the Resort Team to book everything you need for your stay in Chamonix. Whether you're like Faye & Peter and you're not planning to ski at all, or if you just want to take a break from the slopes for half a day, the Resort Team can help you to organise an itinerary so you can make the most of your Chamonix winter holiday. You can then pre-book all your activities via our Chamonix Resort Shop.
You might also like…
Check out our Resort Team's suggestions for non-ski activities or read more activity reviews from our guests: