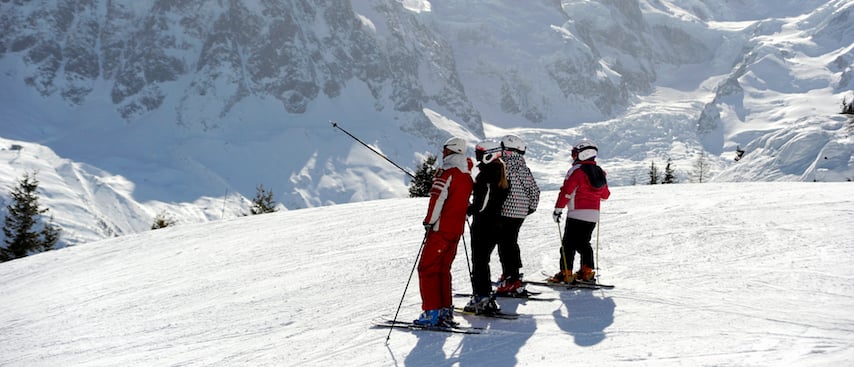 Get ready for your holiday in Chamonix and pre-book your ski school, private lessons or mountain guides –  our ski lessons guide has lots of useful information, and we've asked the Resverations Team to put together their top tips for booking lessons for your holiday.
We know ski schools based in Le Tour (Balme), Argentière (Les Grands Montets), Chamonix and Les Houches, as well as the nursery slopes in Chamonix at Les Planards and Le Savoy, as well as private guides to give you lessons anywhere in the valley. See our guide to the different ski areas for more information on which ones are close to your accommodation and which may be suited to your ability.
Half terms and Christmas weeks
Very busy weeks in Chamonix include the February half term – which includes both English and French schools – and the Christmas and New Year period. We recommend booking well in advance to avoid disappointment. Head to our Chamonix Resort Shop for more information and online booking.
Kids' ski school
We tend to recommend that you pick a school which holds lessons close to your accommodation. As a rule of thumb, the ski school locations are as follows.
Chamonix: ESF Chamonix (Piou Piou / Cham Ski Session)
Argentière: ESF Argentière, Evolution 2 (Panda Club)
Les Houches: ESF Les Houches
Le Tour: ESF Argentière
Adult ski school
Adult ski and snowboard school is great for beginners, as the camaraderie is perfect while you're building your confidence. To help you pick the closest ski school to you, here is a brief summary of our partners by location, but bear in mind that as you progress, your instructor might take you to different ski areas in the valley.
Chamonix: ESF Chamonix (all levels – may move around different ski areas)
Argentière: ESF Argentière (all levels – may move around different ski areas)
Le Tour: Evolution 2 (Beginner Magic, Intermediate / Advanced), ESF Argentière (all levels – may move around different ski areas)
Les Houches: ESF Les Houches (all levels)
Private lessons
Private instruction offers a great and flexible alternative to ski school for adults and kids. They can take place anywhere in the valley – where the snow is best or on the slopes closest to your accommodation – and are ideal for:
tailored instruction, one-to-one with your instructor
groups of friends or kids of the same ski ability: value for money with lower student-instructor ratios than ski school
families who want some who'll show you the best places to ski and even give you some tips along the way to improve your technique, so no need to keep stopping to look at your piste map!
Mountain guides
A mountain guide can take you onto the glacier and off-piste terrain for which Chamonix is famous. The Vallée Blanche is unmissable on a ski trip to Chamonix – don't forget your camera! You can join a group or book a private guide for up to 6 people.
You might also like…
Don't miss our guide to choosing the best ski pass for your holiday.