The best edible social media snacks and the best Chamonix restaurants where you'll find them.
For some people their holiday is only as successful as the photos they share. Whether you're part of the tribe, have a child growing into one or are a recovering insta-holic…we've made a list of the perfect guilty plated pleasures in and around Chamonix sure to be "liked".
While pulling out your phone to take a picture of your meal and sharing it online has become a trivial gesture, it hasn't stopped Instagram from becoming the latest and greatest culinary tour guide.
After all, sharing is caring for your favourite locales! Thanks to localization functions, social network users can find photos taken at a specific place or restaurant. Thereby helping other travellers find where your #foodporn meal was immortalized by sharing that simple, yet potentially awkward, snap!
Best restaurants Chamonix and beyond for #foodporn
Le Panoramique Mer de Glace: #plattergoals
Address: Le Montenvers, 74400 Chamonix-Mont-Blanc
Season: High seasons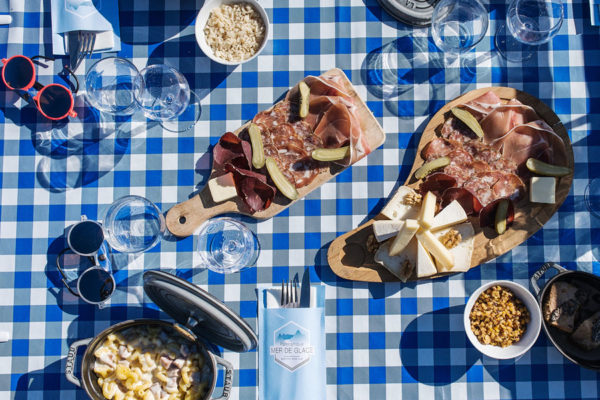 Le Panoramique has the best view of France's largest glacier – the Mer de Glace or "sea of ice" – and features French cuisine that invites you to rediscover regional dishes with a #foodporn flair.
"Enjoy classics like the blanquette de veau, or try the the Potée savoyard, Pela des Aravis or grandmother's roast chicken, a favorite family recipe. A bit of sweet tooth? For you, we offer mountain favorites like chocolate "Dôme" with spiced caramel or the vanilla vacherin with homemade raspberry liqueur." – From Le Panoramique PR squad
In summer they have a wonderfully sunny terrace and their blue and white checked table cloths make their meals pop in photos!
La Jonction Café: #foodporn #smoothieporn
Address: 75 avenue Ravanel le Rouge, 74400 Chamonix-Mont-Blanc
Season: All year
In this image La Jonction are "breaking out the summer coffee glaciers as well as fruit and other smoothies to dazzle and cool you".
But that's not all; they do a green Matcha latte, serve steaming coffee porn, and even have a staff dog on-site. If we know one thing about social media, it's the one domain where working with animals and children is a HIT not a miss!
Chalet 4810: #foodgasm #SweetTooth
Address: 191 Rue Joseph Vallot, 74400 Chamonix-Mont-Blanc
Season: All Year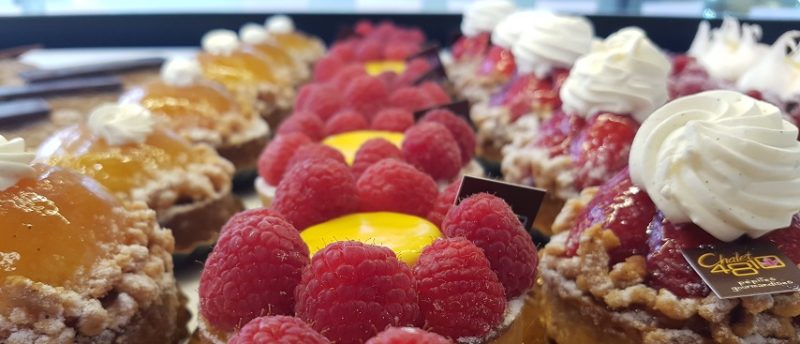 Want to show off your sweet side? This is the one destination you need in Chamonix! Not only do they have amazing treats, gourmet chocolate/nougat and fields of macarons… they also have a Crystal Gallery! #whatagem
Cool Cats : The #everymans hot dog, #hungry #nomnom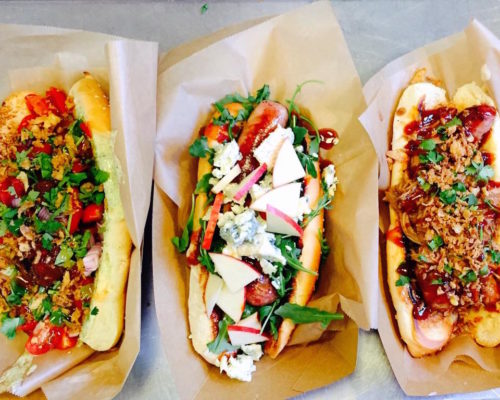 Every dog has his day at Cool Cats. Their sausages are artisanal, their bread is fresh, and their presentation in on #fleek. You'll also love their location in Rue Du Moulin – the "old town" of Chamonix with its historic Vienna charm by the river.
Glaces Des Alpes : Chalet Restaurant du Lac Vert #chefmode #foodie
Address: 1600 Chemin des Parchets, 74190 Passy
Season:  Late Spring & Summer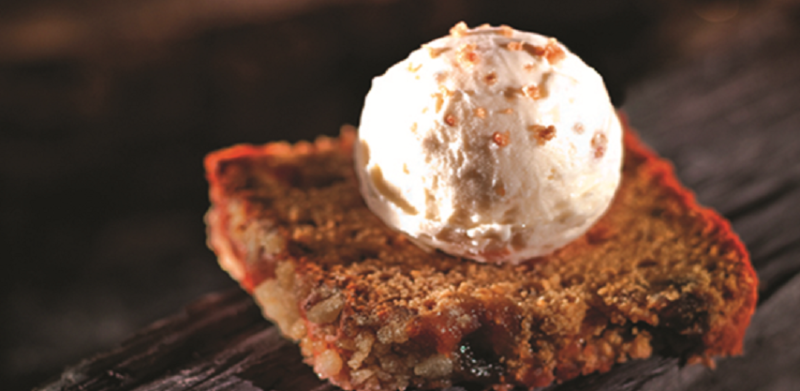 For the past 3 years, the biggest names in French cuisine have endorsed the exceptional Glaces des Alpes ice cream and sorbets. If an array of flavours from Michelin-star chefs recipes aren't enough to get you motivated for the drive (30 minutes from Chamonix) – consider the gorgeous Lac Vert just nearby for your #mountainlife shout out! You can even pretend you hiked there! #fatigue
Stars in yours eyes?
If you have the budget for a truly Michelin #foodie experience, in the 2017 Michelin guide the following local restaurants have been awarded with stars:
2* Michelin: Albert 1er – Central Chamonix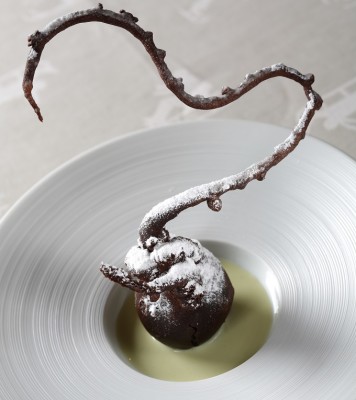 Owned and operated by the family Carrier and Maillet for generations, their passion to stay true to the modern evolution of this Haute-Savoie tradition grows stronger with each passing year.  Lunch and dinner set menus offer great value for one of the best restaurants in Chamonix.
1* Michelin: Le Serac – St.Gervais les Bians
It the heart of nearby Saint-Gervais-les-Bains Le Sérac restaurant has a discreet entrance, hidden between the town hall and the church. It's hailed a one of the few restaurants that propose a true culinary experience in the wider Megève area; an intimate restaurant that takes care of all the finer details details and offers an innovative, modern menu and interesting wine-list.
Chamonix All Year School of Instagram:
Tagging for success at best restaurants Chamonix
You could easily be mistaken for thinking "food pictures" is a straightforward genre. Those in the know will tell you there are a number of distinct subcultures and hit words to include in your "Hashtag Block"*….did you know you can even hashtag an emoji!
Feel free to copy and paste our list below:
#food #foodie #foodporn #foodgasm #nom #nomnomnom or as they say in #France #miam! #eatingfortheinsta #chefmode #hungry #instayum #foodstagram #chamonix #chamonixmontblanc #chamonixallyear #welovechamonix #alpine #mountain #frenchalps #chaletlife #wanderlust #foodprnshare #foodporn_xox #thedailybite #savoiemontblanc #travel_capture #ig_travel #city_explore #francephoto #francetourisme #travelfrance #travelphotography #ig_europa
Niche tags:
#struggleplates – underwhelmed by your dish and its presentation after all? #struggleplates is where less than desirable food offerings unite.
#cleaneating #cleaneats – this is obviously reserved for healthy meals!
#🍕 [pizzaemoji] – if food is the international language of love the #🍕 reserved strictly for pizza and family is a regular Jane Austen.
TOP 10: Who to tag in your photo
You can tag up to 20 people in your photo for extra exposure and the chance at a "regram".
The establishment where you took the photo – the best Chamonix restaurants where you snap your food are most likely to share
@chamonixallyear – #welovechamonix and we also love sharing our guests' photos!
@chamonixmontblanc – the Instagram account of the local tourist office
@mathis_dumas – with over 15,000 followers Mathis is a local photography and mountaineering hero!
@savoiemontblanc – Savoie is the larger region within which Chamonix lies and they often feature photos from the number one tourist destination Chamonix
@hautesavoie_dep74 – Haute Savoie is the smaller region within which Chamonix lies, they don't have a great following yet but with their grassroots team there may be a higher chance of them sharing your shot!
@tasteofsavoie – an easy and relevant like from Caro Blackwell, a passionate photographer-cook-traveller-foodie loving cuisine & sights of Haute Savoie
@foodprnshare – use with #foodprnshare for the chance to feature
@foodporn_xox – use with #foodporn_xox for the chance to feature
@the_daily_bite_ – use with #thedailybite – for the chance to feature
*The "Hashtag Block"
An Instagram phenomenon whereby people try to keep their/your feed cleaner by leaving hashtagging to the first comment under their own picture. Caveat: you must make two to three other comments to ensure that this content disappears from the feed preview (unless clicked on), as after four comments they will appear as a drop down option in the feed making you appear (at first) at least a little nonchalant about hashtagging.
Bon appétit and happy tagging!