A Christmas in Chamonix is sure to be unforgettable! The snow has arrived early this year and the beauty of the mountains will take your breath away. Our fairytale alpine town offers plenty of activities to guarantee a great festive holiday.
Village & market – Christmas in Chamonix
From 16th to 30th December, a festive market comes to town to celebrate Christmas in Chamonix. The village is made up of little wooden chalets and the market offers a wide range of products from artisans, local producers and artists from throughout the valley. You'll find all kinds of products for sale as well as food and drink to taste and buy, to keep young and old happy.
Christmas in Chamonix events
There's lots of activity buzzing around the Christmas market too, including parades and performances, plus the chance to meet Father Christmas and take part in fun games.
There are parades at 5pm on Friday, Saturday and Sunday evenings, between 16th and 26th December, where you can meet jolly angels and festively fantastical elves. There's also "Djacque" who floats along on the music of the world, with jazz and oriental influences, and of course Christmas touches too.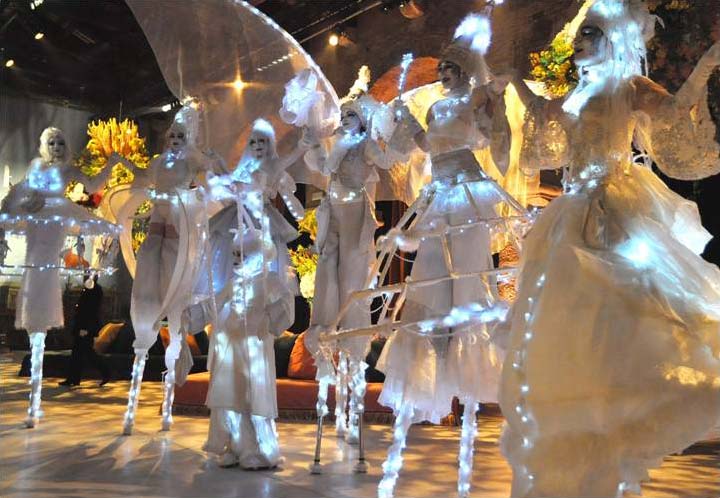 Everyone is also invited to take part in the Christmas parade at 6pm on 24th December. Tourists and locals alike will join the crowds and enjoy the performances from professional artists. Don't miss "La 25d" – the rapping Father Christmas – or the toy soldiers and the lovely deer. Sign up at the tourist office to join in.
And don't forget that Father Christmas also comes for Christmas in Chamonix! Every day between 16th and 24th December at 3-7pm, Father Christmas is ready to meet you, to take your letters back to the North Pole and have his photo taken with you. Don't miss him – he only comes once a year.
There's also a ball, which visitors of all ages can attend on 17th December at 5.30pm. The goal is simple – get everyone dancing together!
Chamonix Casino at Christmas
Chamonix is also hosting a Christmas exhibition from 15th-17th December to coincide with the start of the Christmas markets. On Friday it's open 2-7pm, and on Saturday and Sunday 11am-7pm. You'll find original creations from 23 different artists and artisans, from wooden sculptures and mountain paintings to ceramics. Entrance is free for all visitors.
On Saturday 16th, you can also head along for the chance to spin the wheel and win an early Christmas present! All you have to do is fill in a prize draw slip and drop it in to the reception of the casino by 16th December. Prizes on offer include a 5* holiday to Lisbon, a ski pass, car hire, a gourmet hamper, chocolates, cookery classes and much more!
Christmas train
Join the local Mont Blanc Express for their special Christmas train on 27th December at 1.40pm. The train is filled with surprises including Christmas music and the Clown "Gildas" will be entertaining the kids on the way up to Vallorcine, while sweets will also be handed out to good little boys and girls. Arriving in Vallorcine, you'll have the chance to meet Father Christmas and contribute to a festive fresco which will stay on display at Chamonix train station all winter long.
Book your place by phone +33 (0) 6 19 98 17 29 or by email montblanc.express@gmail.com. One adult and one child can go for 30€, with an extra 10€ per additional person. Make sure you get to the train station 15 minutes early, to get ready for a fun-filled afternoon.
Christmas climbing wall
From 16th-30th December, the special kids climbing wall is free to access from 3-7pm. Your kids will be in safe hands with the professional guides from the Compagnie des Guides de Chamonix in Place Balmat.
Christmas in Chamonix concert
On 26th December, the musicians of the Harmonie du Mont Blanc will present a serenade of Christmas music. Let yourself be carried away by traditional songs from your childhood, reminding you of white Christmases past and present.
Merry Christmas from the Chamonix All Year team!