Information available for disabled visitors coming to Chamonix is fairly limited and often outdated. Knowing which accommodation and restaurants have disabled access is obviously important, but those coming to Chamonix on holiday are usually looking for more than just somewhere to sleep and something to eat, so it is important to look at the real Chamonix experience, what it is really like to visit when you are disabled, what is great, what is a bit more difficult and what you can do while you are here.
Chamonix All Year have created an information sheet which can be provided to all our clients with an exhaustive list on the following:
Car Parking
Public Toilets
Companies that can organise trips & activities
We will look at some of these here but if you would like more information please just get in touch.
Where to stay
With several apartments that are lift access and centrally located Chamonix All Year have lots of choice for those with limited mobility and/or health conditions. The following apartments are the most suitable for wheelchair users or with more advanced mobility problems. They all have lift access(or ground floor), no steps inside, access to the building is not up any steps and they have a separate shower that is not over a bath. For more specific requirements please contact info@chamonixallyear.com to find the perfect property to suit your needs.
Getting Around
Unfortunately Chamonix was not built with disabled people in mind (like most Alpine towns) however they are trying to change this.
The electric Mulet bus navigates the centre of Chamonix and out to the Chamonix hospital. It has disability access and space for 1 w/c, this bus service was named after the mules which were once used to transport visitors around Chamonix.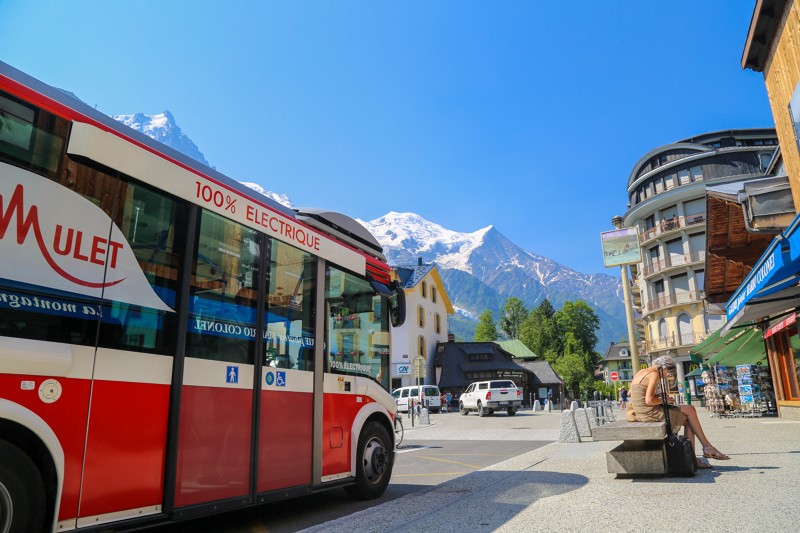 There is a bus and train that run the length of the valley and have space for wheelchairs but are not counted as fully wheelchair accessible so having someone with you is advised.
There are lots of disabled spaces around the centre of town, however please note, the pay car parks are still chargeable even with a disability badge.
Healthcare
Chamonix All Year have information on doctors/hospitals/physiotherapists that are accessible for wheelchair users.
You can hire wheelchairs and other equipment (commodes, walking frames) from the pharmacy on the pedestrianised main street. It is advised to book in advance.
Pharmacy des Alpes, 53 Rue du Dr Paccard 04 50 53 15 45
Eating / Drinking
One obstacle is finding places to eat with good toilet facilities, they are hard to come by in Chamonix. Most toilets appear to be up a step or round a tight corner. Our personal recommendations, if you need a large toilet with good wheelchair access, are Greensoft cafe/restaurant and Pointe Isabelle hotel which are great central locations that are perfect all day for coffee/lunch or dinner.
We have collated a selection of places with adapted toilets:
Point Isabelle, ramp access, adapted toilet
Green soft, 1 very large adapted toilet although can be tight inside for a wheelchair if busy but owners are accommodating.
Bighorn, large space inside, great beer!
Albert Premier – 2 Michelin star restaurant on ground floor of hotel. Access by lift from the car park. Adapted toilets on the floor below.
La Maison Carrier – savoyard restaurant,  Accessible from the car park but one step at the entrance. Adapted toilets.
Le Comptoir Nordique –  Easy entrance from the Morgane hotel. Adapted toilets.
Aiglons – Access from the car park for handicapped people. Adapted toilets.
Up the Mountain
**There is a 50% discount for you and a carer if you can show a blue card (or other disability card from any country), however from experience, if you have your own wheelchair they do not ask for this ID.
Aiguille du Midi
There is access to the summit of the Aiguille du Midi however the cafe at the mid station of Plan de l'Aiguille and the  Panoramic Cable car over to the Helbronner are not accessible.
**Please be aware if you have any breathing difficulties, this is Europe's highest cable car and goes to an altitude of 3842m, and can make healthy people breathless.
Montenvers
This is one of Chamonix's few accredited areas "Accueil Handicapés" ("Welcome area for disabled people")
There are ramps to get onto the train, you need to inform the staff so they can get them for you. It is a very steep ramp onto the train but the staff are happy help you.
At the top of the train the station including cafe, souvenir shop and crystal gallery are accessible. Outside the viewing platform  and the Terminal Neige (the hotel) are also accessible.
The Bar Panoramic and the Ice Cave are not accessible (the ice cave is down 448 steps)
There is disabled parking and adapted toilets.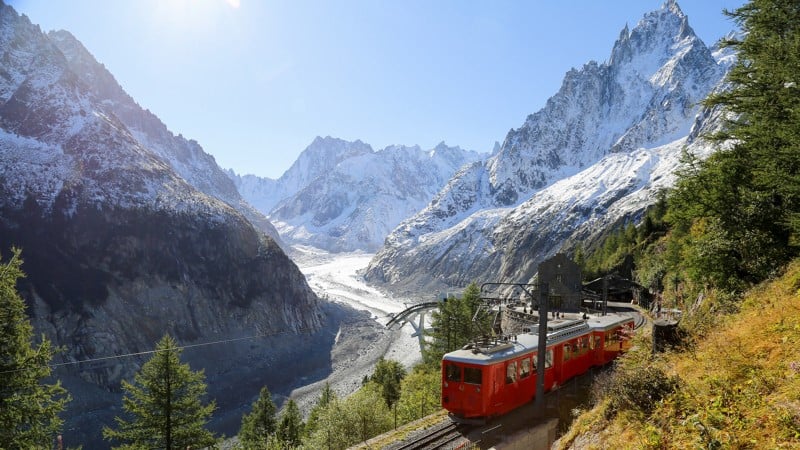 Brevent (Plan praz lift)
Ramp access and adapted toilet at the top.
Le Tour (Balme Area)
Only accessible for limited mobility, not wheelchair users.
Flegere
There is a new lift being built over summer 2019 & hopefully will be accessible to all.
Les Grands Montets (Plan Joran)
This is accessible but only for skiers, there are no pedestrian passes here.
Les Houches (Prarion lift)
Access is possible, however no cafe/wheelchair friendly paths at the top but there are adapted toilets.
Activities
Chamonix All Year Resort team can help you book all of the activities below.
Paragliding
This is a great activity for people with limited mobility or in a wheelchair because once you are up in the air you just have to sit back and enjoy the view! The take off can be done with assistance or with a specially adapted wheelchair that you fly and land with.
Skiing
There are several options for skiing and depending on level of disability you can choose to go on a course to ski by yourself or if you are looking for a one off experience then a piloted ski is perfect. ESF organise half or full days with a qualified instructor and are happy to discuss what option is best for you.
Independant skiing
Uniski/Dual Ski – People with lower limb disabilities are able to ski independently and to take up the sport alongside their non-disabled friends with uni skis or dual skis (one or two skiis attached to the bottom of a chair). This requires good core strength and general upper body strength.
Kartski (or ski-kart) – This ski uses levers to drive and steer and is perfect for those who have poor balance or are not well coordinated but want to ski independently. This can also be adapted for use with only one arm.
Piloted Skiing
The Tandemski is a bucket seat fixed on a pair of skis and driven by a pilot. Those with little or no independence can still enjoy the thrills of winter sports without any exertion.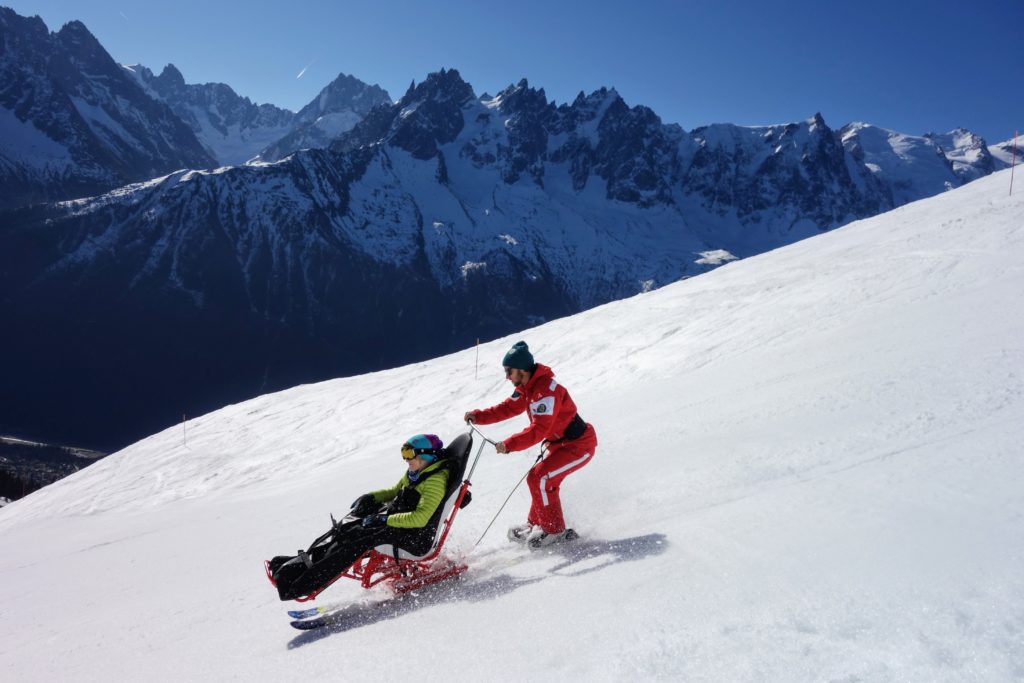 Having worked as a physiotherapist, Kirsten from our sales & marketing team has a wealth of experience working with disabled people and has negotiated several visits for her mother in law who has advanced Multiple Sclerosis to Chamonix over the past 10 years.
"A few years ago we organised my mother in law to go paragliding for her 60th birthday. It was one of the best experiences and I don't know if I've ever seen her so happy – even compared to our wedding day! She is fairly small so it was decided that we could 'run' her off the mountain rather than using the specialised wheelchair that is available. I thought she would be nervous but she was the opposite! I suppose the obstacles that she's had to overcome in her life makes something like paragliding exhilarating and not terrifying.

She flew at the same time as her son who was learning at the time and the instructor pulled right up along side him so they could be together in the sky. When she landed she had a smile that took over her face and still talks about it years later. I think being sat alongside a handsome French man maybe had something to do with it too!

On her next visit we took her skiing on a tandem ski, having been a skier herself she always missed being out on the mountain. We had a bluebird day and quiet slopes and it was a magical experience being able to ski alongside her family. The chairs ESF use are so impressive, watching them negotiate chairlifts with ease, carving down pistes and giving people the full skiing experience without any effort was an amazing experience to be part of.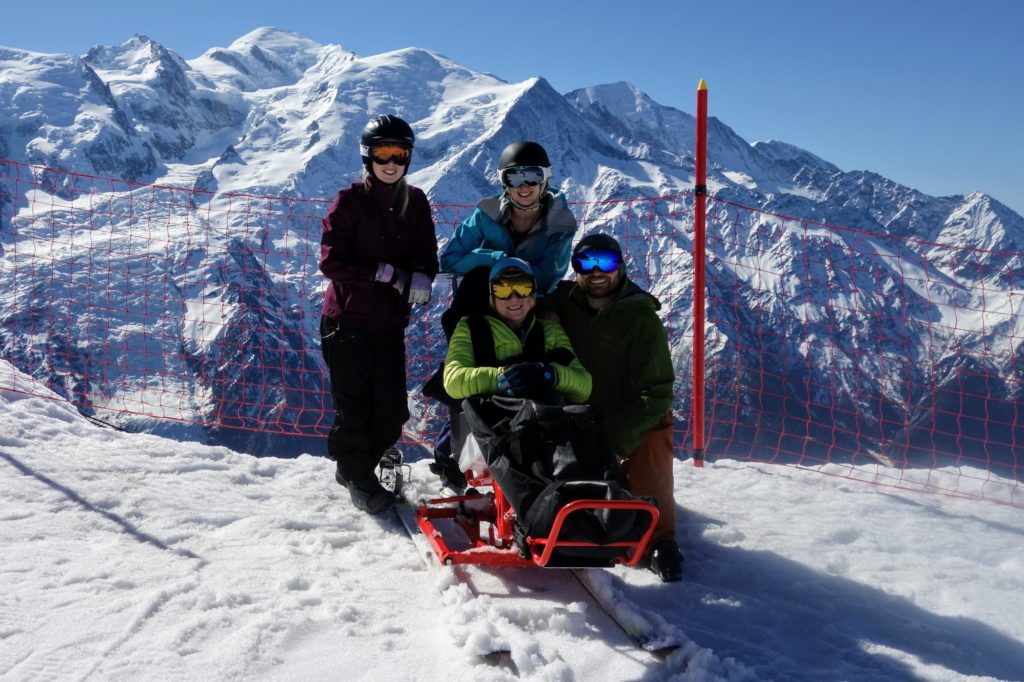 Outdoor Swimming Pool
Accessible and adapted toilets, they have a wheelchair that can go in the pool but you need to ask at main desk first.
Tennis courts
Accessible via path along the Arve, 1 adapted WC, 1 step to enter changing room.
Electric mountain bikes
Ride in the mountains on roads or trails with minimal exertion, ideal for early stage degenerative diseases or other minor ailments. Normal bike riding skills required just with minimal effort. These are available to rent from Intersport, Zero G and Legend.
Depending on your mobility the following are also available:
Rafting
Rock Climbing
Ziplining
Summer Walks
Chamonix
Chamonix Centre
The town centre is a flat valley and the main street is pedestrianised, which makes it very wheelchair friendly, however the pavements out of the main shopping/eating areas do have limited dropped kerbs, so an assistant would be helpful unless you are very agile.
Bois du Bouchet
There is an easy access forest walk about 1km starting from the parapente field at bois du bouchet. There is an adapted toilet at the start and this shaded path is a beautiful way to enjoy the local scenery.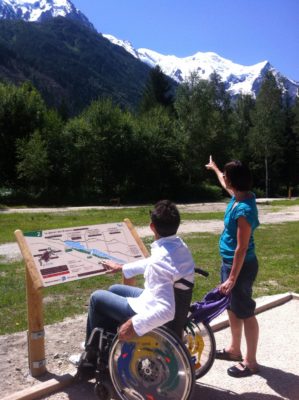 River Walk from town centre
The Promenade du Fori by l'Arve that runs to the left of the sport centre is a nice gravel path that is flat. If you follow it round behind the tennis courts/sports centre it leads to the bois du bouchet.
Lac des Gaillands
Gravel paths around a couple of small lakes. Watch climbers on the rockwall, people on the zip wires and enjoy a coffee at the small outdoor cafe.
Paradis des Praz
Gravel path leading to a small cafe and outdoor play area for kids in the woods. Parking is available on small road past golf course parking. The path is gravel but very bumpy!
Les Houches
Lac des Chavants
There is a gravel path around the lake and the cafe "la Guinguette" is accessible.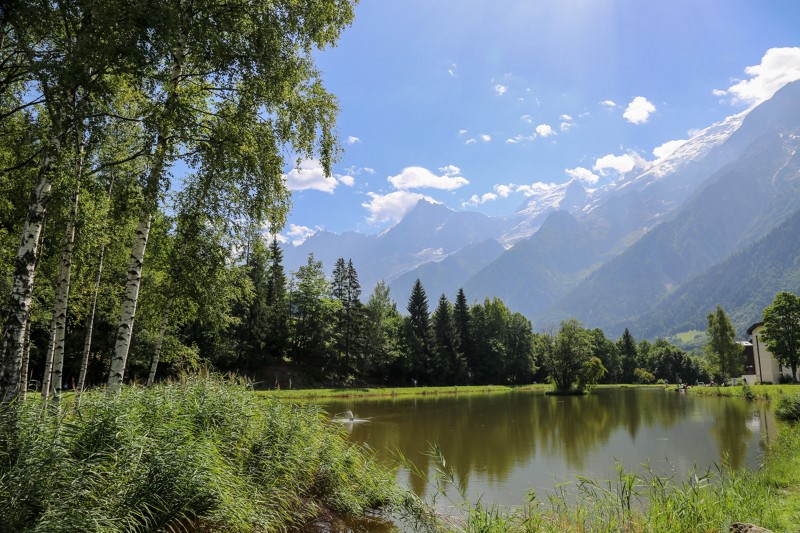 Col Des Montets
Nature trail (Botanic trail)
Accessible by joëlette (a one wheeled chair that is manoeuvred with 2 assistants). The joëlette is available at the Aiguilles Rouges Nature Reserve chalet and can be hired for use in the area. Please book +33 4 50 54 02 14.
However the Aiguilles Rouges Nature Reserve chalet has 5 steps at the entrance so not accessible to wheelchair users.
There is more extensive and updated information sheet that can be requested from Chamonix All Year by emailing info@chamonixallyear.com.