Chamonix is a beautiful natural destination which brings visitors throughout the year and all four seasons. We know that people come here to see the majestic mountains and to enjoy the natural attractions such as the glaciers and the skiing during the snowy winter. In order to ensure that generations to come can continue to appreciate a Chamonix eco-friendly holiday, many local businesses (including Chamonix All Year) are doing their bit to reduce their impact. The town hall is also leading the charge, and Chamonix's efforts have been rewarded since 2013 as one of a handful of French ski resorts to receive the Flocon Vert (green snowflake).
What is the Flocon Vert?
The Flocon Vert was created by the Mountain Riders organisation. Their aim is to raise awareness of sustainability within the winter sports industry, and it also serves to help mountain lovers choose the best resorts for their eco-friendly ski holidays. The Flocon Vert has established 21 criteria, and a resort must fulfil all of them in order to receive the certification.
The 21 criteria fall within four main groups.
Governance & Destination
Local Economy
Social & Cultural
Natural Resources & Ecology
Chamonix was first awarded the Flocon Vert in 2013, and it was renewed in 2015 and 2017 in recognition of the resort's continued efforts to protect the environment. This sustainable certificate is valid from January 2018 to January 2021.
Since Chamonix gained its certification in 2013, only 5 other French ski resorts have been awarded the Flocon Vert, making 6 in total.
Chamonix Mont-Blanc
Les Rousses in the Jura
Châtel in the Haute-Savoie (Portes de Soleil ski area)
La Pierre Saint Martin in the Pyrenees
Chamrousse in Isère
Valberg in the southern Alps
How did Chamonix get the Flocon Vert?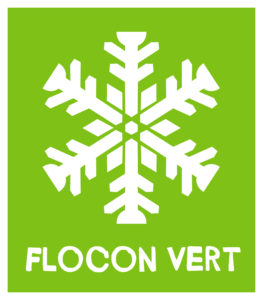 As per the rules of the certification, Chamonix eco-friendly holiday resort has fulfilled all 21 of the compulsory criteria for the Flocon Vert (website in French). The committee also highlighted two of the flagship actions, which Chamonix is taking, for a special mention.
Watch this report from the BBC on Chamonix's being awarded the Flocon Vert, from 2017.
Reducing greenhouse gas emissions
Within the category of Governance & Destination, Chamonix's Climate & Energy Plan was praised. The plan was initiated by the local government in the Chamonix valley in 2009, and aims to reduce greenhouse gas emissions by 20% by 2020, and to adapt the region to climate change.
As well as acting to reduce emissions through transport (see below), Chamonix identified that large quantities of greenhouse gases were produced by housing. Local funding is available for people who want to make their homes more energy efficient. Since 2013, financial aid has been offered for improvement or replacement of polluting wood stoves; in 2015 another fund was set up to help renovations which make properties more energy efficient; finally, since 2018 the valley and national gas company fund assists conversions from inefficient wood and fuel burners to more efficient gas heating.
Chamonix public transport
As part of Chamonix's Climate & Energy Plan, the town has also developed its public transport network, which was also singled out for praise in the category of Natural Resources & Ecology.
€100 million have been earmarked for ongoing improvements to the train line, while the public bus network is subsidised to the tune of €5 million of subsidies every year. Thanks to these funds, Chamonix has been able to offer public transport for free to all locals, tourists and people staying in second homes.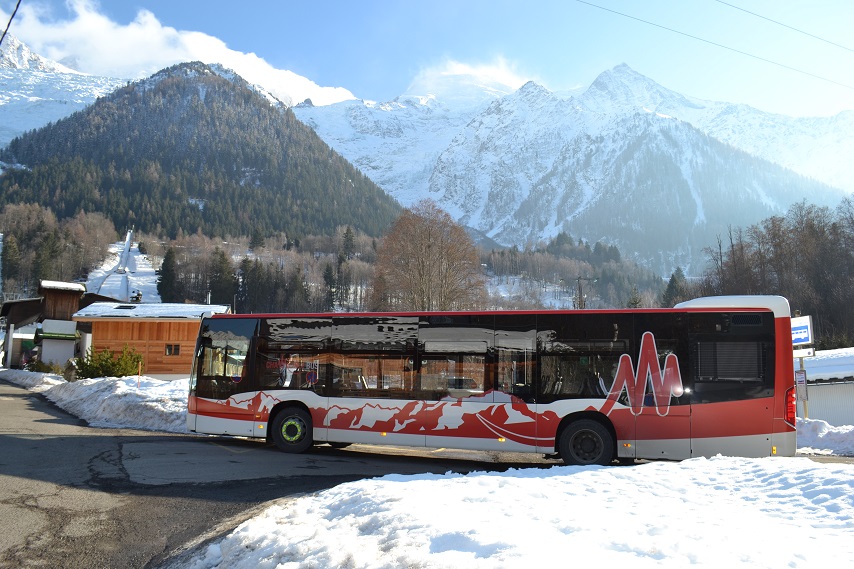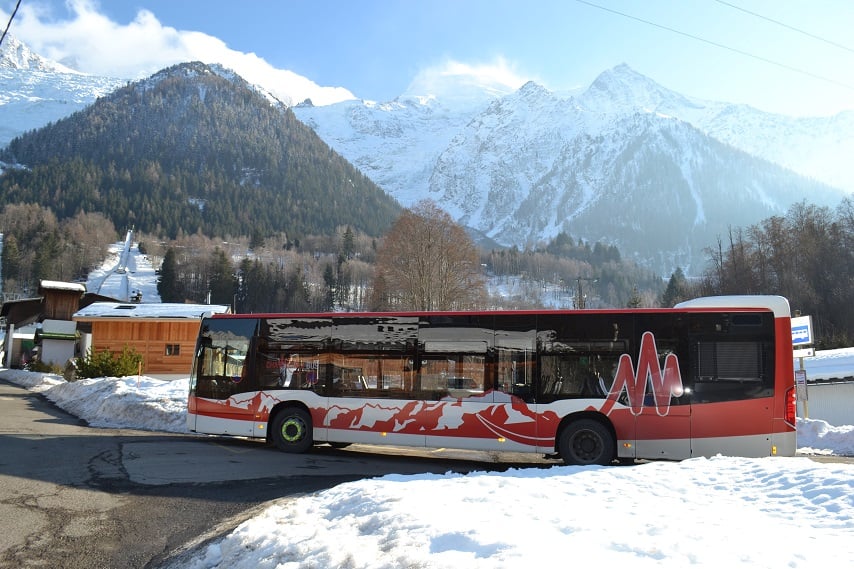 Visitors on a Chamonix eco-friendly holiday benefit from a guest card which is included in their tourist tax, and this card gives them free access to the Chamonix buses and trains in the valley. (Residents etc. can also pay a minimal fee at the town hall for a locals' card providing the same benefit.)
Additionally, the main annual bus fleet consists of two small electric buses for town centre shuttles, six large energy-efficient Euro 6 buses, and six large hybrid buses. The town is already looking to improve this further with large, 100% electric buses coming in 2020.
In addition to public transport, Chamonix making it easier to use other modes of transport which have less of an environmental impact than cars. The community has invested in charging points for electric cars, including in public car parks, and is converting its own municipal fleet of vehicles to electric. Cycle paths are being built where gaps existed in the access along the length of the valley, and bicycle racks are springing up around the town centre. Local schools have also set up walking buses.
What's next for Chamonix?
In honour of the natural heritage that we are all working so hard to preserve, Chamonix has also begun the process of requesting UNESCO recognition for the Mont Blanc massif – watch this space!
What can we do?
When you book with Chamonix All Year, you'll get a guest card on arrival to use on public transport. Your accommodation's welcome folder will also include a page on what steps you can take to reduce your impact in the valley.
Any more recommendations? Let us know over on Facebook!