THE TOP 8 PARTIES TO BRING IN 2018: New Year in Chamonix
New Year's Eve is the one night of the year where EVERYONE looks forward to a good ole' fashioned knees up! After warming up said knees all day on the slopes of Chamonix, allow us to make your night easier by offering our guide to the top 8 parties and events for your celebrations (for the last of) this year!
TOWN CENTER MIDNIGHT COUNTDOWN
If you're close to the centre of Chamonix near midnight, be sure to witness the heaving and convivial countdown that occurs just in front of the Casino. Here, large crowds gather to celebrate with hugs, kisses and fireworks in a very laid back and "human" atmosphere… in the sense that there is no actual organisation. Beware, said atmosphere is not always appropriate for children!
MARDI GRAS – BIG HORN BISTRO
Big Horn is going Mardi Gras this New Year in Chamonix with a menu à la Creole and a family-friendly atmosphere all evening, catering for large groups of up to 10 people. For 56€ enjoy your tasty New Orleans style food and music from 17h to 23h by reservations only info@bighornbistro.com. You can join the dancing for free prior to midnight or fork out 5€  between midnight and 2am and receive free beads and masks at the door.
NIXON BLACK AND GOLD PARTY – LA TERRASSE
Get down to music from the amazing Scott Nixon in your best "Black & Gold dress". Tickets cost 20€  and are available from the bar staff. And yes! There will be drinks promos!
DIRTY DISCO – MONKEY BAR
Monkey Bar is a hot spot for seasonaires and will be transformed into one giant dance floor for the event of the year. Dancing won't stop until 4am with a dresscode of glitter, glitter and more glitter! If you arrive before 10pm you can stay for FREE otherwise it's 10€ after midnight.
MAISON DES ARTISTES
For an exclusive evening at one of Chamonix's most famous bars (for famous faces) the Maison des Artistes will open its doors from 11:45pm with an entry fee of 30€ . DJ Blasta will be spinning his discs all night long!
THE CASINO NYE DINNER
The Casino de Chamonix also offers a New Year's Eve party in its reception room Eugénie. Let yourself be moved by the music and dance your dinner away! The menu has many dishes for all to enjoy. The price is 95€ per person excluding drinks. For more information and for reservations contact the marketing department at: +33 (0)4 50 53 07 65
NEW YEAR'S EVE MENU – THE CAP HORN
The Cap Horn offers a SPECIAL New Year in Chamonix menu consisting of Ruinart champagne, Lobster Taquitos, Yuzu and Caviar Petrossian… 7 courses of finery to dine out 2017 in style! The price is 190€ per person excluding drinks, or 240€ per person excluding drinks but including access to the VIP evening "in the cellars" which will take place at their sister bar Les Caves below. Reservations at +33 (0)4 50 21 80 80 or by mail: reservation@caphorn-chamonix.com
BARD'UP NYE
Keeping your expectations low with little information the Bar'd Up staff are experts at making you feel like a local in a low-key atmosphere that always heats up! Their Facebook invites claim: "10€ tickets for the calmest craziest night of the year".
Getting around
When it comes time to return on the 31st (or 1st!), the new Taxi CVT service is here for you from 40€ per trip. Contact the CVT Taxi service at +33 (0)4 85 80 01 82 or email cabs@cvt.ski to book your Taxi for New Year's Eve now.
But wait, there's more…
For a New Year's Eve you will never forget, contact Chamonix All Year to join our special New Year in Chamonix evening igloo dinner, sledging and snowshoeing event!
Join us on an unforgettable New Year's evening and combine fun activities such as snowshoeing, sledging and dining in an igloo!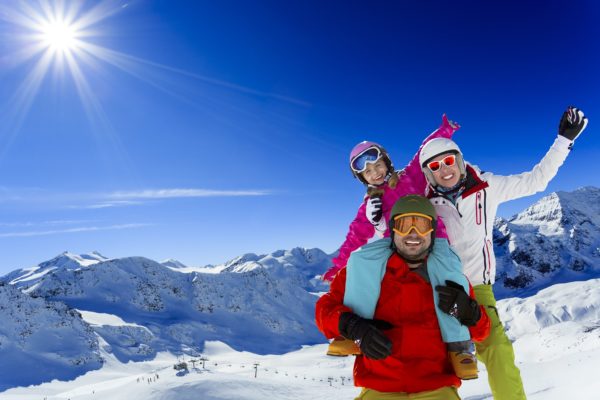 FUN FOR ALL THE FAMILY
Our guides will pick you up in Chamonix or meet in Trient at around 6pm. After a welcome drink we will sledge down a 3km long fast track as many times as you want! Equipped with our sledges we will ride down this track and our driver will pick you up at the bottom and drop you back off at the top.
From the sledding track we put our snowshoes on and we will hike through a dark forest near a huge glacier to reach our igloo after 1 hour. The igloo is hidden in the forest in a unique spot. Raphael will welcome us with an open fire and some delicious mulled wine or hot chocolate. There will also be some delicious canapés prepared for you.
On an open fire we will prepare a delicious traditional soup to start our 3 course menu. For the main course we will head inside the igloo which is cozy and equipped with sheep skins and candles. We will serve you a traditional Swiss cheese fondue inside the icy hut!
After this rich meal we will drive up to the Col de la Forclaz mountain pass and snowshoe up to a unique viewing point in the mountains (about 30 minutes' hike). The views over the entire valley are great from here and we will wait for the countdown to shoot some rockets high up in the sky! After the happy New Year greetings we will serve you a delicious mountain dessert before we walk down to the car park. There will be shuttles taking you back to Chamonix.
Contact our resort team today to find out more: +33 (0) 4 81 68 01 04
The Chamonix All Year team wishes you all the best for a happy and healthy 2018.