There is no shortage of Christmas events in Chamonix during the festive season. From the market of picturesque wooden chalets which fills the town centre with merriment to joyous carol concerts, you're sure to find something to enjoy and bring some Christmas cheer to your ski holiday.
There really is nowhere better to be for the holiday season, as the town is large and vibrant enough to offer some special Christmas events in Chamonix, and everyone in your group will be enchanted by the snow-covered mountains and plentiful pine trees with their heavy white branches.
The magic starts on 16th December when the Chamonix Christmas market opens. The wooden chalets spring up along the river around Place Balmat to make a little Christmas village, offering locally crafted gifts and regional produce. If you've forgotten to get any Christmas presents, you'll be able to pick something up from one of the stalls to delight your friends, that they can treasure as a memento of their festive stay in Chamonix.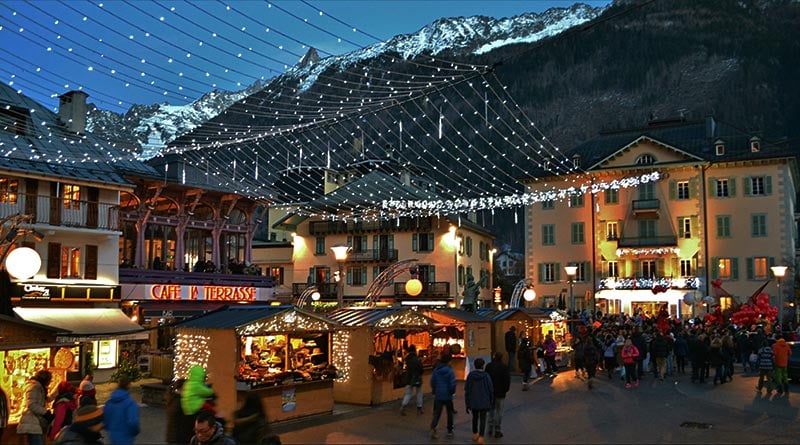 Read on for more Christmas events in Chamonix, and then don't forget to check out our top tips for planning a Christmas Chamonix break.
Christmas events in Chamonix
As well as the market, there's a whole host of Christmas events in Chamonix to enjoy. There's something on every day in the town centre, so we've picked out some selected highlights which you absolutely shouldn't miss, especially as all the shows are free. You can find out more on the dedicated Christmas market website.
Friday 16th – Saturday 24th December: Meet Father Christmas! Father Christmas will set up house in Chamonix's very own Christmas market – don't miss out on the chance to meet him there.
Saturday 17th December: Geese on parade through the Christmas market. This extraordinary spectacle has a gaggle of geese wandering the streets of Chamonix, honking along with drums and whistles, and bringing together Man, music and animals in a fairytale to enchant young and old.
Sunday 18th December: 6pm – a concert of French Christmas songs by the choir of the Guides de Chamonix. At the Saint Michel church, place du Triangle de l'Amitié.
Monday 19th December: 2.30-7pm – Carousel in Place du Poilu. This magical carousel is the height of ecological entertainment, as it is propelled by parents, and it also has an extraordinary organ hidden in its depths. Children from 6 months to 6 years will enjoy floating on clouds around this fantastical fairground classic.
Also on Monday, at 8pm – English carol concert by the Chambelles. At the Anglican Temple, 24 passage du Temple.
Tuesday 20th December: 5.30pm – promenade performance by the Snow Elves in the Christmas market. The elves will be busy performing sketches, songs and choreography, spreading good cheer.
Wednesday 21st & 28th December: 6pm – the ESF instructors go on a luminous and musical parade through the town centre.
Thursday 22nd December: 2.30-6.30pm – Mam'zelle Pastel sets up her stall at the Christmas Market. Get your face made up by a professional face painter.
Friday 23rd December: 5.30pm – a 'mobile' concert by the retro-inspired Satin Doll Sisters. You'll hear all your favourite Christmas songs, including Jingle Bells, White Christmas and Santa Claus is coming to town, as well as some swing tunes from the 30s, 40s and 50s.  
Saturday 24th December: 5pm – a special snow-white Christmas parade through the market.
Tuesday 27th December: 5.30pm – Fanfare de Noël offers some swinging hot jazz among the market's chalets, inspired by New Orleans, Christmas songs, gospel and your favourite Disney songs.
Wednesday 28th December: 5.30-7pm – another themed Christmas carousel comes to Place du Poilu. Come aboard the Cabane de Jardin for some far-fetched encounters with a wealth of eccentric characters including pumpkins, water lilies, sunflowers, gerbils, ladybirds and many more…
More Christmas events in Chamonix
There aren't just themed Christmas events in Chamonix – in fact, there's always a lot going on in our Alpine town and the festive season is no exception. Why not enjoy some of the fun regular events that are happening during your stay?
Local market: Chamonix's local market sells regional produce from the Savoyard area as well as from the Italian side of Mont Blanc – the Aosta valley. Stock up on fresh fruit and vegetables, local meats and cheese or fresh flowers, and fill the cupboards in your self-catered accommodation or take some edible souvenirs home with you! Saturday mornings, Place du Mont Blanc.
Chamonix ice hockey match: go along and support the Pionneers on 23rd December at 8.30pm, as they play Bordeaux in the national ice hockey league, the League Magnus. It's great fun to go along and try joining in with the chants, and kids under 8 go free! Adult tickets cost 14€, and children (8-15 years) cost 8€. At the ice rink, Richard Bozon sports centre, 165 route de la Patinoire. Why not go across the road afterwards to MBC for Friday night half price ribs and locally brewed beer?
Free outdoor ice skating: on Fridays in school holidays you can enjoy free ice skating in Les Houches on the outdoor ice rink in the evenings between 8pm and 10pm. In December, free evening openings are on 23rd and 30th December, but the ice rink does open daily in the Christmas holidays and it's only 2€ per person. Rent your skates for 3€, 25 ave des Alpages.
Treasure hunt in Les Houches: If you've got a 4+ day lift pass to ski in Les Houches (Les Houches local area or Mont Blanc Unlimited) then don't miss the chance to take part in a treasure hunt around the ski lifts and to win a sunset ride on a piste basher! Sign up between 10am and 2pm at the top of the Prarion cable car to take part in this team event, with the winners announced at 4pm. Thursdays, 22nd and 29th December. Organised by Les Houches Tourist Office in partnership with LHSG and Helly Hansen Chamonix.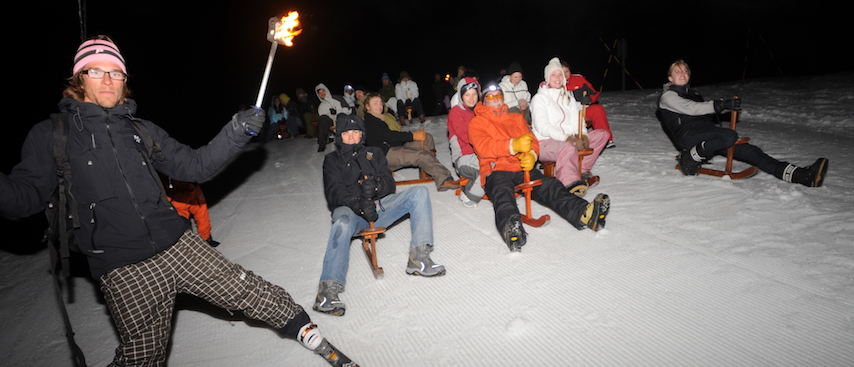 Les Houches paret descent: as the lifts of Les Houches close, head up the Prarion bubble to join the fun and ride a traditional wooden sledge back down to the village. The descent takes about 45 mins of hilarious fun for everyone (minimum age 10 years). Sign-up latest the day before, meet at the bottom of the cable car at 4pm. Fridays, 23rd and 30th December.
With so many Christmas events in Chamonix going on and with our top tips for planning a Christmas Chamonix break. , you're sure to have a Christmas to remember. Merry Christmas from everyone at Chamonix All Year!