One of the advantages of Chamonix's being a year-round town is the wealth of bars and restaurants to choose from, and we of course love sampling the best bars in Chamonix! We know that sometimes after a few drinks you get the munchies too, so we've put together a guide to our favourite bars for food – as well as drinks – in Chamonix.
Elevation 1904
For the lasagne and generous salads
259 ave Michael Croz, 74400 Chamonix | +33 (0) 4 50 53 00 52
Elevation bar on Avenue Michel Croz (the ultimate après ski street with three of the best bars in Chamonix) was renovated last year to allow for more eating space both indoors and outdoors. With such a delicious menu it's easy to see why they wanted to expand their seating area. We love the lasagne and adore the huge salad servings for those meals where you don't want to cheat, but really need to eat! Not only that, this bar is easily one of the oldest still standing in Chamonix, since 1904 to be exact. Soaked in both history and afternoon sun, Elevation is a hot-spot for the young (and old) guides of Chamonix and aspiring alpinists alike. In high season, guess the number of clients still proudly sporting their mountain harnesses – loser pays the bill!
Monkey Bar
For the burgers and tacos
81 place Edmond Desailloud, 74400 Chamonix | +33 (0) 4 50 96 64 34
Monkey Bar is the meal time choice for seasonaires and in the know tourists who want to combine value for money and good food with a good time. Every Tuesday is Taco Tuesday (with cheap Tequila and pitchers of Margarita also on offer) and every Monday (18:00-20:00) you'll get the best half price burgers in town. Monkey bar is located in Chamonix Sud, a micro-centre of Chamonix close to the Aiguille Du Midi with everything at hand. Here you'll find a sunny outdoor terrace with ping-pong table in the spring-summer and regular live music, DJs and special events. Don't forget to try their famous Moscow/Mexican Mule cocktail with chilli, two-for-one during Cocktail Happy Hour 9:30-10:30pm.
Office Bar
For the nachos
274 rue Charlet Straton, 74400 Chamonix | +33 (0) 4 50 54 15 46
Tucked away in Argentiere, Office Bar is your choice for après-Grands Montets drinks with live music every Friday in full season. The Office Bar nachos are well-known for their generously cheesy servings and you can keep an eye out for the Chef's special curry nights with your full meal just 15€!
MBC
For the ribs
350 route du Bouchet, 74400 Chamonix | +33 (0) 4 50 53 61 59
By beer lovers and for beer lovers MBC moved into town in 2002. This Canadian bar has strong roots in live sports (especially hockey) and music events. It's also one of the best bars in Chamonix for getting the most end of day sunshine, especially on those crisp blue-bird spring afternoons. If you're looking for that perfect brew after a day in the fresh mountain air, you're at the right bar. Their burgers and poutine are well-renowned and every Thursday you'll find the most delicious half price ribs in the valley. By the way, MBC beers are brewed on-site using only the finest ingredients and the purest glacial water in the Alps.
Moo Bar
For the fish
239 ave Michel Croz, 74400 Chamonix | +33 (0) 4 50 55 33 42
Moo Bar also on Avenue Michel Croz (close to Elevation) attracts a more mature après crowd. As such the cuisine and bar offerings are more refined. You could say the skiers are as seasoned as the salmon! And it is here that we recommend you try the fish: as a Swedish outfit, this team hires consistently experienced Scandinavian chefs who really know their seafood. It's also the only bar in Chamonix with a self-service beer station, so be sure to reserve this table ahead of time!
Cool Cats
For artisanal hot dogs and street food
116 rue des Moulins, 74400 Chamonix | +33 (0) 6 37 81 96 96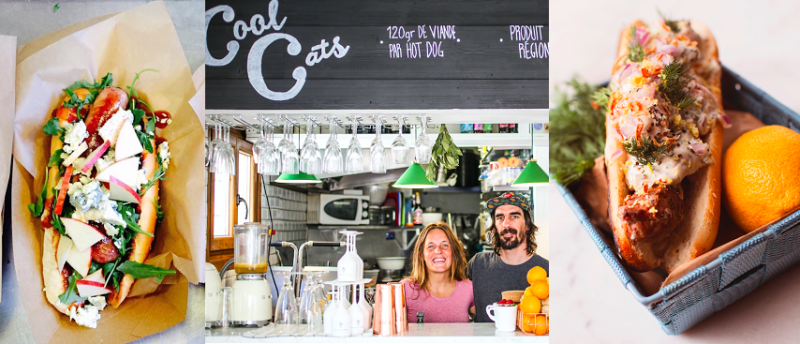 While not a bar itself, Cool Cats can be sniffed out on Rue des Moulins at the heart of nightlife in central Chamonix. Very hipster and very delicious this 'pop-up' inspired, concept hot-dog bar combines flavours from global street food with locally sourced produce and homemade products. The Cool Cats sausages are made by local butchers and spiced with herbs from local forests and gardens, while the bread is carefully selected by local bakers, and delivered fresh each morning.
L'Atelier
For breakfast
12 quai d'Arve, 74400 Chamonix | +33 (0)4 50 53 32 36
Brilliant bagels, incredible crepes AND a full English, it's breakfast heaven in the centre of town at L'Atelier. Breakfast is served from 8:30am till 1pm.
The Jekyll
For the BIG servings
71 route des Pèlerins, 74400 Chamonix | +33 (0) 4 50 55 99 70
Big salads, big ribs, big desserts and even BIGGER burgers; the Jekyll is by far the number one choice if you're really really really very hungry. There is one such monstrous burger that if you manage to finish it you get your pint free!
Kitsch Inn
For the fish'n'chips
77 place de la Fruitière, 74310 Les Houches | +33 (0) 4 50 34 41 74

A touch of Brighton in the middle of the French of Alps, just outside of Chamonix in Les Houches. This bar-cum-restaurant is known for getting very rowdy après ski, but also have a great pre-ski brunch on offer. However, they're best known for their retro vibes, live music and, you guessed it: fish'n'chips!
Best bars in Chamonix for food – which is your favourite?
We hope you'll enjoy trying out some of our favourite bars for food in Chamonix. Let us know which is your favourite or if we've missed any.
Santé – et bon appétit!