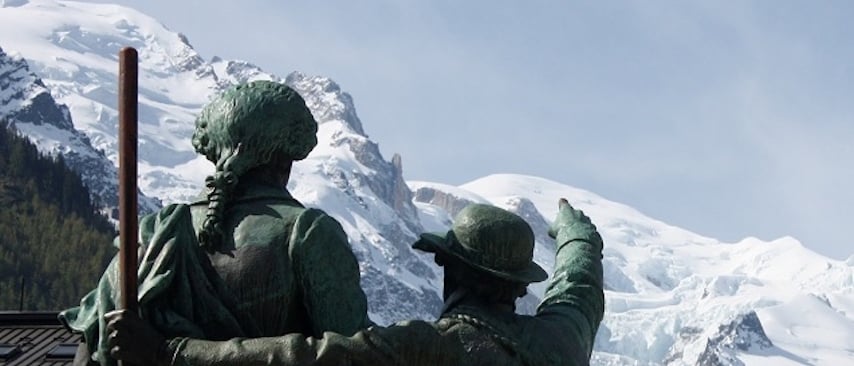 On 8th August 1786, Jacques Balmat and Michel-Gabriel Paccard were the first mountaineers to reach the summit of Mont Blanc. The gauntlet was thrown down by Horace-Bénédict de Saussure, a Swiss naturalist who first visited Chamonix in 1760 and offered a reward to the first people who found a route to the peak.
After a failed attempt on 7th June, Balmat paired up with Paccard, and on 7th August they headed up together to start their attempt. After a night spent between the two glaciers of Bossons and Taconnaz on the Montagne de la Côte, they woke up to a day of perfect conditions and started their ascent to the top. The weather was so favourable that they could even be followed from the valley floor in Chamonix with a good pair of binoculars.
The cold, lack of oxygen and glare from the snow made for slow progress, but by early evening they had reached the summit and opened up a new terrain for generations of mountaineers to follow. They are honoured by the town of Chamonix, immortalised in Place Balmat and Rue du Docteur Paccard as well as by twin statues on the Promenade de l'Arve.
Read more about the history of Chamonix.
Glacier hikes
If you fancy following in the footsteps of Balmat and Paccard then have a read of our info on glacier hikes. Even beginners can get a taste of hiking with crampons on the famous Mer de Glace which descends from Mont Blanc, while more experienced mountaineers can tackle the famous Vallée Blanche at the top of the Aiguille du Midi.