On 23rd May the family of Swiss climber Ueli Steck held a public memorial service in Interlaken near Steck's home community of Ringgenberg and the Bernese Oberland mountains, where he realised so many of his climbing achievements.
Known as the "Swiss Machine" he first hit the headlines at the age of 18 when he climbed the North face of local landmark the Eiger. He went on to build a globally recognised solo career with several milestones.
In 2009 and 2014 he was awarded the Piolet d'Or, one of the most important awards in the world of mountaineering. Renowned for his speed, he broke the record for the fastest climb of the Eiger not once but three times. Among other achievements the veritable "Swiss Machine" also ascended the south face of Annapurna solo, climbed Everest without oxygen and even succeeded in climbing all 82 Alpine peaks over 4,000m in 62 days.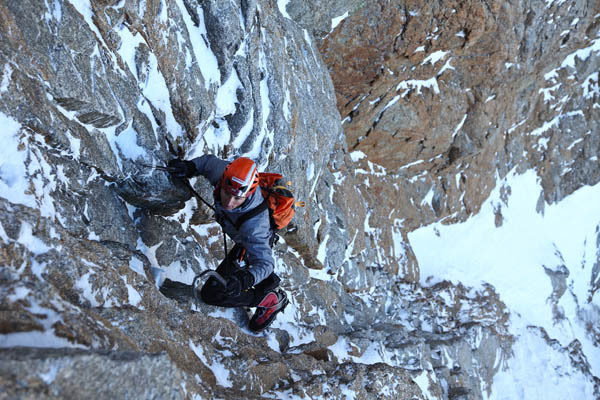 From humble beginnings in carpentry Ueli Steck was born on 4th October 1976  in Langnau, Emmental, East Berne. At age 12, he joined the Swiss Alpine Club and developed a fascination for "contact with nature and the cliffs".
Steck, died at the end of April following a fall in an acclimatization trek preparing for an ascent of Everest via a new route. He was 40 years old.
Steck was on his way with climbing partner Tenji Sherpa to attempt the first traverse of Everest and Lhotse; a chain connecting the 8,848m summit of the highest mountain in the world with its colossal neighbour, Lhotse, which at 8,516m is number four in the list of the world's highest mountains.
Steck's ambitions plan was to do so without supplementary oxygen via a bold line of ascent. Details of the accident that caused his death are yet to be made public although it is well known he was free soloing (climbing alone) at the time.
Farewell
His ashes were returned to Switzerland following a traditional Buddhist funeral ceremony which included cremation by pyre at Tengboche monastery near Kathmandu. According to an AFP photographer at the scene, the site was encircled by towering Himalayan peaks including Everest while monks in flowing robes offered prayers and music and Steck's wife Nicole and closest family members said their farewells.
In a statement in early May the family's spokesman thanked Steck's fans, colleagues and friends for their support and announced "as a sign of gratitude, the family invites the public and the media to a public commemoration ceremony".
The event was held at 4pm on 23rd May at the Congress Centre Kursaal Interlaken where the nearby community of Grindelwald, close to the Eiger, is considering naming a part of the famous mountain after the late climber.

Remembering
The Guardian obituary of Ueli Steck, published on 1st May 2017, hacks at the heart strings like an ice axe to a glacier by making the "machine" more than human.
Each of Steck's own accomplishments is warmly described by Ed Douglas online.
"Charismatic, warm and modest, Steck was anything but machine-like, able to connect with the non-climbing public in a way most alpinists do not. To do this, he simplified the complexities of his game, relying more on his personality to win friends and influence sponsors.
"His use of an Olympic coach and the language of athletics were comprehensible to non-climbers. This bred envy among his peers and led some to question the veracity of his achievements. Steck's ascent of a new route on the south face of Annapurna in October 2013 was the best example of this. He climbed alone, doing the hardest section at night in a situation of unimaginable peril, but also lost his camera and failed to keep a GPS track, increasingly standard procedure for leading climbers.
"Two Sherpas witnessed seeing his headlamp above all difficulties and his account was enough to satisfy the jury of the influential Piolet d'Or, which gave him his second such award. Steck's achievement was hailed as a landmark in mountaineering history."
Ueli Steck career continued
But that's not all, the list of ups and downs for Steck goes on.
In 2012, having conquered Everest without bottled oxygen, the Everest "Diamond Jubiliee" conquest anniversary was marred by a high-altitude altercation that involved Steck and two other climbers.
The three climbers – Steck, Italy's Simone Moro and British alpinist Jon Griffith – had been moving without ropes more than 7,000m up the mountain's Lhotse face, which leads to the South Col, acclimatising for a later attempt on a new route while a team of Sherpas fixing ropes for guided climbers (not present) claim one of them was struck by ice dislodged by the three westerners, an allegation that is fiercely denied.
The climbers were later accosted at Camp 2 in a violent display of frustration by the Sherpas that was widely reported to include punching and kicking, throwing rocks, and according to Steck, the threat of a pocket knife. Moro claims the trio were so shaken they descended as soon as was possible via a more dangerous route from that normally used to avoid meeting anyone on the way down.
In his obituary, Ed Douglas claims:
"The event went viral and Steck, wholly blameless in the affair, became severely depressed and disheartened." His success ascending the south face of Annapurna solo and in 2015 was "a reaction to the misery of those months."
Many would argue the highlight of Ueli Steck's career was in the summer of 2015, climbing all 82 peaks of the European Alps over 4,ooom with a plethora of professional partners; cycling, running and even paragliding between each mountain. The mish-mash team of Alpine heroes completed the tour of all 82 peaks in just 62 days.
Before his death he told his Facebook followers that preparations were going well, for what would be his last expedition. While, in what is claimed to be his last video interview, Steck had a final message for aspiring climbers:
A practitioner of the "fast and light" technique, in which climbers minimize the amount of gear and support they take on, Steck will be remembered as an industry pioneer and one of the finest climbers of his generation.
A lesson for Chamonix Mont Blanc
In the age of the "selfie" Mount Everest is so crowded this year there is a risk of 'traffic jams'. Everest is reported to have about three to four good weather days with appropriate conditions to allow a safe summit climb each climbing season.
While Chamonix and Mont Blanc are blessed by a longer period of favourable weather conditions (at half the altitude), the easy access and central European location are the recipe for the "Disneyland" tag line our mountain is often labelled with; where ambitious debutants mix with seasoned mountaineers at the swipe of a card.
The difference with many of the "weekend alpinists" drawn to Chamonix and the "Swiss Machine" is that he understood every risk he was taking, and had a wealth of experience as well as decades of specialised training with which to deal with it. He was fanatical about training and preparation.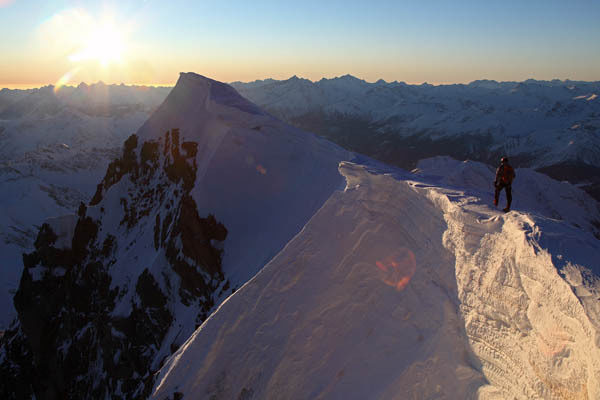 Through a judiciously controlled training routine Steck reached a level of fitness equivalent to that of many Olympic athletes. He even pioneered the "fast and light" approach to mountaineering that meant that he was exposed to objective risk for less time.
While the precise reasons for Steck's death remain unknown, any true mountaineer would rather live to climb another day than foolishly endanger their lives.
Steck was no fool in the mountains and exercised his good judgement like any other of his muscles, building it over years of practice.
When planning an ascent in Chamonix do not treat the mountain as yet another object to be purchased, claimed or photographed. Likewise do not fear her, equilibrate, and overall: train/plan ahead.
"There are dreams that are worth a certain amount of risk."
—Ueli Steck
Chamonix All Year recommends you hire a local guide no matter your level. Speak to your Resort Team for more advice. Our thoughts remain with Ueli Steck's family and friends.
All photos courtesy of PlanetMountain, credit Jonathan Griffith – taken during his 2008 speed solo of the Colton Macintyre (Grandes Jorasses, Chamonix) in 2 hours 21 minutes.