Cross-country skiing in Chamonix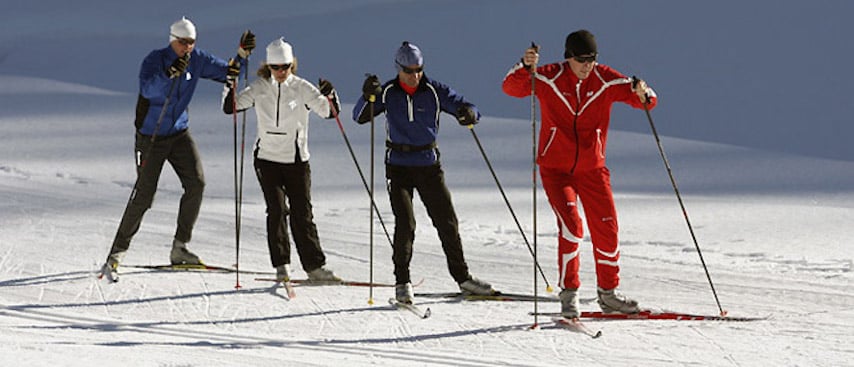 For many people, cross country skiing (also known as Nordic skiing) remains an undiscovered sport, but it's a great way to enjoy the snow. It's perfect if you want to try something a little different and take a day away from the slopes. Careful though, you might not want to put your alpine skis back on once you've tried it!
There are 4 main cross country skiing areas in the Chamonix valley, at Les Houches, Chamonix, Argentière and Vallorcine, and those of Chamonix and Argentière can link up when snow conditions allow. All this means there is an excellent choice of varied and picturesque circuits that run through the forests and along the turquoise rivers. There are gentle pistes linking Chamonix with the village of Les Bois, or further up the valley try the tranquil pine forests of Argentière, which are better suited to more accomplished cross-country skiers. In Les Houches, the pistes are at the top of the Prarion lift in the heart of the ski area, meaning you can enjoy this sport while still getting some altitude. All of the pistes in the valley offer both skating and classic, the two styles of cross-country skiing.
Ski cross-country – in another country!
If you fancy trying out your techniques a little further afield, why not head through the Mont Blanc Tunnel to Courmayeur in Italy, where the Val Veny circuit is served, naturally, by an excellent mountain restaurant! Half-way along the track, the restaurant is a welcome break to refuel and serves some fabulous local dishes such as polenta and their famous hot chocolate – so thick you can stand your spoon up in it!
Equipment & lessons
Ski hire can be obtained at the hire shops close to the starting areas. Lessons can also be booked with ESF Chamonix for group or private lessons, including biathlon. Anyone from 13 years of age can join a group for a couple of hours, either as a one-off or for a week of daily lessons. All abilities are catered for, so even if you've skied cross-country before you can get some tips on how to improve your technique.
Biathlon – skiing with rifle shooting!
ESF offers biathlon private sessions – combine cross country skiing with rifle target shooting! In a small group (up to 2) with an instructor, enjoy the experience of improving your skating technique and then try to slow down your heart beat to hit the shooting targets. Even total beginners can enjoy this activity.
Cross country ski techniques
There are two styles of cross country skiing on offer: skating and classic. In both styles skiers move forward by pushing off with one leg, in order to glide on the other. The classic style makes use of parallel grooves which are pisted into the track and is the easier of the two techniques for beginners to try. It's possible to walk on classic skis so it's easy to take a breather. Skating style looks and feels more like ice skating: skiers stay out of the grooved tracks so good balance is essential. The pace is generally faster than classic style, so skating can provide a fantastic workout, not to mention a lot of fun as everyone falls over on their first attempt!
Ski pass
There is a charge to use the valley trails which are regularly patrolled. The passes and tickets are on sale at the cross-country ski lodges of Chamonix (opposite MBC bar), at the Chosalets lift desk (Argentière) or the Vallorcine cross-country ski office (close to Tourist Information). In Les Houches, you need a pedestrian return ticket for the Prarion gondola, available from the ticket office at the bottom of the lift.
Guide to prices: Adult 11€, discount apply with your tourist guest card
Address: Route du Bouchet, 74400 Chamonix Mont-Blanc
Tel: +33 (0) 4 50 53 11 15
Web: for more information and maps www.chamonix.com and www.leshouches.com