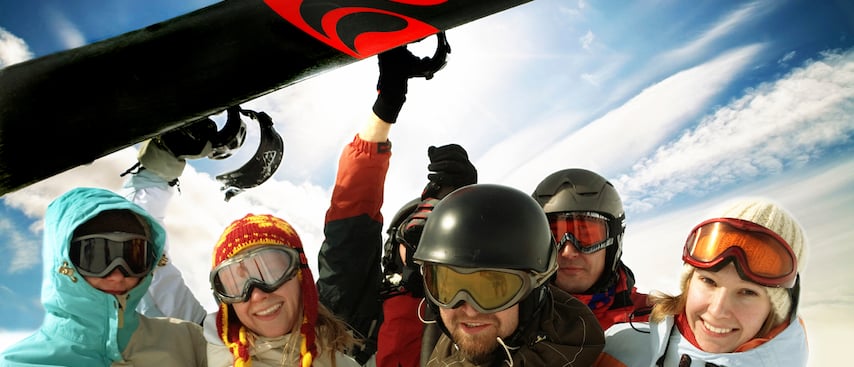 Browse through our guest reviews of the Winter ski season 2012-3 in Chamonix below. We always like to receive feedback, it's great to know guests have enjoyed their stay!
Update 2020: Thank you to all of our guests for their kind words over the years – your feedback always helps us to improve our services. While some of the activities and services mentioned below may not be available anymore, we still offer a one-stop-shop for your accommodation and holiday essentials!
What you say:
We spent Christmas week in Chamonix at the Ginabelle apartment. From the initial enquiry and booking, subsequent administration and travel to Chamonix, we received lots of information including contact details and arrival information. Marcus's transfers to and from the airport were extremely efficient. ChamonixAllYear should be congratulated for their organisation and attention to detail.
Paula Thomas – UK. Dec 2012
I just wanted to say how great we found your service and how all of our guests that stayed in the apartments and Chalet we booked were impressed with  standard of accommodation. Locations were superb and the descriptions were really accurate. Marcus and the taxi drivers went out of their way to turn up on demand throughout our stay and nothing was too much trouble.
We were particularly impressed with Flore's friendly and helpful approach to make our stay extra special. Thank you again for everything, we look forward to booking with you again in the future
Kind Regards.
Sue Augu – UK. Dec 2012
Amazing stay, friendly people, great accommodation.
Carmen Serna – Spain. Dec 2012
You guys were all very good and we will definitely use you again!
Chris Holdsworth – UK. Dec 2012
Excellent organisation of transfers. Very comfortable and roomy chalet.
John Nash – Honk Kong. Dec 2012.
Thank you to Chamonix All Year for making our Family Christmas one to remember.  The personal service, which included a Christmas tree upon our arrival really brightened our week. Thank you
Vicki & Keith Palmer – UK. Dec 2012
Chamonix All Year are friendly, and knowledgeable, and can provide a lot of services at competitive prices. Recommended.
Philip Thomas – UK. Jan 2013
Really impressed. The accommodation was fine skiing was excellent and nightlife was busy or quiet as you wanted. Transfers, passes and kit hire were effortlessly organised by Cham all year. Very much recommended.
Jim Woods – UK. Jan 2013
Pick up driver (Marcus) was great and a font of knowledge on places to eat/entertain out on the slopes. All suggestions were very good value
Chris and Sally Simpson – Australia. Jan 2013
I have been two weeks during the Christmas holiday in Chamonix. Excellent accommodation, very efficient organization!
Francesco Becchelli – Italy. Jan 2013
We had an excellent stay in Chamonix this year. All staff i came into contact with were very friendly and helpful. The property was tip top and catered for everything we required- location, price, space etc.  Additionally We had an issue with a locked door and broken handle (the handle was loose so the door couldn't be unlocked) which was resolved immediately and we were not charged. It confirmd my belief that Chamonix all year are an excellent travel company to use and they will go the extra mile to make your stay an excellent one. I would certainly recommend them and will definitely be a returning customer!!
Joel McCormack – UK. Jan 2013
We thouroughly enjoyed our stay in Chamonix.  The accomodation was great, and the Chamonix All Year team were very helpful.  Thank you.
John Sartori – Australia. Jan 2013
Excellent holiday, will be coming back next year.
Robert Mackenzie – UK. Jan 2013
Before and during our visit we found the staff of Chamonix All Year extremely friendly, responsive and helpful. They really helped making our surprise vacation for my wife's 40th birthday a big success.
Pascal Henssen. Jan 2013
What a fantastic holiday! Great accomodation and fantastic ski resort.  I will come again and will definitely be booking with Chamonix All Year! Thank you for providing such a great service.
Stephanie Tamsett – UK. Jan 2013
Our experience with Chamonix All Year was positive and easy. They are very organized and friendly, I would not hesitate to recommend them to my family and friends and I will certainly use them again….soon I hope!
Lisa Abbott – Belgium. Feb 2013
The property, services and staff of chamonix all year are perfect and in turn will make your holiday perfect!
John Durcan – UK. Feb 2013
Great holiday, accommodation and service! We would definitely repeat this experience
Nick Aspinall – UK. Feb 2013
Everyone we ever met from CYA have been easy to communicate with and shoved a professional approach that we appreciate.   Maybe I can allow myself to especially mention that Marcus is an excellent driver and that he is very nice. We have been lucky to have him drive us.  The comments I have made in this survey should be understood from the fact that I have lived two full winters in Chamonix and visited many more times. This winter was the fourth in a row with my family and the third together with our friend family. The father in the other family also stayed for a full winter in Chamonix. So we know the place rather well.
Claes Martinson – Sweden. Feb 2013
Every contact I had with Chamonix All Year, by phone, email, online booking, money transfer or in person worked brilliantly. Every person we spoke with or contacted was responsive, helpful and friendly. The info and directions you gave us were excellent. It is obvious that you have really thought the whole customer experience through, and your team all seemed empowered just to sort stuff out. It was great to deal with you all.
Tim Walker – UK. Feb 2013
Chamonix All Year was very good. No problem at all. Also the transfer was very well. If you go to Chamonix, book with Chamonix all Year 🙂
Paal Graaberget – Norway. March 2013
Great holiday. Thanks for organising lots of things when we arrived and always at the end of the phone. Keep up the good work. We look forward to returning.
Henry Smith – UK. March 2013
The accomodation we originally booked was unavailable due to emergancy maintenance having to be carried out. The response from Chamonix All Year was fantastic, they not only offered us a number of alternatives, at no extra cost, but they also listened to the problems we had by moving from Argientiere and came up with solutions that satisfied all concerned. I already knew that Chamonix All Year were a good tour company but now I would not hesitate to recommend them to anybody who is travelling to the Chamonix valley. Thank you for a fantastic holiday.
David Jones – Cyprus. March 2013
Really great accom and service with a smile
Andy Moore – UK. March 2013
Our stay with All Year Chamonix was great. The team were always extremely helpful, provided us with all the necessary information before and during the trip, and dealt with any queries promptly.
Nikinder Sandhu – UK. March 2013