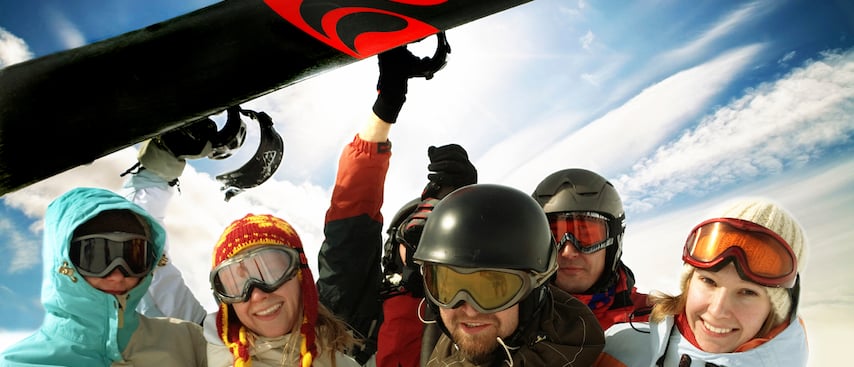 Browse through our guest reviews of our Winter ski season in Chamonix 2011-2 below. We always like to receive feedback, it's great to know guests have enjoyed their stay!
Update 2020: Thank you to all of our guests for their kind words over the years – your feedback always helps us to improve our services. While some of the activities and services mentioned below may not be available anymore, we still offer a one-stop-shop for your accommodation and holiday essentials!
What you say:
Chamonix All Year created a customized package for me and my friends and it was perfect. Everything went super smooth, from airport transfer, ski passes delivered to our accomodation to the private mountain guide for the vallee blanche! We had a great time and can't wait to come back!!!
Christopher Kläsener – Germany. March 2012
Thanks for a brilliant holiday. The booking was efficient and great value. Jo responded quickly to all of our questions, both before & after booking. We were also glad we booked our transfers through your site. Marcus was waiting for us when we arrived & had us on the road straight away. No waiting around for lots of people! We had a fantastic time and really appreciate the efficiency of everything you and your team did for us. If we come back to Chamonix in future, you will be our first call.
Gordon Stevenson – UK. March 2012
I just wanted to say thank you for all of your help this week (and in the weeks prior to our arrival). We had an excellent stay and a large part of that was as a result of all the help you gave us. You were always available, very efficient and provided a brilliant service.
The chalet itself was lovely – large but cozy at the same time. It had all of the facilities that we needed – the highlight of course being the hot tub!
A wonderful trip and I will certainly be recommending your services to any friends of mine that are considering coming to Chamonix. Thank you again.
Tersia Pillay – UK. March 2012
Thanks for the friendly service and flexibility. We could only concentrate spending a relaxed and enjoyable holiday in Chamonix.
Henri Tuhkanen – Finland. December 2011
Having stayed at Chalet Le Tremplin and last year at Paridis Ski, the selection and quality of the accomodation on your books is unbeatable on every level.
Richard Davis – UK. February 2012
We had a great time in Chamonix and we were particularly grateful that you were able to extend our checkout time which allowed us more time on the slopes. It was reassuring to know that if we needed anything there was lots of help available locally. Many thanks.
David Sadler-Smith – UK. February 2012
As per usual, ChamonixAllYear proved to be fantastic. We have used them twice now and they are far an away the best operator we have used. Nothing is too much trouble, and they are always friendly and helpful.
Chris Wilber – UK. February 2012
Very friendly  And knowledgable. Good service
Renato Juric – Switzerland. February 2012
Evrything was good ,we had got a very good holiday and part of this success was our booking through chamonix all the year
Adanane Benabdallah – Morocco. February 2012
We were incredibly lucky with the weather in week 11. Sunshine every day and wonderful skiing. Initially, we thought Chamonix only suited very proficient skiers and that all the slopes were steep. We found out that there really is a large variety and that anyone, no matter skiing ability, can go skiing in Chamonix:-)
Pia Oestrem – Norway. March 2012
I had never been to Chamonix before and the staff upon arrival was very warm and friendly and made us feel welcome.  Very important when traveling to a new place.  Also, your help and response for transportation and last minute bookings was fantastic.  Do not hesitate to use me as a reference, good business practices deserves recognition.  Looking forward to coming back next year.
John Shipp – USA. March 2012
Thank you very much for making our holiday very easy to book and a great experience while we were there.
Sam Stephens – UK. April 2012