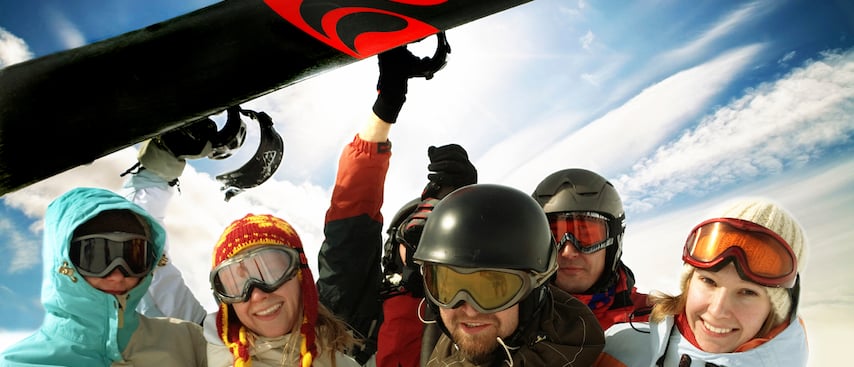 Browse through our guest reviews of our Winter ski season in Chamonix 2010-1 below. We always like to receive feedback, it's great to know guests have enjoyed their stay!
Update 2020: Thank you to all of our guests for their kind words over the years – your feedback always helps us to improve our services. While some of the activities and services mentioned below may not be available anymore, we still offer a one-stop-shop for your accommodation and holiday essentials!
What you say:
"We love Chamonix and skiing and 'Chamonix all year' accommodation along with a family ski pass makes it possible for all 6 of us to keep coming every year."
Claire Wroe – UK. April 2011
"Excellent, well equipped apartment. Very efficient and helpful staff. Would definitely book with Chamonix All Year again."
Emma Green – UK. April 2011
"Good service, good accommodation and very knowledgeable of region. Were very helpful in getting my ski pass refunded when I arrived hardly able to walk let alone ski."
Gerry Brame – UK. March 2011
"Thank you for a wonderful stay, we are definitely coming back. In fact we already have and it was another fantastic experience. Chamonix truly is wonderful all year round!"
Magnus Nylen – UK. March 2011
"We really enjoyed our winter holidays in Chamonix. Special thanks to Chamonix All Year! Organisation was perfect, the description of apartment is full, arrival instructions are clear, the team is helpful and friendly! We enjoyed everything!"
Oxana Pushchenko – Russian Federation, March 2011
"We booked last minute with Chamonix All Year and was very pleased with the help and information provided. See you next year, Thanks."
Philip Lord – UK. Feb 2011
"Chalet Cristalliers was wonderful and the staff at Chamonix all year could not do enough to help.  We would not hesitate to recommend them and hope to return in the future."
Suzie Gillespie – UK. Feb 2011
"We appreciated very much that Chamonix All Year was available for us at any time during our stay. All the services that we booked through them were great. Thanks a lot! We will comeback for sure!"
Maria Laguna – Spain. Feb 2011
"Thanks Chamonix All Year for a great week. Everything was perfectly organised and the accommodation was lovely with the bakery right across the road and a few minutes walk to the centre of Chamonix. The kids had a great time and are now skiing like champs!"
Rajeev Chopra – UK. Feb 2011
"Excellent value for money and a very friendly and helpful rep in resort. Cheers."
Guy Taylor – UK. Feb 2011
"Jody was really helpful in the run up to the holiday and even though we had a few difficulties with Evolution 2 pick-up times and location, Jody and Nick were really helpful and supportive in sorting through the issues. Great apartment, organisation and assistance for our weeks skiing in Cham. Chamonix all year – great hosts and very informative, helpful and supportive, could not have asked for any more."
Steve Smith – UK. Feb 2011
"The efficient way and tolerant way the team dealt with my queries was excellent."
Clive Faircloth – UK. Feb 2011
"Very efficient, helpful and well organised. The apartment was good."
Mark Mitchell – USA. Feb 2011
"The Chamonix All Year Team couldn't do anything better, were particularly helpful. Have booked with Chamonix All Year twice now and would recommend them.  Booking handled quickly and easily."
Susan Tebbs – UK. Feb 2011
"Couldn't have asked for more. A fantastic service and I would thoroughly recommend you to anyone wanting a skiing holiday without any hassles. The booking of our ski lessons demonstrated a commitment far beyond what we had any right to expect. You searched out the best deals, and the most appropriate ski instructors, tailored to the particular needs of our party. We were very grateful for the time and effort you put into securing the best instruction for us.
Far and away the best skiing experience we have ever had. The accommodation was fantastic, but what really made the holiday was the Chamonix All Year team. Nothing was too much trouble, and everything was handled with calm efficiency and attention to detail. I recommend Chamonix All Year as a company you can rely on to make your holiday run smoothly."
Chris Wilber – UK. Feb 2011
"Very helpful staff and excellent accommodation in a great location. A thoroughly enjoyable holiday in the heart of the Alps."
Bob Howard – UK. Feb 2011
"Lovely place, Lovely and helpful staff, Thanks Chamonix all Year for a lovely holiday."
Martine Bull – UK.  Feb 2011
"The Chamonix All Year Experience was very good, and the accommodation was great! Chamonix is such a lovely place with some amazing views and even better skiing. We will return again and again for many years to come."
Roy Kinnear – UK. Feb 2011
"Thanks a lot! We will come again."
Claes Martinson – Sweden. Feb 2011
"I can just highly recommend!"
Thomas Blindenbacher – Switzerland. Feb 2011
"The welcoming team was very informative and friendly.  I have travelled to many resorts around the world and never be welcomed like that before!  They greeted us like old friends!
Fantastic apartment, awesome location Chamonix All Year team could not have been more helpful, friendly and informative.  Will certainly come back."
Caroline Aughterson – Australia. Jan 2011
"Thank you for all your efforts to make our vacation good and memorable. We'll come again."
Sergey Kagan – USA.  Jan 2011
"We just loved it!  We came as a group of six girls, some of us are good skiers, some mid and myself and another friend were beginners.  We took skiing lessons back to back 4 days up to 2-3 hours and learned how to ski from the local instructors and became advanced.  This really helped us in building up our confidence.  They were very attentive, friendly and professional.   All of us are looking forward to coming again.  In fact we started making plans already.   As for Chamonix, it is a beautiful area.  We didn't have enough time to discover and make visits to places around Chamonix.  But it is in our plans to do it next time we are there.  The photos we have taking during our stay were very much liked by our friends.  Some are also making plans to join us in the next trip.  Like I said earlier we just loved it!"
Sema Kesen – Turkey. Jan 2011
"Thanks Nick!  The accommodation was great – perfect location and welcoming ambiance."
Annamaria Orsini – Switzerland. Jan 2011
"Had a great holiday again and the kids enjoyed the skiing the location of the appartment is excellent and our discounted ski passes were a real bonus we would book another holiday with chamonix all year in the future! Thank you Nick and Jo."
Hayley Ratchford – UK. Jan 2011
"Everything was just great! I was surprised to meet such a friendly and very professional tour operator in Chamonix. I would highly recommend to plan a visit to Chamonix with Chamonix-all-year."
Evgeniy Romaschenko – Russian Federation. Jan 2011
"Great and helpful staff that make your stay a pleasure!"
Peter Grimvall – USA. Jan 2011