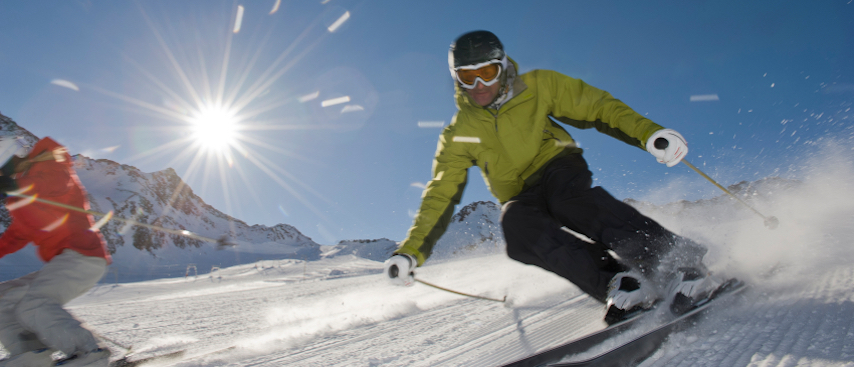 One of the (many!) benefits of the Mont Blanc Unlimited lift pass is that you can ski in the Italian resort of Courmayeur at no extra cost. It is only a short trip though the Mont Blanc tunnel and offers some great skiing – not to mention the best on-piste restaurants around!
See also our guide to skiing in Courmayeur or for an exhilarating adventure why not book our Italian Skidoo Night to enjoy great food, great wine and an unforgettable skidoo journey through the mountains.
Typical prices
Ski away day (includes return transport to the slopes): 56€ per person, 280€ for a private bus (up to 8 people).
Based on minimum 5 people. Prices do not include Courmayeur ski pass, but this is covered on your Mont Blanc Unlimited lift pass.
Public transport to Courmayeur
There is also a bus shuttle service taking you over to Courmayeur. Catch the bus from Chamonix bus station at 8:30am or 9:30am (return buses at 4:30pm and 5:30pm), and with your Mont Blanc Unlimited (MBU) lift pass you get a discounted rate of 15€. (Times and costs are approximate and may change each yet.)
In Courmayeur, you'll be dropped off at the Skyway Monte Bianco, the rotating cable car which goes up to the Pointe Helbronner, and from there it's a 5 minute walk to Val Veny cable car for access to the ski slopes.
Or see below to book a Chamonix All Year transport to Courmayeur for door-to-door service from your accommodation to the slopes and back.
Find out more at the offices of SAT Chamonix, at 13 avenue Michel Croz, by phone +33 450 530 115 or online www.sat-montblanc.com. Book online at www.savda.it, at the SAT office in Chamonix or in Chamonix Sud.
In the morning, make sure you get there 15 minutes early so they can check your lift passes and tickets. Don't forget your ID card or passport for crossing the border to Italy!
If you bought your lift pass online, make sure you take a copy of the receipt with you too.
Driving to Courmayeur
Your Mont Blanc Unlimited lift pass (2 days +) also give you a discount on the tunnel pass if you decide to drive yourself through. Make sure you take your lift pass and the receipt with you. You'll also need to have already used your lift pass on the lifts in Chamonix, or if you've just bought it, make sure you wait 1 hour before going to the cash desk so they have you in the system.
Booking and payment for trips to Courmayeur
Book your Courmayeur ski away day online now on our Chamonix Resort Shop and pay securely through our booking system.
You might also like…