Pré Saint Didier thermal spa, Italy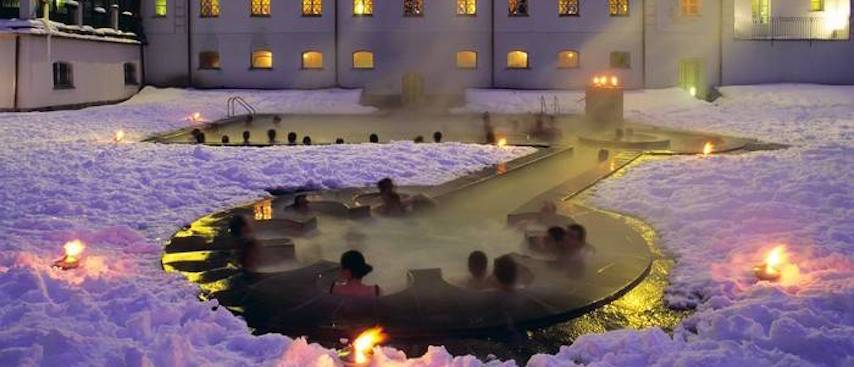 The perfect destination for those looking to pamper themselves – whether you're taking a break from the slopes or a non-skier wanting some 'me-time', Pré Saint Didier is the place to go for unadulterated luxury in the beautiful mountain setting of the Aosta valley. It is located not far from Chamonix, just on the other side of the Mont Blanc tunnel.
Enjoy a whole complex which includes 3 outdoor pools, indoor and outdoor saunas, a Turkish bath, relaxation rooms with chromotherapy and aromatherapy and a veranda with a panoramic view of Mont Blanc. There is nothing more magical than enjoying the naturally heated thermal waters of the spa while surrounded by snow on the ground – you can also laugh at the brave souls who come out of the traditional wooden saunas and roll in the snow. Apparently it's good for you but you wouldn't catch us doing it!
The price of entrance includes the use of bathrobe, towel, flip flops and a lovely buffet with healthy snacks of fruit and vegetables, bread, breadsticks, infusions and fruit juices – so all you need to bring is your swimsuit! Additional treatments such as massages can be booked for an extra fee.
Typical prices
Spa entrance: 45€ per person & return transport: 56€ per person
Based on minimum 5 people and a 4-hour daytime visit in the spa. Entrance to the spa from 14 years old.
Booking and payment for trips to Pré Saint Didier
Book your spa trip online now on our Chamonix Resort Shop and pay securely through our booking system.
See also our guide to spas and treatments in and around the Chamonix valley.