Pré Saint Didier thermal spa, Italy – Monday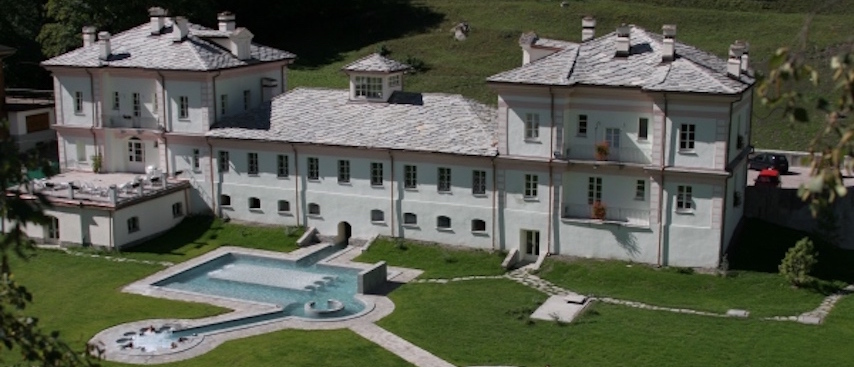 The perfect destination for those looking to pamper themselves – whether you're taking a break from your mountain activties or you are wanting some valuable 'me-time', Pré Saint Didier is the place to go for unadulterated luxury in the beautiful mountain setting of the Aosta valley. It is located not far from Chamonix, just on the other side of the Mont Blanc tunnel.
There is nothing more magical than enjoying the naturally heated thermal waters of the spa while looking up at the mountains of the Mont Blanc massif and Aosta valley. On top of these natural wonders, you'll enjoy a whole complex which includes 3 outdoor pools, indoor and outdoor saunas, a Turkish bath, relaxation rooms with chromotherapy and aromatherapy and a veranda with a panoramic view of Mont Blanc.
The price of entrance includes the use of bathrobe, towel, flip flops and a lovely buffet with healthy snacks of fruit and vegetables, bread, breadsticks, infusions and fruit juices – so all you need to bring is your swimsuit and you really can spend all day there if you want to! Additional treatments such as massages can be booked for an additional fee.
Typical prices
Spa entrance: 45€ per person
Return transport: 60€ per person
Based on minimum 4 people. Entrance to the spa from 14 years old. Transport include Mont Blanc tunnel pass.
Booking and payment for trips to Pré Saint Didier
Book the Italian thermal spa + other day trips online now on our Chamonix Resort Shop and pay securely through our booking system.
More weekly day trips…
On Tuesday, take part in our Geneva day trip – visit Switzerland's bustling second city
More Italian day trips – indulge your taste buds with our Italian Wine Tour on Wednesdays
Don't miss Friday's market on our Annecy day trip – visit the 'Venice of the Alps'