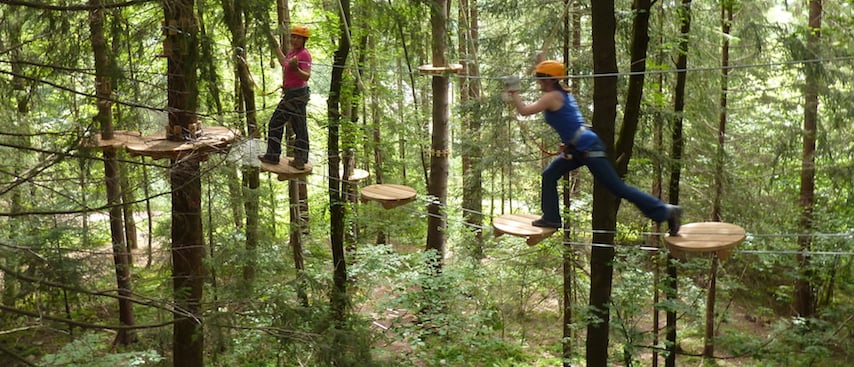 Down by the Lac des Gaillands, just 20 minutes' walk from Chamonix town centre, the eco-adventure tree park snakes through the forest, creeping higher and higher as you make your way through the obstacles. It's perfect for the whole family as there are five different courses of increasing difficulty. The first courses allow everyone to get to grips with the safety equipment and five levels means that everyone can push themselves as far as they want, and then head to the 'buvette' (snack bar) by the lake to wait for the rest.
Small children can enjoy the 'Pitchoun' course and older kids will start off on the green, where they can find their feet on the wobbly bridges before working their way onto blue, red and black – for the adrenaline seekers! By the end everyone will have navigated ziplines, Tarzan swings and more, completing up to 70 different elements.
Need to know
Located at Les Gaillands, next to the climbing school. Access by car, train station from Chamonix centre to Les Pelerins (the train is free with your tourist guest card), on foot (approx. 20 mins from Chamonix town centre) or by Chamonix All Year minibus.
Booking and payment for adventure tree park
Book online on our Chamonix Resort Shop and pay securely through our booking system.