Your stay in Chamonix gives you the chance to come and ski in a idyllic setting in the heart of the French Alps. If you want to try some other sports during your stay, you're sure to find what you're looking for thanks to the wealth of options on offer in the valley. We are blessed with several Chamonix gym or sports centres where you can keep fit or get back into shape, all with your eyes on the summit of Mont Blanc for the ulitmate inspiration!
This article will give you an idea of the fitness centres and gyms open during your stay with a multitude of different courses on offer, so that you can find what you're looking for and head home from your holiday in Chamonix full of energy.
Chamonix town is close to the neighbouring villages of Les Houches and Argentière – 20 minutes by bus, 15 minutes on the train or 10 minutes in the car – so it doesn't matter where your accommodation is, you'll be able to get to one of these sports centres easily during your stay in the valley. Below we've listed three of the top options in Chamonix, along with the different activities available in each place.
Chamonix1
Chamonix1's new studio along the banks of the river Arve in Chamonix Sud welcomes you throughout the week and offers many different types of lesson with different instructors who are specialised in each activity so you get the best supervision. You can even come along if you're pregnant, as the instructors are very flexible (no pun intended!) and will work hard to tailor the classes to your level as well as that of the group.
This intimate venue for the lessons overlooks the peak of the Brévent, as well as the Arve, but you won't have time to enjoy the views thanks to the absorbing lesson you're getting from your instructor! There is also a drinks and snacks machine offering refreshments tailored to all your exercising needs.
Don't forget to bring along comfortable and supportive sports shoes, a towel and a water bottle.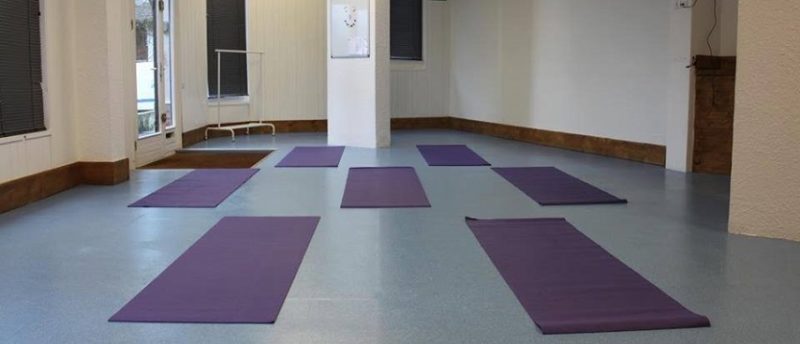 Chamonix1 classes
You can choose from…
Zumba: Enjoy the perfect combination of fun and fitness thanks to this dance programme conceived in the 90s by the Colombian dancer and choreographer Alberto "Beto" Perez. It's a great way to burn calories – on average 600 per hour – and is available to all levels.
Pilates: This discipline is ideal for building strength as well as improving flexibility, balance and muscle mass, for example if you're recovering from a back injury. You can relax and slow down the pace of a busy day, as the warm-up helps you to concentrate your breathing, and then the exercises will lead you well away from your everyday worries. The exercises are slow and precise so you'll enjoy a gentle session.
Kettlercise: This physical fitness group class uses a kettlebell to work every muscle in your body, burn fat, improve balance and increase endurance.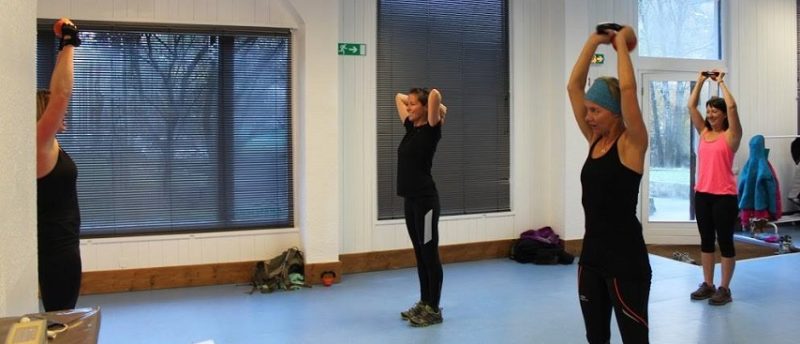 Hiit Cardio: These exercise classes aim to keep you in great shape all winter, getting you strong and flexible by working on cardio endurance and building muscle.
Chamonix1 also offers Yoga classes with different themes and focuses: Core & Restore, Yin Yoga, Slow Flow Yoga, Yoga Rise and Flow, Friday Flow.
Visit their website to book your class easily online: http://chamonix1.com/.
Standard classes cost 12€ each, or 100€ for 10 classes.
Address: 111 Promenade Marie Paradis, Chamonix Sud, 74400 Chamonix | Tel: +33 (0) 4 50 90 50 36
Richard Bozon – Chamonix Gym & Sports Centre
The Richard Bozon Sports Centre is located in the centre of Chamonix, opposite Mont Blanc, which makes it a unique location for circuit training, body building or a fitness class, all with professional supervision at your service. A state-qualified, sports-specialised instructor oversees all the activities and lessons which take place at this Chamonix gym.
All you'll need to bring are your sports kit and towel, and bear in mind that teens aged 16 to 18 will need to have parental permission and a medical certificate.
The sports centre also offers a range of lessons for keeping in shape – you can try out everything from Body Sculpt (muscle-toning), Core Training to Pilates.
One entry to the gym is 8€, or get access including swimming pool for 17.50€.
1 lesson of 45 minutes costs 8.80€, or pay in advance for 24 lessons and save over 60€ – only 151€.
Richard Bozon Chamonix gym also offers a 3-day unlimited card for just 30€, which gives access to the swimming pool, sauna, hamma and ice rink (including skates). It's the perfect option if you want to mix up skiing with other activities, or if you're the non-skier in your group and you're looking for things to enjoy while everyone else is on the slopes!
Winter 2017 timetables*
Mondays-Fridays: 10am-7.30pm / Saturday: 10am-12pm and 2pm-7.30pm / Sunday: 2pm-7.30pm
Morning slots from 10am-12pm are only for season ticket holders.
If you need more information, contact the sports centre.
Address: 214 avenue de la plage, 74400 Chamonix | Tel: +33 (0) 4 50 53 23 70
*17th December 2016 to 30th April 2017
CAP Chamonix
CAP Chamonix (centre d'amélioration des performances = performance improvement centre) is aimed at professional athletes and beginners alike. Get in touch with them directly for a personalised assessment and find out about the fitness classes that are on offer too, suited to your level.
Address: 267 avenue de Courmayeur, 74400 Chamonix | Tel: +33 (0) 6 75 15 48 92
More Chamonix gym & fitness options
In addition to the sports centres mentioned above, Chamonix has a multitude of other options if you're looking to keep fit during your stay.
Yoga is a big favourite here, with an annual yoga festival taking place in the summer and a whole host of classes available throughout the valley. We'll update our blog soon with some more information on what's on offer.

You could also head out for a jog along the picturesque riverbanks, or for a run along Chamonix's popular trails. The Richard Bozon Chamonix gym also offers an indoor climbing wall as well as tennis and squash courts if you're not looking for a class but some more independent training.
Have fun!